Tim Halderman, who threw the last two innings in the opener on Thursday, throwing 40 pitches, was the starter today for DSS. He walked a batter in the top of the first inning, but he was forced out. The righthander then retired the side in the second and third inning, but gave up two runs in the fourth.

Lars Broersen made his first big league-start for Hoofddorp Pioniers. For the righthander, who last season played for RCH-Pinguïns in the second highest league, this was his first big league-appearance since July 10, 2016. On that day, he made his debut, pitching 1/3 inning in relief for Pioniers against HCAW, giving up four hits and three runs. That was his lone appearance so far. From that game, only third baseman (and Head Coach) Mervin Gario and centerfielder Mark Smit are still playing for Pioniers.

Broersen retired the side in the first inning, but then gave up a run in the second at bat. With two outs, he walked Leandro Anasagasti, then gave up an RBI-double to Diamond Silberie.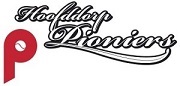 In the top of the fourth inning, Pioniers scored two runs. But it also had a rare double play, a protest and the first ejection. It all began with a lead-off single by Raul Jacobs, which was followed by a bunt-single from Nolan Beugeling. Next batter Jelle Kroft also singled to bring in the tying run. Hereafter, the bases got loaded when Joey Eeman reached on an infield-hit, which was the fourth basehit in a row. Pioniers then took a 2-1 lead when Tim Halderman hit Tyler Boersma with a pitch. With the bases loaded, next batter Jaison Gijsbertha grounded the ball to third baseman Leandro Anasagasti. He threw the ball to catcher Koen Halderman to force out Kroft at the plate. Halderman then threw the ball towards first baseman Tino van Erk to complete a double play. There, Gijsbertha was called out for baseline violation, which also was judged as interference. With that, runners Eeman (2nd base) and Boersma (1st base) had to return to the last base they occupied at the moment of the pitch. Pioniers Head Coach Mervin Gario argued the call by 1B Umpire Roy van de Wateringen and filed a protest. On his way back to the dug-out, Gario was then ejected by Home Plate Umpire Antoine Loock. Afterwards, the protest was withdrawn as Pioniers had won the game. So, now with runners on first and second base and two outs, the bases got loaded again when Duco Nuijten reached on an infield-hit. But the three runners stranded when a grounder ended the at bat.

In the bottom of the fourth, it was Pioniers that turned a 'normal' double play (6-4-3) that ended the at bat.
In the top of the fifth inning, the second ejection took place. This time, non-playing Pioniers-pitcher Lars Huijer, who was the starter on Saturday, was ejected. In this inning, Nolan Beugeling doubled for Pioniers with two outs, but stranded when a strikeout closed the at bat.
In the bottom of the fifth, DSS scored two runs to take a 3-2 lead off of Lars Broersen. Leandro Anasagasti led off with a walk, then moved on a sacrifice bunt-fielder's choice by Diamond Silberie, who with this, reached first base. Another sac-bunt followed, this time by Koen Werkman, which moved the runners to second and third base. Moments later, Anasagasti scored the tying run on a wild pitch, which brought Silberie to third base. With two outs, Silberie scored the go-ahead run on an infield-hit by Mitchel Dautzenberg.
In the top of the sixth, Jaison Gijsbertha singled with two outs for Pioniers, but stranded on first base.
In the bottom of the sixth, recently added Britsh/American righthander Paul Kirkpatrick took the mound for Pioniers. He began with two strikeouts and retired the side.
DSS also went to the bullpen in the top of seventh inning, as Robyn Clara took over from Tim Halderman. He also retired the side.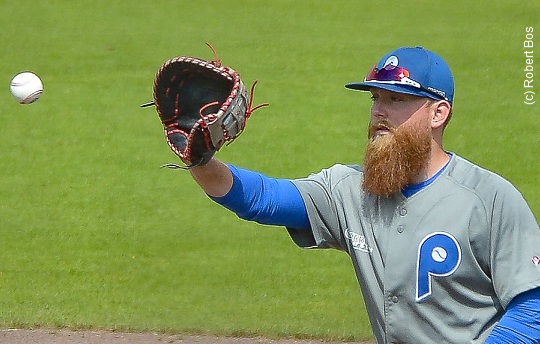 ...Jelle Kroft was 3-for-6 for Pioniers with a double,...
...a run scored and 3 RBI's...
(© Photo: Robert Bos)

After DSS had left a runner behind on second base in the bottom of the seventh, Pioniers came alongside in the top of the eighth. Lead-off hitter Nolan Beugeling reached on an error, then scored on a following double by Jelle Kroft. That marked the end for Clara, who was relieved by Moreno Vork. With two outs, he walked Jaison Gijsbertha, but he was forced out.

In the bottom of the eighth, Tino van Erk singled with one out for DSS, but then the next two batters struckout.

As both teams were retired in order in the ninth inning, the game went into extra innings.

Pioniers also was retired in order in the top of the tenth. DSS got a baserunner in its tenth off of new pitcher Nathan Diaby. He gave up an one-out single to Devano Pieter, but he was forced out. The inning ended when short stop Nolan Beugeling caught a line drive hit by Tino van Erk.

The decisive eleventh inning, which had a heated start, then followed. In the top of the eleventh, Pioniers rallied for seven runs, which were all scored with two outs and which were all unearned. Tyler Boersma led off with a walk. Hereafter, batter Jaison Gijsbertha and catcher Koen Halderman got into an argument, which triggered the third bench-clearing in the game. It was no brawl, there was some pushing and shuffling, but Gijsbertha and Halderman were both ejected. After the calm had been restored and the game continued, Daniël Vos, who is a pitcher, took over the at bat of Gijsbertha as a pinch-hitter with an 0-1 count. A wild pitch then enabled Boersma to move to second base and moments later, Vos grounded out. With next batter Duco Nuijten in the batter's box, there was some discussion regarding a foul ball or hit batter, which resulted in the ejection of non-playing catcher Damian Melis of Pioniers. Shortly hereafter, Nuijten also grounded out. Now with two outs and Boersma still on second base, Jorrit Penseel reached on an infield-hit and the bases got loaded when Mark Smit walked. Two runners scored when a throwing error was made on a grounder by next batter Raul Jacobs, which could have been the third out, but now Pioniers led 5-3. It also led to a pitching change, as debuting Lars Werkman took over from Moreno Vork. The next run was then scored when Nolan Beugeling also reached on an error. Hereafter, Jelle Kroft and Joey Eeman delivered runscoring singles to lift the lead to 8-3. In his second at bat in the inning, Tyler Boersma hit a 2-run double to make it a 10-3 score. Ben Neijndorff then became the new pitcher and a grounder by Daniël Vos ended the long and turbulent at bat. By the way, this also was the second at bat for Vos in this inning and this time, he was just 'a batter', as a player can be a pinch-hitter only once in an inning, which he was in his first at bat.

In the bottom of the eleventh, it appeared that the game was far from over, as DSS quickly scored two runs off of Nathan Diaby. He gave up a lead-off single to Runai Coran, then gave up a homerun to Aldi Guzman, which made it a 10-5 score. But hereafter, Diaby retired the next three batters to end the game.

Diaby became the winning pitcher for Pioniers. Last Thursday, in his debut, the rookie also was credited with the win while pitching in relief. With that, Diaby now has been the winning pitcher in the first two games of his big league-career, which of course is an unique fact, especially since he earned both wins while pitching in relief.