In the first five innings, HCAW was the better team today and outhit Neptunus 10-7. Trailing 1-0, the Bussum-team scored three runs in the second inning, then broke a 3-3 tie in the third at bat. Halfway the sixth inning, HCAW led 6-4, but then Neptunus came alongside and went on to win.

HCAW opened the game with a lead-off single by Jeandro Tromp off of starter Misja Harcksen. The righthander made his comeback in the Neptunus-team after having pitched for Twins Oosterhout last season. Tromp was caught stealing and the next two batters were retired.

Neptunus then opened the score in the bottom of the first off of starter Dennis Burgersdijk. Neptunus lead-off hitter Stijn van der Meer was more successful than his HCAW-colleague. He also led off with a single, then moved to third base when Benjamin Dille also singled. The latter was forced out on a grounder by Dwayne Kemp, but that enabled Van der Meer to score.
The lead was shortlived, as HCAW answered with three runs with two outs. Rodney Daal led off with a single, then the bases got loaded with two outs when Patrick Bok and Oliver van der Wijst Severino both walked. Daal was then forced out at the plate on a grounder by Berend Ruben. Hereafter, rookie Arthur Lugtmeijer cleared the bases with a 3-run double. When next batter Jeandro Tromp singled into rightfield, Lugtmeijer was waved home. A good throw from rightfielder Jochem Koedijk followed and Lugtmeijer was eliminated at the plate, which was costly for the Bussum-team.

This lead also was shortlived, as Neptunus came alongside in its second at bat. With one out, Shaldimar Daantji and Julian Goins singled. For Goins, this was his first basehit in his first at bat as a Neptunian. Last season, the catcher played for HCAW. With two outs, both runners scored on a double by Stijn van der Meer.
Again, HCAW reacted immediately and scored three more runs to take a 6-3 lead. Bob van der Meer led off with an infield-hit, then advanced on a sacrifice bunt by Seb Visser and an infield-hit by Rodney Daal. Former Neptunian Ruendrick Piternella followed with a runscoring single. That marked the end for Misja Harcksen, as veteran Elton Koeiman was brought in. But the righthander was greeted with a runscoring single by Patrick Bok, then gave up a sacrifice fly to Oliver van der Wijst Severino.
This time, HCAW upheld the lead longer, but it saw Neptunus narrow the deficit to 6-4 in the bottom of the third inning. Gianison Boekhoudt then singled, advanced to third base on a following outfield-error and scored on a sacrifice fly by Dudley Leonora.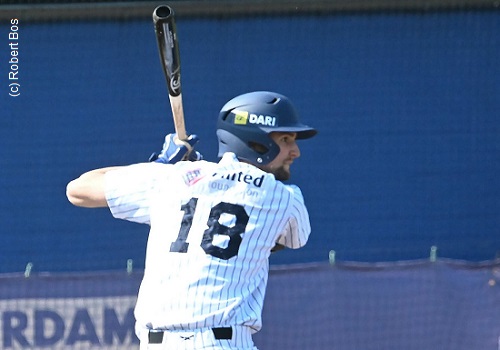 ...Stijn van der Meer was 3-for-3 with a double for Neptunus...
...He scored one run and batted in three...
(© Photo: Robert Bos)

After Neptunus left a runner behind on second base in the fourth, HCAW got a runner on third base in the top of the fifth. Seb Visser led off with a single, then his pinch-runner Norbert Jongerius stole second base with one out and moved to third base on a single by Ruendrick Piternella. He was then unable to score on a flyout into rightfield, then another flyout ended the at bat.

In the sixth inning, both teams made a pitching change. Brendan Schoemaker took over for Neptunus and retired the side. Ian Delemarre took over for HCAW and saw Neptunus come alongside.

With two outs in the bottom of the sixth, Delemarre walked Julian Goins and Jochem Koedijk, then gave up runscoring singles to Stijn van der Meer and Benjamin Dille that made it a 6-6 score. Van der Meer was 3-for-3 and batted in three runs.

HCAW got a baserunner in the seventh inning, but he was caught stealing, then the team was retired in order in the eighth. Neptunus got runners on first and third base with two outs in the seventh, but they were left behind.

In the bottom of the eighth inning, Neptunus scored what would be the decisive run. Jiorgeny Casimiri became the new pitcher for HCAW. Last season, the righthander made his debut playing for Neptunus. He walked lead-off hitter Jochem Koedijk, who moved into scoring position on a sacrifice bunt by Bob van der Meer. Next batter Benjamin Dille flied out to rightfielder Ruendrick Piternella, who then made a strong throw to third baseman Rodney Daal, who tagged the approaching Koedijk. A close play followed and Koedijk was ruled safe, which resulted in arguments from the side of HCAW. In this game, there was only a 2-man umpiring crew. It was a crucial moment, as moments later, Koedijk scored on a wild pitch that put Neptunus ahead, 7-6.

In the top of the ninth, closer Kevin Kelly retired the side to earn his second save in two days.