Quick Amersfoort led only 1-0 after three innings, but then added nine runs in the next three innings. Twins Oosterhout avoided a mercy-rule loss by scoring four runs in the seventh inning, but suffered its first loss of the season.

It was Twins that got into scoring position first off of starter Colin van Laar. With two outs in the top of the second inning, Joshua Zara and Nick Peels singled, but they were left behind. After last season, it was announced that Peels was one of four players to play in the second team of Twins this season. However, he returned in the line-up of the main-squad on Thursday-evening and also played today. Christopher Ge, who also was one of these players, played in the first and second game of this series.

After having retired the side in the second inning, Twins-starter Jan Evertse gave up a run in the hird. With one out, he hit Denzel Brooks with a pitch, but he was caught stealing. Hereafter, Joran Berkhout homered to put Quick ahead, 1-0. It was the third time in three games that Brooks was hit by a pitch. He was hit in his first two at bats in the opener on Thursday.
In the top of the fourth, Dennis De Quint led off for Twins with a double, but he later stranded on third base. From the bottom of the fourth, Quick took charge of the game and expanded its lead.

In the fourth, Bryan Engelhardt led off for Quick with a double and advanced on a bunt-single by Jan-Willem Geerts. With one out, Geerts stole second base. Jules Cremer then delivered a runscoring single and a sacrifice fly by Jordy Burger made it a 3-0 score.
In the top of the fifth, with one out, Jerzy van Gool doubled for Twins, but he tried to stretch it into a triple and was eliminated on third base.
Quick took more distance by scoring four unearned runs in the bottom of the fifth. Joran Berkhout led off with a double. With one out, he tried to score on a single by Rachid Engelhardt, but was eliminated at the plate. Engelhardt advanced on the throw to second base. With two outs and first base open, his brother Bryan Engelhardt was walked intentionally. The bases then got loaded when Jan-Willem Geerts reached on an error, which could have been the third out. All three runners scored when next batter Rowan van Hoek hit a 3-run double. That led to a pitching change, as Mic van de Ven took over the pitching. He saw Van Hoek score the next run when a hit by Jules Cremer was missed in the outfield. The inning ended when Cremer was picked off first base by Van de Ven.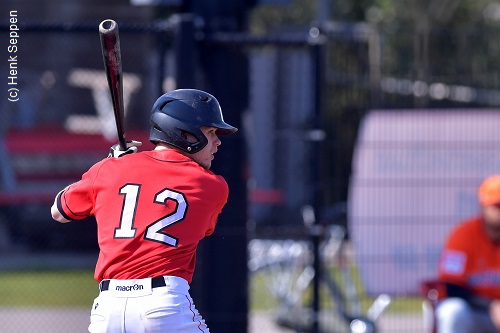 ...Joran Berkhout was 3-for-3 with a double and homerun...
...for Quick, he scored two runs and also batted in two...
(© Photo: Henk Seppen)

Quick reached the 10-run difference in the bottom of the sixth. Van de Ven got the bases loaded quickly after walking Jordy Burger, Denzel Brooks and Joran Berkhout. The righthander then also walked Sam van der Ploeg, which of course resulted in a run. A force play-grounder by Rachid Engelhardt and a grounder by Bryan Engelhardt accounted for the next two runs and lifted the lead to 10-0.

With a 10-0 lead and three outs away from a mercy-rule win, Brian van Laar took over the pitching from his twin-brother Colin van Laar for Quick in the top of the seventh. But with two outs, Twins scored four runs. With one out, Van Laar walked pinch-hitter Jamie Verheyleweghen and Jerzy van Gool, but followed with a strikeout. The two runners then advanced on a wild pitch and scored on a single by Stijn Janssens. When next batter Ruar Verkerk was hit by a pitch, another pitching-change followed. Pastor Enrique Martínez Chavez took over and enabled the two runners to move to second and third base with a wild pitch. He then got the bases loaded when he walked Dennis De Quint and gave up a 2-run double down the rightfield-line to Jason Halman, which made it a 10-4 score.

And so, the game continued. In its seventh at bat, Quick scored two more runs off of new pitcher Marvin Brown. He walked Remian Denis and Jordy Burger. The two moved on a grounder, then respectively scored on a single by Joran Berkhout and a grounder by Sam van der Ploeg. Berkhout was 3-for-3 and only missed the triple to hit for-the-cycle. He scored twice and also batted in two runs.

Twins narrowed the deficit to 12-6 in the top of the eighth by scoring two unearned runs. Joshua Zara (walk) and Jerzy van Gool (fielders choice error) then scored with two outs when a pop-fly in the infield by Stijn Janssens ended in an error.

Twins got into scoring position again in the ninth off of Mark Kolner. With two outs, Max Kops singled and advanced on an error, then Joshua Zara walked. But the inning and the game then ended with a grounder.