(Story by Marco Stoovelaar; Photo by Paul Bokern)



Uganda and Kenya qualify for Baseball Africa Cup
Nederlands



NAIROBI (Kenya) - Uganda and Kenya are the third and fourth team to have qualified for the Baseball Africa Cup. On Sunday (April 7), the 3-day Zone East Continental Pre Qualifier ended in Nairobi. In the capital of Kenya, three countries participated in the Qualifier. Tanzania finished in third place.
Last month, Burkina Faso and Nigeria won in the Zone West Continental Pre Qualifier in Accra (Ghana). On April 27-29, Lesotho, South Africa and Zimbabwe are the participating countries in the Zone South Qualifier in Johannesburg (South Africa). The two best teams of these three Qualifiers will meet in the Baseball Africa Cup, which will be held May 1-5, also in Johannesburg. The winner of this event becomes the Champion of Africa and will qualify for the Europe/Africa Olympic Qualifying Tournament Baseball, which takes place September 18-22 in the Italian cities of Bologna and Parma. The winner of the tournament in Italy qualifies for the 2020 Olympic Games in Japan. The team in second place advances to the final Olympic Qualifying Tournament, which will be organized early next year in Taiwan.

Before the tournament, Kenya was thought to be the best of the three teams. But it was Uganda that recorded some big wins and won twice. The games were played at Bechtel Baseball Park, which is located at Lenana School in Kenyan capital Nairobi.

On Friday (April 5), host Kenya won 14-12 against Tanzania in a game that saw several defensive errors. It was Tanzania that opened the score in the first inning, but Kenya then scored six runs in the second and five in the third at bat.

On Saturday, Uganda recorded a big 23-1 victory in a 5-inning game against Tanzania. The team collected 16 basehits, while Tanzania hit only one. Uganda scored nine runs in the first inning. In this at bat, the team hit nine basehits, including five homeruns, four of which were hit consecutively. Uganda hit four more homeruns in the next two innings.

On Sunday, Uganda shutout Kenya 12-0 to finish in first place. Manager of the baseball-team from Uganda is Japanese coach Katsuhisa Tanaka.

Of the three participating countries, Kenya has the longest baseball-history, as the sport was introduced there in the early seventies. The Baseball Federation of Kenya was founded in 1995. The Uganda Baseball and Softball Assocation was founded in 1989. In 2012, a youth team from Uganda participated in the Little League World Series in the USA. In Tanzania, baseball is being played only since 2012. The Tanzania Baseball and Softball Association was founded in 2014 and is very active, as the country already participated in several local tournaments.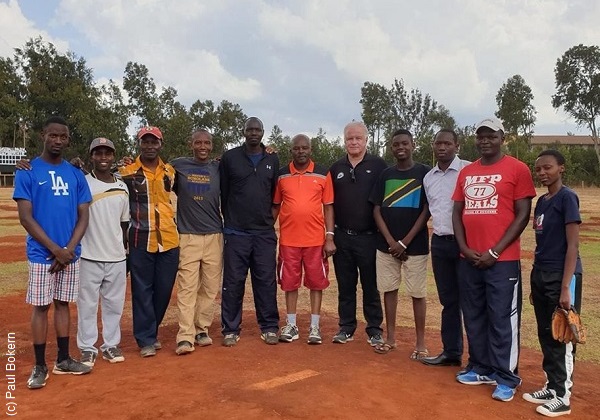 ...Paul Bokern (fifth from right) with local umpires during...
...the clinic before the tournament in Nairobi...
(© Photo: Paul Bokern)

South Africa is the lone African country on the list of the World Baseball Softball Confederation (WBSC). Last December, the country moved up three spots to 23rd place. All other African countries are not ranked on the WBSC-list, which features 76 countries. The ranking on the WBSC-list is based on points earned by a National Team or Federation in international competitions.

In total, twenty countries are members of the Africa Baseball and Softball Association (ABSA) Seventeen countries have baseball, eighteen have softball.

The WBSC supports the ABSA during the three Regional Qualifiers. Scoring and Umpiring instructors oversee the three tournaments and the WBSC organizes scoring and umpiring seminars before the start of the tournaments. Last month, Italian Marco Battistella supported the local scorers in Accra. This time, Anna Maria Paini from Italy oversaw the scoring activitities. She is the Chairperson of the Scoring Committee of the WBSC. Paul Bokern from the Netherlands traveled to Kenya to conduct an umpiring clinic and to oversee the umpiring activities during the 3-day event. Anna Maria Paini and Paul Bokern both conducted a 2-day seminar for scorers and umpires.

(April 5-7)

Related Article:


Burkina Faso and Nigeria advance to Baseball Africa Cup. (March 26)