(Story by Marco Stoovelaar; Photo by Henk Seppen)


Kalian Sams released by High Point Rockers
Nederlands



HIGH POINT, North Carolina (USA) - Dutch outfielder Kalian Sams has been released on Sunday (July 7) by High Point Rockers, the club announced. Initially, Sams was placed on the temporarily inactive list on Sunday, but later, he was released.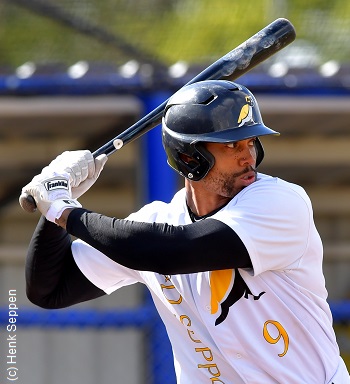 ...Kalian Sams plays for Amsterdam...
...Pirates since 2017...
(© Photo: Henk Seppen)

Sams, who was the centerfielder or rightfielder for High Point, has played in 20 games this season for his new club, hitting only .203 (13-for-64) with three doubles and one homerun. He scored six runs and batted in nine, but also struckout 21 times. The 32-year old, The Hague-born, Kalian Sams played in his last game on Sunday, June 30 in a 2-1 loss against Sugar Land Skeeters in Sugar Land, Texas, close to Houston. In that game, he was the centerfield for High Point and batted 1-for-4.

On May 28, Sams also was placed on the temporarily inactive list, but he was then activated again on June 6.

High Point Rockers is playing in its inaugural season in the Liberty Division of the independent Atlantic League. In 2017, Bridgeport Bluefish in Connecticut announced that it would be the team's last season in Bridgeport after having played there for 20 years. Earlier that year, the city of Bridgeport had voted not to continue with professional baseball and planned to convert the stadium into a music amphitheater. In September 2017, it was announced that the team would move to High Point, North Carolina where it started playing this season, which opened on May 2. At the moment, High Point is in third place in the Liberty Division with a 41-30 record.
Sams signed a professional contract with Seattle Mariners in 2006. He made his professional debut in 2007 playing in two Single-A teams of the Mariners.
Since 2007, Sams played in Rookie League and Single-A through 2011. He promoted to Double-A in 2012. Before the start of the 2013, Sams was released by the Mariners, but signed with the San Diego Padres. For this organization, the outfielder played in Double-A and Triple-A. In July 2013, Sams was released again and he went on to play in the independent Atlantic League, but three weeks later, he signed a minor league contract with the Texas Rangers, who assigned him to its Double-A team. After the season, Sams became a Free Agent. He then initially signed a new contract with the Rangers shortly thereafter, but was released in March 2014.
Since then, Sams has played in Independent Leagues. He played for Camden Riversharks in 2013-2014 in the Atlantic League. Thereafter, he played four seasons (2015-2018) for Les Capitales de Quebec in the Canadian-American Association (CanAm League). Sams also played in Mexico and Taiwan.
Before turning professional, Sams played in the Dutch big league for ADO in 2004-2006. He made his comeback in the highest Dutch league in 2015 when he played in five regular season-games for Kinheim. Before making his comeback in the Dutch big league, Sams played for Neptunus in the 2013 and 2014 Holland Series.
Since 2017, Sams is eligible to play for L&D Amsterdam Pirates. In that year, he played in five regular season-games for Amsterdam. Last season, Sams played in three games, before leaving for Canada to play for Quebec. This year, Sams played for Pirates in its opening-game on April 4. Sams also played for Pirates in the 2017 and 2018 Holland Series.
In 2011, Sams was a member of the Netherlands National Team that captured the title at the World Championship in Panama.
(July 7)