Both teams got some early scoring opportunities tonight, but the game remained scoreless in the first five innings. Amsterdam Pirates then opened the score in the sixth, added a run in the eighth and won 2-0 to record its third consecutive shutout.

For the second time in its four games played so far, HCAW outhit the opponent. On Saturday, the team outhit Curaçao Neptunus 11-9, but lost 7-4. Tonight, HCAW outhit Pirates 7-5, but again ended up empty-handed. HCAW is now the lone team in the league without a victory.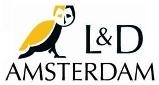 Amsterdam-starter Rob Cordemans needed seven strikeouts to reach 2,000. The righthander struckout one in the first inning, then added two strikeouts in the second at bat. With that, he needed four more out of nine outs in the next three innings, as it was expected that he would no throw more than five innings. It's still early in the season and it was cold, so most pitchers are still throwing on pitch-counts, especially since all teams had a short preparation for the season due to the weather conditions in March. When Cordemans struckout two more batters in the third inning to bring his total to five, reaching 2,000 strikeouts appeared to be possible tonight. In the fourth, the veteran struckout his sixth batter, but the seventh didn't come tonight. As was expected, Cordemans left the mound after five innings. As he will almost surely be the starting pitcher for Pirates coming Thursday, Cordemans can now reach the historic total in the opener against Neptunus, the club with whom he made his big league-debut in 1994.

HCAW got into scoring position three times off of Cordemans. In the second inning, with two outs and Patrick Bok (fielder's choice) on first base, Oliver van der Wijst Severino walked, but Cordemans closed with a strikeout.
In the third inning, with one out, Jeandro Tromp and Bob van der Meer singled. With two outs, the two moved on a wild pitch, then stranded on second and third base.
And in the fifth, Berend Ruben led off with a walk, moved on a sacrifice bunt by Renaigel Martis, but was left behind on second base.
Amsterdam Pirates got its first runner in scoring position off of lefthander Chris Pfau in the bottom of the third. Rashid Gerard then led off with walk. With two outs, Linoy Croes grounded to short stop Oliver van der Wijst Severino, who had an opportunity to make an out at either second base or first base. However, there was a brief moment of hesitation, maybe on the transfer of the ball, which made it clear that it wasn't possible to make an out anywhere and so, Croes reached first base with an infield-hit. A strikeout then ended the inning.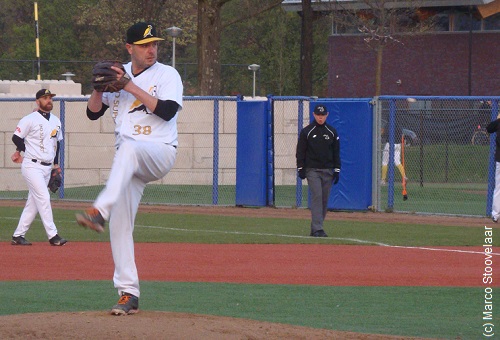 ...Rob Cordemans struckout six batters...
(© Photo: Marco Stoovelaar)

Pirates got it's biggest chance to open the score in the fourth when it got the bases loaded with no outs, but didn't score! Gilmer Lampe led off with an infield-hit, then both Denzel Richardson and Kenny Berkenbosch walked. While the previous two batters had walked, next batter Max Clarijs opted to hit on the first pitch he saw and flied out to rightfielder Ruendrick Piternella. On the catch in short rightfield, Lampe initially took off from third base, stopped briefly, but then continued running towards the plate, where he was tagged out by catcher Rodney Daal on the throw from Piternella to complete a double play. A grounder by Rashid Gerard then ended what could have been a productive at bat.

In the top of the sixth, Nick Veltkamp took over the pitching for Amsterdam and saw HCAW leave a runner on second base.

Moments later, Amsterdam opened the score in its sixth at bat. Niels van Weert led off with a double and scored when Gilmer Lampe followed with a single. That led to a pitching change. Debuting Arij Fransen took over from Chris Pfau. He got a flyout, then was supported with a double play.

HCAW got close to the tying run in the top of the seventh. Oliver van der Wijst Severino led off with a single, stole second base and moved to third base with one out on a sacrifice bunt by Renaigel Martis, but then was left behind.

HCAW turned its third double play of the evening in the seventh inning, then got on base again in the eighth off of reliever Mike Groen. He gave up a lead-off single to Bob van der Meer, but he was caught stealing.

In the bottom of the eighth, Pirates doubled its lead. With one out, Linoy Croes walked. With two outs, Oscar Meuris took over the pitching for HCAW, but he saw Croes steal second base, then advance on a wild pitch. Hereafter, Gilmer Lampe walked. Next, Denzel Richardson singled to bring in Croes. Lampe tried to advance an extra base, but then was eliminated to end the inning.

With a 2-0 lead, Tom Stuifbergen took the mound for the home-team in the top of the ninth. The righthander gave up a lead-off single to Ruendrick Piternella, but the Amsterdam-defense then turned a double play. After walking the next batter, Stuifbergen closed with a strikeout to end the game and earn his second save.