Pioniers opened the score with two runs in the top of the first inning off of starter Taylor Clemensia. Both runs were unearned, after lead-off hitter Mark Smit struckout, but reached on a passed ball. Hereafter, the bases got loaded when Raul Jacobs and Nolan Beugeling (with one out) both walked. The first run was then scored on a wild pitch and with two outs, the bases were re-loaded when Tyler Boersma also walked. The next run was then scored on a passed ball. Pioniers again got the bases loaded when Clemensia threw his fourth walk on Joey de Koning, but three runners were left behind when a grounder ended the at bat.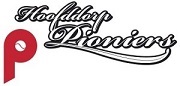 Pioniers added three more runs in the second inning. The bases got loaded quickly whenDuco Nuijten and Mark Smit singled and Raul Jacobs reached on a bunt-single. Nolan Beugeling followed with a runscoring single, which led to a pitching change. Brian van Laar took over and saw a grounder by Jelle Kroft result in a force out, but also another run. With two outs, another run was added on a single by Tyler Boersma.
With two outs in the third inning and Duco Nuijten (walk-stolen base) on second base, Raul Jacobs delivered a runscoring single to lift the lead to 6-0.

Pioniers increased the lead to 8-0 in the top of the fifth by scoring two unearned runs. With one out, Duco Nuijten and Mark Smit walked. An error on a grounder by Raul Jacobs and a grounder by Nolan Beugeling then enabled the two runners to score.
In the meantime, Lars Huijer had another good outing as starting pitcher for Pioniers. In his first start a week ago, the righthander struckout 12 batters and gave up three hits in six innings, but then had a no-decision in the 4-2 against DSS. Tonight, Huijer again struckout 12 batters in six innings and this time, he gave up only two basehits and was the winning pitcher.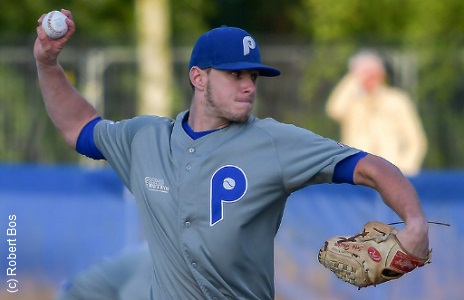 ...Lars Huijer had 12 strikeouts for the second time in a row...
(© Photo: Robert Bos)

But Quick did get into scoring position off of Huijer in three of the six innings he pitched. With two outs in the second, Remian Denis singled and Jordy Burger walked, but Huijer closed with a strikeout. In the third at bat, lead-off hitter Kevin Windster Adelina reached second base on an error and Jordy Berkhout walked. With one out, the two moved on a wild pitch, but were left behind. After being retired in the fourth and fifth inning, Rachid Engelhardt singled with one out in the sixth, but he stranded on third base.

In the bottom of the seventh, trailing 8-0, Quick scored its first run off of new pitcher Nick Loos. With one out and a runner on first base, Kevin Windster Adelina and Joran Berkhout walked. With the bases loaded and two outs, the run was scored on a walk for Rachid Engelhardt. But three runners were left behind when a force play ended the at bat.

Pioniers also left three runners behind in the top of the eighth, but also added two more runs without hitting a basehit off of new pitcher Jasper Popken. With one out and a runner on first base, Jorrit Penseel and Joey Eeman both walked. A force play-grounder by Tyler Boersma and a walk for Joey de Koning then brought in two runners.

Quick scored its second run in the bottom of the eighth when Remian Denis singled off of reliever Nathan Diaby and scored when Jan-Willem Geerts reached on an error with two outs.

Pioniers got the run back in the ninth off Mark Kolner when Bodhi de Vreede led off with a single, stole second base and scored on a 2-out single by Jorrit Penseel.

Now trailing 11-2, Quick got a rally of its own in the bottom of the ninth off of Daniël Vos, scoring four runs. Joran Berkhout and Sam van der Ploeg began with walks, then Rachid Engelhardt hit an RBI-double. Later in the at bat, a run was scored on a single by Remia Denis, a basesloaded walk for Jordy Burger and a force play-grounder by Jan-Willem Geerts. With the bases loaded, the game ended with a pop-fly.