Twins had a productive start in the top of the first inning off of starter Diegomar Markwell, scoring two runs on four basehits. Lead-off hitter Stijn Janssens reached on an error, but then was caught stealing after a successful pick-off by Markwell. But the lefthander then got the bases loaded when he walked Ruar Verkerk and gave up singles to Dennis De Quint and Jason Halman. The first run was then scored when next batter Arthur Bonevacia also singled in his first big league at bat since August 8, 2011. Back then, he played in his lone big league-season for Sparta-Feyenoord. One of his teammates that year was Brian Biezen, who now also is his teammate again at Twins. Another teammate in 2011 at Sparta-Feyenoord was Quintin De Cuba, who now played for opponent Neptunus. With the bases stil loaded, Markwell also gave up a single to Joshua Zara that made it a 2-0 score. The inning then ended when the Neptunus-defense was able to make an 1-2-3 double play on a grounder by Max Kops.

For Neptunus, Stijn van der Meer led with a single in the bottom of the first inning. With two outs, Gianison Boekhoudt walked, but a force play ended the at bat.

Neptunus got one run back in the second inning off of starter Thomas Roijers, who a week ago had made his big league-debut with a good outing against Quick Amersfoort. He then threw five hitless innings, struckout nine batters, gave up a basehit in his sixth and last inning and was the winning pitcher. Tonight, the righthander gave up nine hits and eight runs in five innings, while striking out no one. With one out in the second inning, Shaldimar Daantji singled for Neptunus, but was forced out on a grounder by Gregory Muller. After Muller had stolen second base, Jochem Koedijk walked, then a run was scored when an error was made on a grounder by Stijn van der Meer.
After Markwell had retired the side in the second and third inning, Neptunus rallied for five runs in the bottom of the third on five basehits. The bases got loaded quickly. Dwayne Kemp led off with a single, then Gianison Boekhoudt walked and Dudley Leonora reached on a bunt-single. Quintin De Cuba followed with a 2-run single to put Neptunus ahead, 3-2. Next batter Shaldimar Daantji singled in the fourth Neptunian run and with runners at the corners, De Cuba scored when a pick-off ended in an error. Another run was added on a following sacrifice fly by Gregory Muller to make it a 6-2 score and turn the game the way of Neptunus.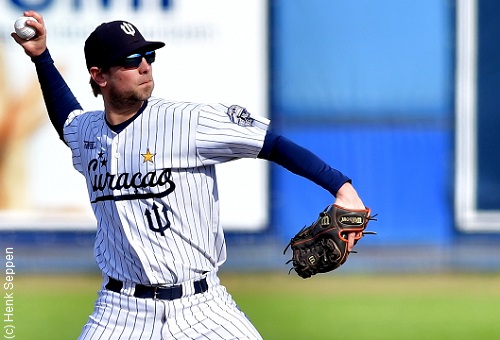 ...Benjamin Dille played in his 500th game for Neptunus...
(© Photo: Henk Seppen)

In the top of the sixth inning, Twins made it a 6-4 score. Diegomar Markwell struckout the first two batters, but then gave up a double to Arthur Bonevacia. Next batter Joshua Zara was hit by a pitch and Max Kops followed with a 2-run double.

Neptunus immediately answered with two runs of its own in the bottom of the sixth. Jochem Koedijk led off with a single, stole second base and scored on a double by Stijn van der Meer. That led to a pitching change, as Mic van de Ven took over from Thomas Roijers. He saw Van der Meer being awarded third base on a balk, then gave up a runscoring single to Benjamin Dille, which made it an 8-4 score. Dille reached second base when an error was made on a force play-grounder by Dwayne Kemp, but they would be left behind on second and third base.

Tonight, Dille played in his 500th game for Neptunus. In his career, this was game 536, as the Belgian second baseman also played in 36 games for Sparta-Feyenoord in 2005. Last year, Dille became the first foreign player in the Dutch big league to reach the 500-game mark. Dille became the fifth player of Neptunus to have played in 500 more games for the Rotterdam-team. The list is headed by Bob van Aalen, who played his entire career for Neptunus and appeared in 617 games. Coincidentally, he also was a second baseman. The other players with 500 or more games in a Neptunus-uniform are Wim Martinus (575), Jeroen Sluijter (561) and Marcel Kruyt (514).

Kevin Kelly, Brendan Schoemaker and Berry van Driel closed the game for Neptunus by each throwing one inning. But all three got some baserunners. In the seventh, Kelly walked Stijn Janssens with one out, but he was forced out. In the eighth, Schoemaker hit lead-off hitter Jason Halman, then gave up a single to Arthur Bonevacia. This time, a strikeout, force out and groundout followed. And in the ninth, Van Driel gave up an one-out single to Stijn Janssens, then saw Jamie Verheyleweghen reach on an error, but a flyout and force out then ended the game.