DSS opened the score with three runs in the bottom of the second inning off of Jurrian Koks. With one out, the righthander gave up a single to Brian Raap, then an RBI-double to Leandro Anasagasti. After next batter Koen Halderman reached on an error, a wild pitch led to runners on second and third base. Next, a run was scored on a sacrifice fly by Diamond Silberie and a following double by Devano Pieter lifted the lead to 3-0.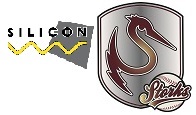 Storks faced Juan Carlos Sulbaran, who last season played for the team from The Hague. A few weeks after having made his debut in the Dutch big league, Sulbaran left Storks to return to professional baseball in an Independent League in the USA. However, again some weeks later, Sulbaran returned to the Netherlands and then played an important role for Storks in the Promotion/Relegation Series against Kinheim. A month ago, the righthander joined DSS.
Storks was retired in order by Sulbaran in the first inning, then left a runner behind on first base in the second at bat. In these two innings, Sulbaran struckout three batters.

Trailing 3-0, Storks struck with four runs (one earned) with two outs in the top of the third inning on four basehits. With one out, rookie Milo Botman singled, which was his first big league-basehit. With two outs, Jurriaan Dijk also singled and Kevin Nieveld (who last year played for DSS) followed with a runscoring single. With runners on first and third base, a run was scored when Kris Morris reached on an error. Glennton Poulo then connected for a 2-run double to put Storks ahead, 4-3.
Despite getting several baserunners, DSS was unable to turn the game around in its favor again. The Haarlem-team left a runner behind on second base in the fourth inning, then Storks turned a double play in the fifth.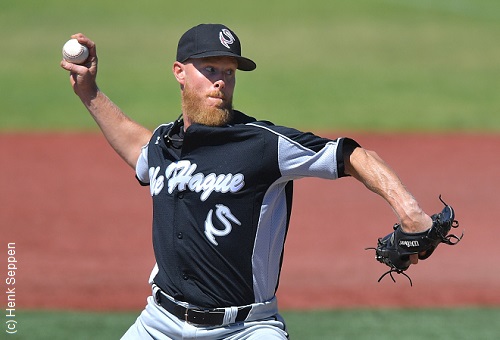 ...Jurrian Koks threw six good innings for Storks...
(© Photo: Henk Seppen)

After being retired in order by Sulbaran in the fourth and fifth inning, Storks took some more distance in the top of the sixth. With one out, Glennton Poulo struckout, but as the third strike ended in a wild pitch, he reached first base. Luuk Visser followed with a single, then the two runners advanced on a double-steal. A new wild pitch led to a run, as did a single by Joost van den Bergh to make it a 6-3 score. Hereafter, Robyn Clara took over the DSS-pitching and saw Roy Winkel hit into an inning-ending unassisted double play on a line drive hit to first baseman Tino van Erk.

In the bottom of the sixth, DSS got another chance to do something back. With one out, Brian Raap singled, advanced when a pick-off attempt by the catcher ended in a throwing error and reached third base on a wild pitch with two outs. Koen Halderman then walked, but the two runners were left behind.

DSS then did score a run in the seventh off of new pitcher José Moreno to narrow the deficit to 6-4. He walked lead-off hitter Devano Pieter, who moved on a grounder, then scored on a single by Tino van Erk, who himself was eliminated at second base on a throw from leftfield.

Storks added two insurance runs in the eighth inning. Lead-off hitter Kevin Nieveld was hit by a pitch and scored on an one-out single by Glennton Poulo. Sander Helmendach then took over the pitching, but was greeted with a double by Luuk Visser. With runners on second and third base, Joost van den Bergh was walked intentionally, but a run was then scored when Stephon Mohamed followed with an infield-hit. Three runners were left behind, but Storks now led 8-4.

In its final two at bats, DSS was unable to get into scoring positon off of Nick Winkel, who is the announced starter for coming Sunday's game. It has not yet been confirmed whether or not that will be the case now he has thrown in relief tonight.