After being retired in order in the top of the first inning by Quick-starter Sem Robberse, Amsterdam Pirates opened the score in the next at bat. With one out, Linoy Croes singled, then advanced to second base when Robberse made a throwing error during a pick-off. Croes moved to third base on a grounder by Delano Selasso and scored when next batter Niels van Weert reached on an error.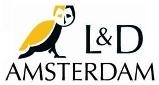 Amsterdam Pirates was retired in order again in the third and fourth inning, but then struck with five runs in the top of the fifth to take a convincing lead. Pirates got the bases loaded quickly. Delano Selassa and Niels van Weert opened with singles, then Aidan Finnegan reached on a bunt-single. The first run in the inning was then scored on a single by Roland Laurens. Due to some injuries, Laurens was added to the roster on Friday. This season, he plays for the second team of Amsterdam Pirates in the second highest league. In the past, the outfielder played in the big league for UVV. Last year, he played in 24 games for HCAW.

With the bases still loaded, the next run was scored on a grounder by Roelie Henrique, who last season was a teammate of Laurens at HCAW, as was Delano Selassa. The bases got loaded again when Max Clarijs was hit by a pitch. Two more runs were added on a single by Gilmer Lampe. With Clarijs on third base and Lampe on first, a double play followed, but that also produced a run. In a hit-&-run situation, Lampe took off from first base while batter Kenny Berkenbosch struckout. Lampe got in a rundown between first and second base. He was caught stealing to complete a double play, but before he was tagged out, Clarijs had scored the fifth run in the inning.
Amsterdam Pirates scored another run in the seventh inning. Aidan Finnegan led off with a triple. He scored when Roland Laurens struckout, but reached on a wild pitch. Laurens later stranded on second base when Sem Robberse closed the inning with his eighth strikeout.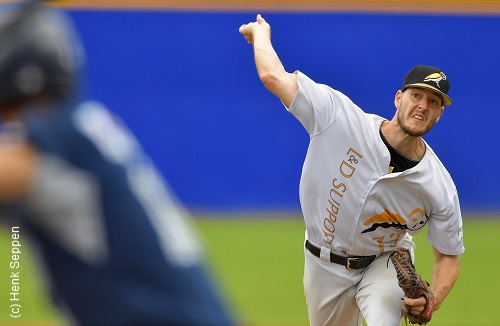 ...Kevin Heijstek...
...gave up two basehits in seven innings...
(© Photo: Henk Seppen)

Amsterdam-starter Kevin Heijstek silenced the Quick-offense, as he allowed only two basehits in the seven innings he pitched, while striking out seven batters. The righthander dominated and retired the first nine batters he faced. Heijstek then walked lead-off hitter Joran Berkhout in the fourth. With two outs, he also walked Bryan Engelhardt, but closed with a strikeout.

In the fifth, Heijstek walked lead-off hitter Rowan van Hoek, but he was forced out. He then retired the side in the sixth.

In the seventh inning Heijstek's No-Hitter and shutout ended. Bryan Engelhardt led off with a walk and Remian Denis followed with a single into centerfield to record the first basehit for Quick Amersfoort. Hereafter, Rowan van Hoek also singled to bring Engelhardt. Heijstek struckout the next batter, then was supported with a double play.

Amsterdam Pirates got the run back in the top of the eighth off of new pitcher Mitchell Berghmans, who last season played in the second team of Amsterdam Pirates. He walked lead-off hitter Kenny Berkenbosch, who advanced on a wild pitch and a flyout, then scored on a grounder by Delano Selassa. Niels van Weert and Aidan Finnegan (who was 3-for-4) followed with singles, but were left behind.

In the bottom of the eighth, it was Quick Amersfoort that left two runners behind off of Jhan Rifaela, who took over the Amsterdam-pitching. With two outs, Jules Cremer and Rachid Engelhardt both singled, but Rifaela closed by striking out powerhitter Bryan Engelhardt.

Quick got one more runner in the ninth. With two outs, an error was made on a grounder by Sam van der Ploeg, who also played for Pirates-2 last year. Hereafter, Rifaela closed the game with a strikeout.