HCAW opened the score with one run in the top of the first inning off of Sem Lauf, who would give up eleven basehits. Three of these hits were recorded in the opening at bat. Jeandro Tromp and Bob van der Meer led off with singles. With one out, Tromp advanced on a flyout, then Van der Meer stole second base and Patrick Bok followed with a runscoring single.

Storks also got into scoring position in its first at bat off of starter Kaj Timmermans. The righthander gave up lead-off singles to Giovanny Perez and Jurriaan Dijk. With one out, Dijk was forced out, then Perez stranded on third base.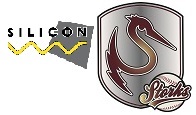 HCAW took some distance by scoring two runs in the second inning. Ruendrick Piternella led off with a double and scored on a following single by Arthur Lughtmeijer. Next, Lugtmeijer was forced out on a grounder by Norbert Jongerius, who then was caught stealing himself moments later. With two outs, Jeandro Tromp walked and scored on a double by Bob van der Meer to make it a 3-0 score.
HCAW appeared to do some more scoring in the third. Rodney Daal and Patrick Bok led off with walks, but then the Storks-defense turned a double on a line drive by Seb Visser and a flyout ended the inning.
After Storks was retired in order in the second, the team scored what would be its lone run in this game. With one out, Giovanny Perez singled and Jurriaan Dijk walked. With two outs, Kris Morris delivered a runscoring single, but Storks would leave runners behind on first and third base.
In the fourth, Storks got its lead-off hitter on base when Joost van den Bergh singled. However, he was forced out on a grounder by Quinlan de Windt, who later was caught stealing.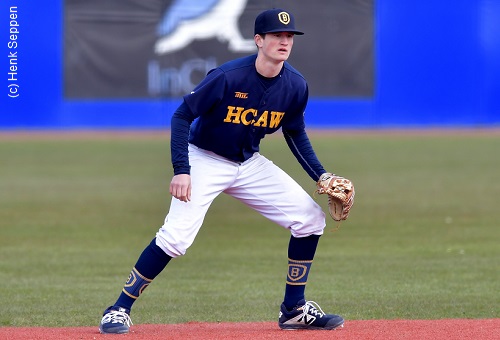 ...Bob van der Meer...
...3 basehits, double, run scored, RBI, stolen base...
(© Photo: Henk Seppen)

HCAW added two more runs in the top of the fifth when the first four batters all hit a basehit. Oliver van der Wijst Severino led off with a homerun, which was his first in the highest league. Next batter Rodney Daal singled and Patrick Bok followed with a double. Daal then scored when Seb Visser also singled, which led to a pitching change. With no outs, José Moreno took over. He picked off Visser at first base, then got a comeback-grounder and closed with a strikeout.

HCAW got the bases loaded in the seventh inning, but then failed to score. With two outs, Patrick Bok singled, Seb Visser was hit by a pitch and Ruendrick Piternella walked. Another pitching change followed. This time, Martin Kram took over and made his first appearance of the season after having been sidelined with an injury. He got an inning-ending force play-grounder and so, three runners were left behind.

HCAW was more successful in the eighth and scored twice. Norbert Jongerius led off with a double, moved on an one-out single by Bob van der Meer and scored on a single by Oliver van der Wijst Severino. Hereafter, Van der Meer scored on a sacrifice fly by Rodney Daal. Van der Wijst moved to second base on the throw to the plate, but was left behind there.

After being retired in order in the fifth and sixth inning, Storks got its next baserunner in the seventh off of new pitcher Timo van Ancum. He walked lead-off hitter Joost van den Bergh, but he was forced out.

In the eighth, Storks got into scoring position for the final time off of new pitcher Oscar Meuris. With one out, the righthander hit Jurriaan Dijk with a pitch and walked Roy Winkel. But Dijk was then forced out on third base and Meuris closed with a strikeout.

Jiorgeny Casimiri closed the game for HCAW and retired the side in the bottom of the ninth.