Twins Oosterhout struck early and was very productive off of DSS-starter Tim Halderman. The righthander lasted only 1 1/3 inning, faced 14 batters and gave up nine basehits and eight earned runs.

In the bottom of the first inning, Twins rallied for six runs on seven basehits. And the team did it with two outs! Tim Halderman walked lead-off hitter Joshua Zara and then was supported with a double play on a grounder by next batter Stijn Janssens. But hereafter, the next eight batters reached base, seven of them with a basehit. First, Dennis De Quint and Jason Halman singled, then Yuki Yoshimura followed with a runscoring double. Two more runs were added when Jamie Verheyleweghen hit the next basehit. The Belgian player moved to third base on a double by Max Kops, then the bases got loaded when Nick Peels walked. Next batter Jerzy van Gool brought in two more runs with a single and scored himself on a single by Joshua Zara. The long opening at bat ended when Zara was forced out on second base on a grounder by Stijn Janssens.
Twins added four more runs in the second inning on four basehits. Dennis De Quint led off with a single, moved on a grounder and a wild pitch and scored on a single by Yuki Yoshimura. That ended the afternoon for Halderman, who was relieved by Moreno Vork. But he also couldn't stop the Twins-offense. Vork was greeted with a single by Jamie Verheyleweghen, then got the bases loaded when he walked Max Kops. Two runs were then scored when Nick Peels singled and Jerzy van Gool was hit by a pitch. The fourth run in the inning was scored on a sacrifice fly by Joshua Zara, but that also led to an inning-ending double play. On Zara's sac-fly, Kops scored, then Peels tried to advance from second base to third base, but was eliminated there after the run had been scored.
The scoring wasn't over yet, as Twins scored two more runs in the third at bat. Stijn Janssens led off with an infield-hit and Dennis De Quint walked. Jason Halman followed with an RBI-double, then the next run was scored on an one-out grounder by Jamie Verheyleweghen.
With that, Twins led 12-0 and was en route to a mercy-rule victory, but DSS avoided that and so, it became a 9-inning game after all.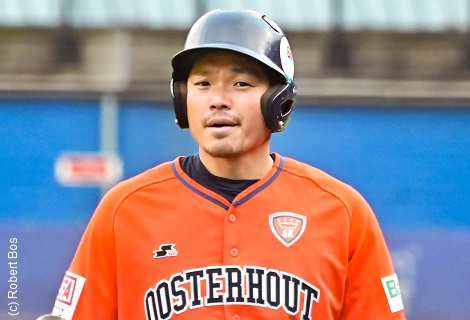 ...Yuki Yoshimura...
...3 hits, 1 double, 2 runs scored, 3 RBI's...
(© Photo: Robert Bos)

In the remainder of the game, Twins was held scoreless. The team added only three more basehits and left five runners behind, four of them in scoring position.

DSS was unable to get into scoring position in the first four innings off of Nick Veale. But the team did so in the fifth and then also scored two runs. Tino van Erk led off with a single, which was only the second basehit in five innings for DSS. With one out, Van Erk advanced on a wild pitch, then Donny Kuijper walked. Van Erk scored when an outfield-error followed on a single by Koen Werkman, then Devano Pieter added a sacrifice fly.
Despite giving up two runs, the 10-run difference was still intact when the sixth inning began. DSS then erased the mercy-rule difference by scoring three runs in the sixth off of new pitcher Koen Postelmans. With one out, the rookie gave up a single to Daniël Heiligers. With two outs, Tino van Erk also singled. The two runners advanced when an error in the outfield was made following Van Erk's single. Both runners scored on a double by Runai Coran, who hereafter scored himself on a single by Donny Kuijper. And so, the score was now 12-5.
In the top of the seventh, Jan Evertse became the new pitcher for Twins. He gave up a lead-off single to Devano Pieter, who was forced out, while Evertse also struckout two batters.
In both the eighth and ninth inning, Evertse was supported with a double play. And with that, the righthander earned a 3-inning save.
Twins made three double plays in this game, DSS made two.