While it was a clear and apparent sunny day in The Hague, it also was very cold, due to some strong winds.

DSS opened the score right away in the top of the first inning and was able to hold onto the lead throughout the game. The Haarlem-team decided the game by adding five runs in the final three at bats.

With one out, Storks-starter Gijs Timmer gave up a single to Diamond Silberie, who then moved into scoring position when a pick-off ended in a throwing error. Moments later, he scored on a single by Brian Raap, who was 4-for-5 today. With two outs, Raap stole second base, was awarded third base on a balk, but then was left behind.

DSS took more distance in the second at bat, scoring two unearned runs. With one out, (former Storks-player) Runai Coran walked and stole second base. He then scored when a throwing error followed on an infield-hit by Koen Werkman. The latter moved into scoring position on a wild pitch, stole third base and scored with two outs on another error.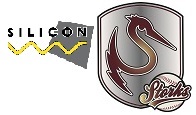 Storks narrowed the deficit to 3-2 in the bottom of the third inning. Roy Winkel led off with a bunt-single and Milo Botman was hit by a pitch. He then scored on a single by Giovanny Perez, which led to runners on second and third base. The bases got loaded when Jurriaan Dijk was hit by a pitch. With no outs, Kevin Nieveld grounded into a double play, which enabled Botman to score.
DSS got one run back in the fourth. Tino van Erk led off with an infield-hit and Runai Coran walked. The two moved on a balk, then Van Erk scored on a sacrifice fly by Mitchel Dautzenberg.
Trailing 4-2 in the bottom of the fifth, Storks got two baserunners with one out. Giovanny Perez then singled and Jurriaan Dijk walked. But hereafter, Perez was caught stealing after a pick-off and Dijk stranded on second base.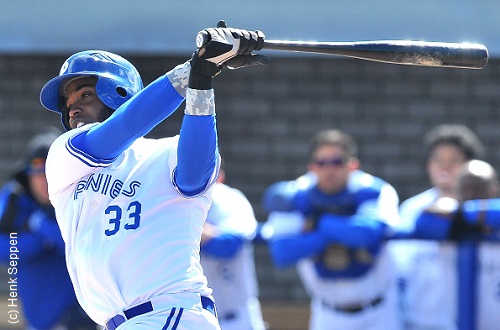 ...Brian Raap was 4-for-5 for DSS with 2 runs and 1 RBI...
...On the photo, he plays for Hoofddorp Pioniers...
(© Photo: Henk Seppen)

DSS scored its fifth run in the top of the sixth off of new pitcher José Moreno. With two outs, Runai Coran singled, stole second base, moved on a wild pitch and scored on a double by Koen Werkman.

In the bottom of the sixth, Storks scored another run, but there could have been more scoring opportunities. Kris Morris led off with a single, then an error followed on a force play-grounder by Glennton Poulo. Another force play-grounder followed, which eliminated Poulo, but brought Morris to third base. Visser then stole second base. Next, Visser was eliminated at third base trying to advance on a grounder to short by Joost van den Bergh. Morris scored, but now there were two outs. A flyout ended the at bat.

Leading 5-3, DSS took more distance from the seventh inning on. The team scored three runs in the seventh to lift the lead to 8-3. With one out, Daniel Heiligers walked and Brian Raap singled, which led to a pitching change. David van Heijningen took over, but he saw both runners being awarded the next base when a balk was called. He got the bases loaded when he walked Aldi Guzman, then also walked next batter Leandro Anasagasti. That not only led to a run, but also another pitching change. Sem Lauf took over, began with a strikeout, but then gave up a 2-run single to Runai Coran.

Storks scored once in its seventh at bat off of new pitcher Moreno Vork and again, the team got several baserunners, but failed to add more runs. Vork got the bases loaded quickly. He walked lead-off hitter Milo Botman, who moved to second base on a balk. The bases got loaded when Giovanny Perez singled and Jurriaan Dijk walked. A force out at the plate followed on a grounder by Kevin Nieveld, but a run was scored shortly thereafter on a single by Kris Morris to make it an 8-4 score. With the bases still loaded, Robyn Clara took over the pitching. As the tying run was coming to bat, Clara entered the game in a save-situation. Clara was supported with an inning-ending double play and earned his first save of the season.

DSS scored two more runs in the ninth inning, thanks to a single by Ibrahin Redan and a grounder by Runai Coran.