Not much happened in the first six innings. In the first six innings, Neptunus was limited to only two basehits by starting pitcher Nick Veale. In the last three innings, the team added eight basehits and scored its ten runs in the last two at bats off of three relievers.

Veale gave up only one basehit in the first five innings, as did Neptunus-starter Orlando Yntema.

For Neptunus, Dudley Leonora singled with one out in the second, but was caught stealing to end the inning.

Neptunus got into scoring position in the fourth and fifth inning. With one out in the fourth, Benjamin Dille walked and moved on a wild pitch, but was left behind. And in the fifth, with two outs, Shaldimar Daantji walked and stole second base. The inning then ended when centerfielder Brian Biezen made a great running/diving catch on a line drive hit by Julian Goins.
Orlando Yntema struckout ten batters in the five innings he pitched, but also saw two runners get into scoring position. The righthander struckout the side in the first inning. With two outs in the second, he gave up a single to Joshua Zara, who stole second base. Yntema closed with a strikeout.

In the third, Yntema walked Brian Biezen with one out. He stole second base with two outs, then was left behind.
In the fifth, Twins lead-off hitter Joshua Zara reached first base on an error, but moments later, he was picked off at fist base by Yntema.
Neptunus recorded its second basehit off of Nick Veale with two outs in the top of the sixth. Benjamin Dille then doubled, but stranded on second base.
Twins came close to opening the score in the bottom of the sixth off of new pitcher Elton Koeiman. The 45-year old righthander gave up a lead-off single to Brian Biezen, who moved on a sacrifice bunt by Stijn Janssens. With two outs, Biezen tried to score on a single into short centerfield by Dennis De Quint. But he was eliminated at the plate on a strong throw from centerfielder Shaldimar Daantji.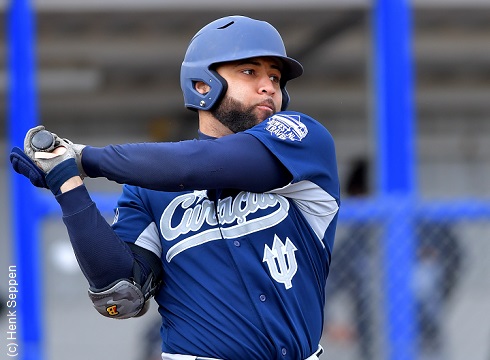 ...Gianison Boekhoudt...
...2 runs scored, 3 batted in...
(© Photo: Henk Seppen)

In the top of the sevenh, Neptunus got its first runner on third base. Gianison Boekhoudt led off with a walk, moved on a sacrifice bunt by Dudley Leonora and an error, but stranded on third base.

Moments later, Twins opened the score in its seventh at bat. Jason Halman led off with a walk, moved on a sacrifice bunt by Jamie Verheyleweghen and reached third on a grounder. Hereafter, Brendan Schoemaker took over the Neptunus-pitching, but was greeted with a runscoring single from Nick Peels.

This also was the moment in the game that almost no spectactor was watching the game from the outside. The rain had become somewhat heavier, there was sleet and it was very cold, which left the stands empty. Some spectactors were standing near the clubhouse, ready to get inside. It surely was no fun to play a game today.

Neptunus then struck with six runs in the top of the eighth after Twins also went to the bullpen. Marvin Brown took over the pitching, but he hit lead-off batter Jochem Koedijk with a pitch. He was forced out on a grounder by Stijn van der Meer, but Benjamin Dille followed with a bunt-single. That led to the next pitching change and Raf Cocu took over. He gave up a single to Dwayne Kemp which loaded the bases. Gianison Boekhoudt followed with a 3-run double down the leftfield-line to put Neptunus ahead, 3-1. Dudley Leonora followed with an infield-hit and Quintin De Cuba added a 2-run single. Later, De Cuba scored himself on a sacrifice fly by Julian Goins.

Neptunus added four more runs off of new pitcher Mic van de Ven in the ninth to lift the lead to 10-1. Stijn van der Meer led off with a double and scored on a rare one-out triple by Dwayne Kemp, which had to be a double. Kemp hit the ball down the leftfield-line and third baseman Jerzy van Gool (who played on an unfamiliar position) and short stop Dennis De Quint both went to the border of the infield with the outfield. With third base open, Kemp continued running. Moments later, he scored on a passed ball. Hereafter, Gianison Boekhoudt and Dudley Leonora both walked and advanced on a grounder. Another wild pitch followed, which enabled Boekhoudt to score and brought Leonora to third base. But when a throwing error back to the plate followed, Leonora also was able to score.

Twins was unable to do something back in its final two at bats. In the eighth inning, Brian Biezen led off with a walk and Stijn Janssens singled, but they were left behind on second and third base. And in the ninth, Neptunus turned a double play, then a flyout ended the game.