It not only was a cold day in Hoofddorp, it also was windy and there was hail and even some sleet! This led to a 21-minute delay in the fourth inning!

The game stayed scoreless in the first three innings, but Quick Amersfoort came close to opening the score in the third at bat.

Quick got two baserunners in the top of the first inning off of starter Luuk ter Beek, but both were forced out. Pioniers then stranded a runner on second base in its first at bat.

In the top of the third inning, Quick got the bases loaded. Remian Denis led off with a walk and advanced on a sacrifice bunt by Kevin Windster Adelina. Hereafter, Joran Berkhout was hit by a pitch (his second time this game) and with two outs, the bases got loaded when Rachid Engelhardt singled. Next batter Jan-Willem Geerts struckout, but the ball was in the ground. With that, all runners needed to run, but instead of throwing the ball to first base to complete the strikeout, catcher Paul Brands stepped on the plate to force out Denis and end the inning.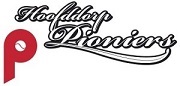 After Quick-starter Sem Robberse retired the Pioniers-side in the bottom of the third, his teammates scored three unearned runs in a long top of the fourth. With one out, Taylor Clemensia walked and Rowan van Hoek singled. Remian Denis followed with a force play-grounder, but that ended in an error, which enabled Clemensia to score the first run. With two outs, two more runs were added on a double by Joran Berkhout. Moments later, the game needed to be interrupted due to sleet and hail! After a 21-minute delay, the game continued and a flyout ended the at bat.
Quick Amersfoort added two runs in the fifth inning off of new pitcher Paul Kirkpatrick. With one out, Jan-Willem Geerts and Jules Cremer both singled, then respectively scored on a single by Taylor Clemensia and a double by Rowan van Hoek to increase the lead to 5-0.
In the top of the seventh, Quick scored another run. This time, Geerts led off with a single, advanced when a pick-off ended in an error, reached third base on a flyout and scored on a passed ball.
In the meantime, Quick-starter Sem Robberse did fine. The young righthander allowed two runners to get into scoring position. In the bottom of the first, he gave up an infield-hit to Nolan Beugeling, who moved on a wild pitch, but Robberse closed with a strikeout. In the second inning, he walked Jelle Kroft, who moved on a sacrifice bunt by Joey Eeman, but also was left behind on second base.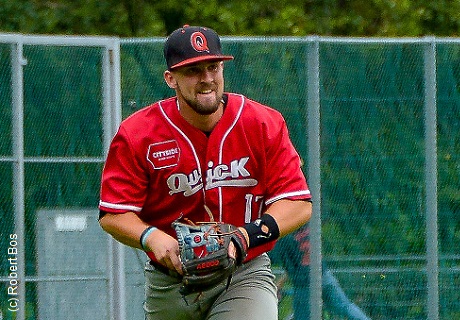 ...Rowan van Hoek hit 3-for-5 with a double for Quick...
...He scored once and batted in one...
(© Photo: Robert Bos)

In the next four innings, Robberse didn't encounter much problems. He got three baserunners (two basehits), but they all stranded on first base. The righthander struckout eight batters, including five in a row in the fourth and fifth inning.

With a 6-0 lead, Jasper Popken took over the pitching for Quick in the bottom of the seventh, but Pioniers then rallied for five runs to make it an one-run game. The Quick-defense committed two errors, which led to four unearned runs. Joey Eeman led off with a walk and moved on a wild pitch with one out. Pinch-hitter Tyler Boersma then also walked, but was forced out on a grounder by Duco Nuijten. With runners on first and third base, a run was scored on a single by Mark Smit, which was followed by a pitching change. Pastor Enrique Martínez Chavez took over, but he got the bases loaded when he hit Raul Jacobs with a pitch. A throwing error on a grounder by Nolan Beugeling then enabled all three runners to score, while he himself ended up on third base. He then scored on a single by Paul Brands to make it a 6-5 score.

In the top of the eighth, Quick added an insurance run, which indeed proved to be the difference in the score. Remian Denis led off with a walk, stole second, moved on a flyout and scored on a single by Joran Berkhout.

Pioniers then got a chance to turn the game its way, but scored only once and left the bases loaded. Joey Eeman again led off with a walk and stole second base. With two outs, he moved to third base on a single by Duco Nuijten. Hereafter, another pitching change followed, as designated hitter Jan-Willem Geerts took the mound for Quick. He walked Mark Smit, which loaded the bases, then gave up a single to Raul Jacobs, which made it a 7-6 score. The inning then ended when Geerts closed with a strikeout.

After Quick had left runners on first and second base in the top of the ninth, Pioniers got another scoring opportunity in its ninth. Paul Brands led off with a double, but with one out, a line drive hit by Joey Eeman ended in a game-ending double play.