Amsterdam-starter Jim Ploeger retired the side in the top of the first inning (two strikeouts). Moments later, he was supported with four runs by his teammates.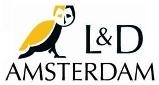 With that, in the bottom of the first, Amsterdam took an early and deciding lead off of HCAW-starter Dennis Burgersdijk. With one out, Delano Selassa was hit by a pitch and Gilmer Lampe singled. Denzel Richardson followed with a runscoring double and Kenny Berkenbosch added a 2-run single. Berkenbosch then advanced on a passed ball and scored the next run when Linoy Croes also singled.
HCAW answered with two unearned runs in the top of the second inning, but was unable to turn the game its way. Lead-off hitter Ruendrick Piternella reached on an error and Oliver van der Wijst Severino walked. The two moved on a sacrifice bunt by Patrick Bok. Piternella then scored on a grounder by Arthur Lugtmeijer and Van der Wijst scored the next run when a hit by Berend Ruben was missed in the outfield.

Amsterdam had good contact in the second, but didn't score. Lead-off hitter Aidan Finnegan was hit by a pitch. Finnegan was the catcher today and played in his first game, as he filled in for regular catcher Max Clarijs. In Saturday's game, Clarijs left the game in the second inning after being hit in a delicate spot and didn't play today. With Finnegan on first base, Roelie Henrique hit a line drive, but that was caught by short stop Bob van der Meer. After Finnegan had advanced on a wild pitch, it was Delano Selassa who hit a line drive, but this time, pitcher Dennis Burgersdijk caught the ball and then closed with a strikeout.
After two scoreless innings, both teams scored in the fifth inning.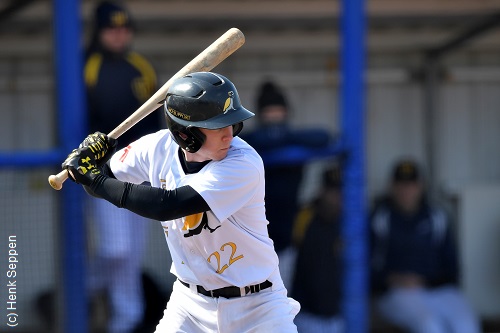 ...Aidan Finnegan was 2-for-3 and batted in 2 runs for Pirates...
(© Photo: Henk Seppen)

With one out in the top of the fifth, Berend Ruben was hit by a pitch and moved on a grounder. He then scored on a single by Jeandro Tromp to narrow the deficit to 4-3. Tromp was later forced out.

In the bottom of the fifth, Amsterdam took more distance by scoring three runs. The bases got loaded quickly when Kenny Berkenbosch and Linoy Croes singled and Rashid Gerard was hit by a pitch. A run was then scored when Victor Draijer walked and Aidan Finnegan followed with a 2-run single to increase the lead to 7-3. Hereafter, Jiorgeny Casimiri took over the HCAW-pitching and was supported with a double play.

Jhan Rifaela took the mound for Amsterdam Pirates in the top of the sixth and threw three fine innings. The lefthander struckout three batters. After two harmless innings, Rifaela walked two batters in the eighth. He walked lead-off hitter Norbert Jongerius, who stole second and third base. With two outs, a walk followed for Pascal Zegwaard, who played in his first regular season-game since 2017. With runners at the corners, the inning ended when Rifaela fielded a comeback-grounder to retire the batter.

Amsterdam Pirates stranded runners in scoring position in the sixth and seventh inning. In the sixth, a runner was left behind on second base. In the seventh, with one out, Victor Draijer walked and Aidan Finnegan singled. With two outs, the two moved on a wild pitch, but were left behind.

HCAW again left two baserunners in the ninth inning off of Nick Veltkamp, the third lefthander used by Amsterdam in this game. With one out, he gave up singles to Patrick Bok and Arthur Lugtmeijer. Veltkamp followed with a strikeout, then a grounder ended the game.