It was a weird game with some costly errors made by both teams. Storks struck early and led 4-0 halfway the fourth inning, but then stopped scoring. DSS came alongside in the bottom of the fourth, then also was kept scoreless until two outs in the bottom of the ninth inning.

The game began with a rare moment in the top of the first inning. Giovanny Perez led off the game with a single. With one out, Kevin Nieveld hit a possible double play-grounder. The ball went from third to second to first base. Nieveld was retired at first base, but Perez simply reached second base in time and was safe. Wth that, Nieveld was out on a rare 5-4-3 grounder. The inning ended when short stop Mitchel Dautzenberg caught a line drive from Kris Morris.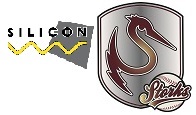 Storks opened the score in the top of the second inning off of starting pitcher Alexander Valdez. With one out, Luuk Visser doubled, then moved to third base on a grounder by Joost van den Bergh. With two outs, Visser scored on a passed ball.
After DSS had left two runners behind in the bottom of the second inning, Storks struck with three runs in the third at bat. Jurriaan Dijk led off with a walk and Kevin Nieveld singled. A possible double play-grounder by Kris Morris followed to short. However, the throw to second base was missed and everyone was safe. All three runners would go on to score a run. The first run was scored on a grounder by Glennton Poulo, then Luuk Visser and Joost van den Bergh followed with runscoring singles.
...Winning pitcher Sander Helmendach struckout 5 batters...
(© Photo: Robert Bos)

DSS then had a productive fourth at bat off of starter Nick Winkel. The Haarlem-team scored four runs on only one basehit. Two costly errors contributed, resulting in three unearned runs. Brian Raap led off with a walk and next batter Aldi Guzman hit a double. Next batter Runai Coran hit a grounder to short. Raap scored, but Guzman got in a rundown. However, a throwing error enabled him to advance to third base, while Coran reached first base. After the latter had stolen second base, a force play was created by walking Tino van Erk intentionally. But the next run was then scored when Koen Werkman walked. With one out, Werkman was forced out at second base on a grounder by Mitchel Dautzenberg, but that was followed by a throwing error in an attempt to complete a double play. Coran already scored on the grounder, but Van Erk was able to score the tying run on the error.

Storks appeared to get back on top immediately in the fifth inning. Glennton Poulo and Luuk Visser led off with singles, which was followed by a pitching change. Sander Helmendach took over, there were some other defensive changes and the game continued. Helmendach picked off Poulo at second base, then a pop-up and strikeout closed the at bat.

In the seventh inning, both teams got another scoring opportunity. However, Storks stranded runners on first and third base, while DSS left runners behind on first and second base.

Storks got only one more baserunner in the next two innings, but DSS got the bases loaded in the bottom of the ninth. With one out, Devano Pieter walked. Hereafter, veteran righthander Jurrian Koks was brought in to take over the pitching for Storks. He saw Leandro Anasagasti reached on a bunt-single. Koks got quickly to the ball, but had not enough time to eliminate the batter. After the two runners had advanced on a grounder, a force play was set up by walking Aldi Guzman intentionally. With Runai Coran in the batter's box and an 0-1 count, Koks uncorked a wild pitch, which enabled Pieter to score the winning run!