Hoofddorp Pioniers opened the score with two runs in the top of the first inning and hold onto the lead in the remainder of the game. The team led only 6-5 after four innings, but then took some more distance.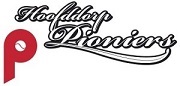 Pioniers scored two unearned runs in the first inning off of starter Colin van Laar when the Quick-defense committed three errors. With one out, Raul Jacobs singled, then an error was made on a possible double play-grounder by next batter Nolan Beugeling. With runners at the corners, Beugeling stole second base, which was followed by a throwing error, enabling Jacobs to score. Moments later, Beugeling scored when Joey Eeman reached on an error.
With one out in the bottom of the first inning, Quick got two baserunners with one out off of starter Lars Broersen. Jordy Burger then walked and Rachid Engelhardt singled, but a double play ended the at bat.

Pioniers added a run in the second inning. Damian Melis led off with a single, moved on a wild pitch and scored on an one-out single by Duco Nuijten.
Quick Amersfoort got one run back in its second at bat. Jules Cremer then led off with a double and scored on a following single by Taylor Clemensia, who later was caught stealing.
After the Pioniers-defense had turned a double play in the third inning, the team added three runs in the top of the fourth. With one out, Tyler Boersma singled and Damian Melis walked. A run was scored when Bodhi de Vreede connected for an RBI-double, then two more runs were added on a 2-out single by Mark Smit.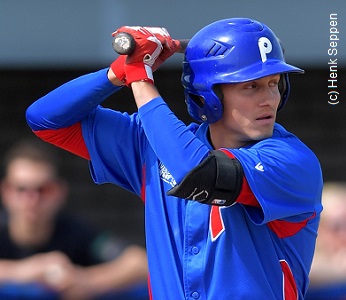 ...Mark Smit batted in two runs for Pioniers...
(© Photo: Henk Seppen)

Trailing 6-1, Quick produced a 4-run rally on only two basehits in the bottom of the fourth to narrow the deficit to 6-5. The rally unfolded quickly. Lead-off hitter Rachid Engelhardt was hit by a pitch and scored when Jan-Willem Geerts followed with a double. Next batter Jules Cremer walked, then Taylor Clemensia produced a runscoring single and a wild pitch accounted for the third run. With one out, another run was added when Dakota van der Heyde reached on an error. With that, the score now was 6-5 and a pitching change followed. Lars Broersen was relieved by Nathan Diaby, who got a pop-fly and flyout that ended the inning.

Diaby completed the game and was credited with his third win in four appearances as reliever. In the remainder of the game, Diaby would allow only one more run and two basehits. The righthander retired the side from the fifth through eighth inning.

Pioniers added insurance runs in the fifth and sixth inning. In the fifth, Nolan Beugeling led off with an infield-hit, which led to an injury for short stop Denzel Brooks, who left the game. Beugeling advanced on a wild pitch and later scored on an one-out double by Joey Eeman, who himself was eliminated at third base trying to stretch it into a triple.

The sixth inning had a similar start. Duco Nuijten led off with an infield-hit to short and moved on a wild pitch. When next batter Mark Smit walked, a pitching change followed. Pastor Enrique Martínez Chavez took over, but he got the bases loaded when Raul Jacobs reached on a bunt-single. With one out, a run was scored on a sacrifice fly by Jelle Kroft to make it a 8-5 score.

Pioniers scored another run in the top of the ninth off of new pitcher Mark Kolner. With one out, Joey Eeman singled and later scored on the second wild pitch by Kolner.

After having retired all 14 batters he had faced since coming into the game in the fourth inning, Pioniers-reliever Nathan Diaby walked lead-off hitter Jules Cremer in the bottom of the ninth. With one out, he gave up a single to pinch-hitter Remian Denis, then a pinch-hit runscoring single to Bryan Engelhardt. But hereafter, a force play and a foul-out ended the game.