To be able to play twelve innings today, it was decided to move up the starting time from 2 PM to 1 PM. Everyone involved, including the umpiring crew, went ahead with this proposal. The earlier starting time also had to be discussed with the Scoring Committee, as today's game was to be used for the exam of this winter's scoring course. All scoring students were able to be in time in Bussum and at the end of the day, four of them passed the exam.

After a rainy night, the weather conditions were acceptable. It was a chilly afternoon, but there were periods with sun and most important, it was dry!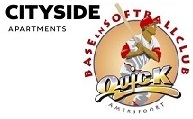 Of the 16 runs scored today, only three were earned, according to the unofficial scorecard of the game. However, this scorecard might have some discrepancies with what an official scorer would have ruled. Both teams used eight pitchers.
After its defense had turned a double play in the top of the first inning, HCAW opened the score with an unearned run in the bottom of the first inning off of starter Sem Robberse, who last season made his debut in the highest division while playing for the Bussum-team. The young righthander, who in November won the Roel de Mon Award for best Junior-Pitcher, walked lead-off hitter Jeandro Tromp. With one out, the bases got loaded when Seb Visser singled and Rodney Daal (ex-Amsterdam Pirates) reached on an error, which probably was judged as a basehit by the official scorers who were on hand for the scoring exam. Tromp then scored on a sacrifice fly by Patrick Bok, but a force play then ended the at bat.
In the top of the second inning, HCAW-starter Chris Pfau gave up a 2-out single to Remian Denis, but then closed with his third strikeout in the inning.

In the top of the fourth inning, off of Kaj Timmermans, Quick came close to score its first run (or more). Sam van der Ploeg and Jan-Willem Geerts opened with basehits, then next batter Jules Cremer was hit by a pitch. But hereafter, HCAW turned a 5-2-3 double play on a following grounder by Rowan van Hoek, then a flyout ended the inning.
In the bottom of the fourth, HCAW doubled its lead off of Taylor Clemensia. Shortly before the start of last season, the lefthander was released by Minnesota Twins, where he had played professionally in Rookie League in 2016 and 2017. Clemensia returned to the Netherlands and went on to pitch for Curaçao Neptunus. In the fourth, Clemensia walked lead-off hitter Bob van der Meer, who last season played for Twins Oosterhout. Hereafter, both Norbert Jongerius and rookie Arthur Lugtmeijer reached on an error, which resulted in the run. Clemensia closed with two strikeouts and went on to become the winning pitcher, as his teammates would turn around the game moments later.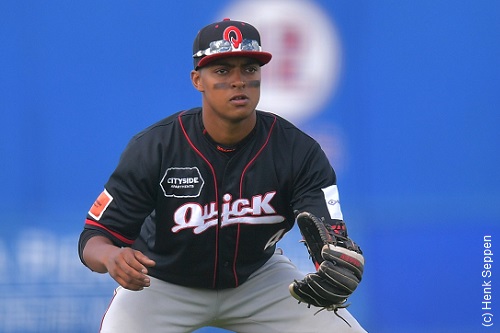 ...Remian Denis was 3-for-6 for Quick Amersfoort...
...with a double and batted in two runs...
(© Photo: Henk Seppen)

In the top of the fifth inning, Dennis Burgersdijk took over the pitching for HCAW. In this at bat, Quick Amersfoort rallied for five runs on three basehits. The HCAW-defense contributed with three errors, resulting in four unearned runs. Jordy Burger led off with a walk and Dakota van der Heyde (another former HCAW-player) singled. Next, an error was made on a force play-grounder by Kevin Windster Adelina, which led to the first run. With one out, Sam van der Ploeg delivered a 2-run single to put Quick ahead, 3-2. Thereafter, Jan-Willem Geerts also singled. Both Van der Ploeg and Geerts scored when a grounder by Jules Cremer ended in two errors, making it a 5-2 score. Last season, Van der Ploeg and Geerts both played in the second team of Amsterdam Pirates. That team was coached by Glenn Romney, who today made his debut as the new Head Coach of Quick Amersfoort. While being on the roster during some games, Van der Ploeg never played in the main-team of Pirates. Geerts made one appearance for Pirates in the regular season, but he played a full season in the big league some years ago when he was playing for RCH. Today, Geerts started as second baseman and later also pitched. Burgersdijk recovered in the top of the sixth and then retired the side.

With a 5-2 lead, Colin van Laar took over the Quick-pitching in the bottom of the fifth. The lefthander got two baserunners in the two innings he pitched, but didn't encounter big problems.

In the top of the seventh, Ian Delemarre became the new pitcher for HCAW and retired the side. In the bottom of the seventh, Quick-reliever Jasper Popken gave up lead-off single to Jeandro Tromp. With one out, he was eliminated trying to advance to third base on the third single by Seb Visser (he was 3-for-7). Rodney Daal then walked, but HCAW was held scoreless.

In the top of the eighth, Quick failed to take more distance, as it got the bases loaded with two outs off of Delemarre. Jules Cremer and Rowan van Hoek both singled. With two outs, Taylor Clemensia, who entered as a pinch-hitter, walked, but the three runners were left behind.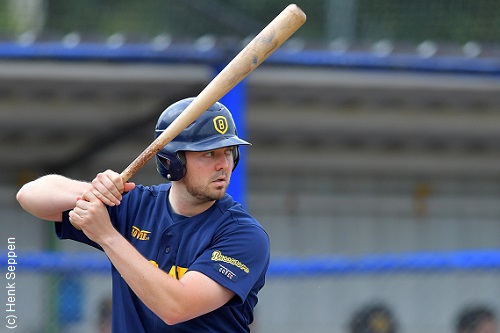 ...Seb Visser was 3-for-7 for HCAW...
(© Photo: Henk Seppen)

HCAW narrowed the deficit to 5-4 in the bottom of the eighth by scoring two unearned runs off of new pitcher Mitchell Berghmans, another player who accompanied Romney from Amsterdam Pirates to Quick Amersfoort. HCAW-newcomer Ruendrick Piternella (ex-Neptunus) led off with a walk and Bob van der Meer singled. The two moved on a passed ball, then respectively scored an error on a grounder by Norbert Jongerius and a grounder by Arthur Lugtmeijer.

After two scoreless innings, Quick Amersfoort took more distance by scoring four unearned runs in the top of the eleventh inning off of new ptcher Jiorgeny Casimiri, who also came from Neptunus. With one out, Joran Berkhout struckout, but reached on a passed ball. Hereafter, Sam van der Ploeg walked, but Casimiri then struckout the next batter, which would have been the third out. With two outs, the bases got loaded when Jules Cremer walked. Two runs were then scored on a single by Rowan van Hoek and Remian Denis (who was 3-for-6) followed with a 2-run double to make it a 9-4 score.

HCAW got two runs back (one unearned) in the bottom of the eleventh off of Jan-Willem Geerts. With one out, Rodney Daal walked and pinch-hitter Berend Ruben doubled. The bases were loaded when Ruendrick Piternella also walked. The latter was forced out on a grounder by Bob van der Meer, but that enabled Daal to score. Moments later, Ruben scored on a passed ball. With runners on second and third base, a flyout ended the at bat.

Quick added another run in the top of the twelfth inning off of Norbert Jongerius, who last season played for De Zuidvogels, but has played in the big league for UVV and Amsterdam Pirates. Taylor Clemensia led off with a single and would score on a basesloaded force play-grounder by newcomer Denzel Brooks to make it a 10-6 score.