Both starting pitchers struckout nine batters, but also got several baserunners. DSS-starter Juan Carlos Sulbaran gave up nine basehits and four runs in 6 1/3 inning. HCAW-starter Chris Pfau gave up only three basehits in the six innings he pitched, but the lefthander also walked five batters.

After HCAW stranded a runner on first base in both the first and second inning, DSS opened the score in the bottom of the second at bat off Pfau. He walked lead-off hitter Aldi Guzman, who reached second base safely when an error was made on a force play-grounder by next hitter Leandro Anasagasti. The bases got loaded when Runai Coran received the first of his four walks this evening. Moments later, Coran was forced out on a grounder by Koen Werkman, but that enabled Guzman to score. The inning ended when Werkman was eliminated at first base to complete a double play after Diamond Silberie flied out.

HCAW came alongside in the top of the third inning. Norbert Jongerius led off with a single off of Sulbaran. With two outs, he scored the tying run on a single by Oliver van der Wijst Severino.
DSS got a chance to do some scoring in the bottom of the third. With Tino van Erk (fielder's choice) on first base and two outs, Brian Raap doubled, but Chris Pfau then closed with a strikeout.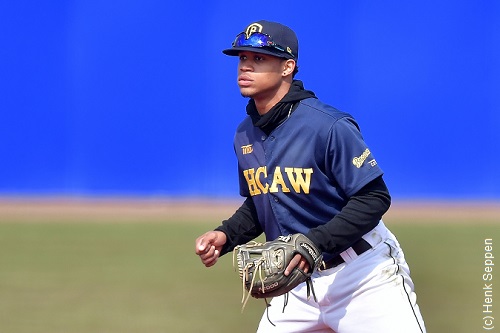 ...Oliver van der Wijst Severino, 2 hits, 1 RBI...
(© Photo: Henk Seppen)

In the fourth inning, both teams got into scoring position again.

In the top of the fourth, Patrick Bok singled with one out and Arthur Lugtmeijer singled with two outs, but they stranded on second and third base. In the bottom of the fourth, Chris Pfau struckout three batters, but also got the bases loaded. With one out, Runai Coran walked and with two outs, Diamond Silberie singled. Mitchel Dautzenberg then also walked to load the bases, but Pfau closed with another strikeout.

DSS also left three runners behind in the fifth inning off Pfau, who again struckout three batters. With two outs, he gave up a single to Aldi Guzman, then hit Leandro Anagasti with a pitch and walked Runai Coran. Again, a strikeout ended the at bat.

In the top of the sixth, it was HCAW that left another runner in scoring position. With one out, Rodney Daal hit a triple, but stranded.

HCAW then struck with three runs in the top of the seventh. Lead-off hitter Arthur Lugtmeijer struckout, but reached on a wild pitch. Renaigel Martis then reached on a bunt-single and the two moved on a sacrifice bunt by Norbert Jongerius. A single by Jeandro Tromp gave HCAW the lead and also brought in a new pitcher. Moreno Vork, who last season pitched for HCAW, took over from Sulbaran. He was greeted with a runscoring single from Bob van der Meer. That was followed by two outfield-errors, which brought in another run and gave HCAW a 4-1 lead.

DSS answered with two runs in its seventh at bat off of new pitcher Timo van Ancum. With two outs, Aldi Guzman walked and scored on a double by Leandro Anasagasti. Runai Coran then walked for the fourth time this evening. When he stole second base, a throwing error followed that enabled Anasagasti to score. Coran stranded on third base, as a flyout ended the inning.

Rookie Arij Fransen took over the HCAW-pitching in the eighth. He gave up a 2-out double to Devano Pieter in the eighth, but he was left behind. In the ninth, the righthander struckout three batters in a row to earn his first big league-save.