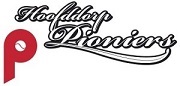 Hoofddorp Pioniers opened the score with two runs in the bottom of the first inning off of starter Thomas Roijers. Mark Smit led off with a single, then was safe on a fielder's choice-grounder by Nolan Beugeling with one out. With two outs, the bases got loaded when Joey Eeman was hit by a pitch. Pioniers then scored twice when Tyler Boersma followed with a single.

Twins got one run back in the top of the second inning. Pioniers-starter Lars Huijer hit debuting Yuki Yoshimura with a pitch in his first big league at bat. With one out, the Japanese infielder stole second base, then advanced to third base on a grounder by Joshua Zara. He then scored on a single by Jerzy van Gool.
Pioniers immediately scored a run of its own in the bottom of the second inning. With two outs, Mark Smit walked, stole second base and scored his second run on a triple by Raul Jacobs, who was left behind himself on third base.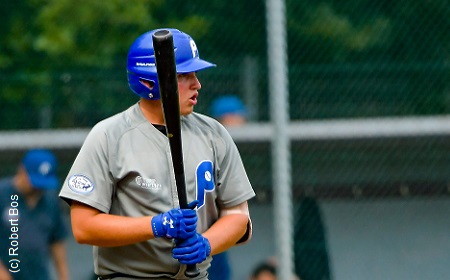 ...Tyler Boersma batted in two runs for Pioniers...
(© Photo: Robert Bos)

Twins also scored again in its next at bat. Stijn Janssens led off with a double, advanced on a flyout, then scored on a passed ball to make it a 3-2 score.

This time, Pioniers reacted with two runs, which proved to be decisive. With one out, Joey Eeman singled, but he was forced out on a grouder by Tyler Boersma. Shortly hereafter, Boersma scored on a triple by Joey de Koning, who scored himself when an error followed.

In the top of the fifth, Twins got a runner on third base. Brian Biezen (fielder's choice) stole second with one out, advanced on a grounder, but a strikeout then ended the inning.

Twins narrowed the deficit to 5-3 in the sixth. Lead-off hitter Dennis De Quint was hit by pitch. With one out, he moved to second and third base on two consecutive wild pitches from Lars Huijer. The righthander then struckout Yuki Yoshimura, but he reached first base on a passed ball, which enabled De Quint to score. The inning ended when Shurman Marlin grounded into a double play.

British/American pitcher Paul Kirkpatrick took over from Huijer in the eighth inning. The righthander gave up a 2-out single to Dennis De Quint, but he stranded on second base. Kirkpatrick retired the side in the ninth to earn his first save.