It was Storks that opened the score tonight. But the run the team scored in the second inning also was its last in this game. In the Storks-team Quinlan de Windt made his comeback. Last season, he made his debut when Storks returned to the highest league after many years. After the season, it was announced that De Windt was to play this season in the second team of the club.

After having left behind a runner on second base in the top of the first inning, Storks scored in the second at bat off of Sem Robberse, who went the distance for Quick Amersfoort. Luuk Visser led off with a double, then scored on an one-out single by Joost van den Bergh. With two outs, Roy Winkel walked, but a flyout ended the inning and two runners were left behind.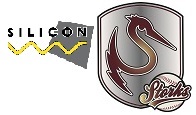 Storks got into scoring position only two more times in the remainder of the game. In the fourth, with two outs, Van den Bergh reached on an error and stole second, but stranded. And in the sixth, Kevin Nieveld led off with a single, then Kris Morris walked. Nieveld moved to third base on a double play-grounder, then a strikeout ended the at bat. Quick-pitcher Sem Robberse struckout six batters and gave up only four basehits in his first big league complete game.
Quick Amersfoort also left a runner behind on second base in its first at bat off of veteran Jurrian Koks. After the Storks-defense had turned a double play in the second inning, Quick came alongside in the third when Joran Berkhout homered with two outs. Last year, Berkhout started the season with Storks, but he transfered to Quick in May.
With two outs in the fourth, Taylor Clemensia and Remian Denis singled for Quick, buts Koks then closed with a strikeout.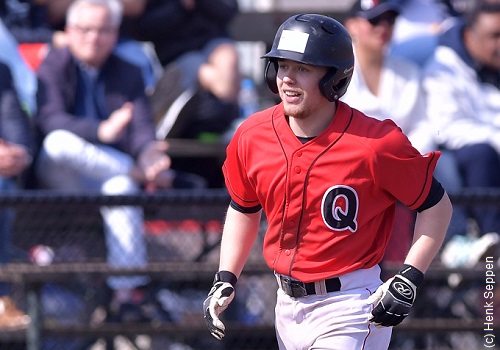 ...Joran Berkhout...
...homerun, 4 runs scored, 2 walks...
(© Photo: Henk Seppen)

Quick Amersfoort then struck with four runs in the bottom of the fifth. All runs were unearned, as the Storks-defense committed three costly errors. With one out, Sam van der Ploeg reached on an error and Joran Berkhout singled. With two outs, the bases got loaded when a gounder by Bryan Engelhardt also ended in an error. A walk for Jules Cremer then resulted in a run and gave Quick the lead. With the bases still loaded, a throwing error on a grounder by Taylor Clemensia enabled all three runners to score, while he himself ended up on third base. Hereafter, Sem Lauf took over the pitching and got an inning-ending flyout.

Quick scored four more runs in the sixth. This time, only one run was earned. Rowan van Hoek led off with a single. With one out, Sam van der Ploeg also singled and the bases got loaded when Joran Berkhout walked. An error on a force play-grounder from Rachid Engelhardt then resulted in a run and kept the bases loaded. David van Heyningen became the next pitcher and he got a successful force play-grounder from Bryan Engelhardt, which also led to a run. After Engelhardt had stolen second base, the bases got loaded again when Jules Cremer walked. The two runners advanced on a wild pitch, then a walk for Taylor Clemensia re-loaded the bases again. A passed ball accounted for the next run, before a grounder finally closed the long at bat. Quick now led 9-1.

The home-team reached the 10-run difference in the bottom of the seventh inning. Pinch-hitter Jan-Willem Geerts led off with a single off of new pitcher José Moreno. With two outs, Joran Berkhout and Rachid Engelhardt walked. The game ended when pinch-hitter Dakota van der Heyde delivered a walk-off, 2-run single.