In the first innings, the focus tonight was on veteran righthander Rob Cordemans, as he needed only one strikeout to become the first pitcher in Dutch baseball-history with 2,000 career strikeouts. Like in his previous two starts, it was expected that Cordemans would only pitch five innings tonight, as it is still early in the season. It was rumored that their was a pool within the Neptunus-team who would became his 2,000th strikeout-victim. There also was a rumor that players would go after the first or second pitch to avoid getting a strikeout, but that didn't happen.

In the first inning, Cordemans got to an 0-2 count on lead-off hitter Stijn van der Meer and Dwayne Kemp. Van der Meer lined out and Kemp closed the at bat with a flyout. In between, Benjamin Dille grounded out. In this inning, Cordemans threw only eight pitches, all strikes!
In the bottom of the first inning, his teammates supported Cordemans with a run off of starter Diegomar Markwell. With one out, Delano Selassa walked and with two outs, he scored on a double by Denzel Richardson. He advanced to third base on a wild pitch, but then was left behind.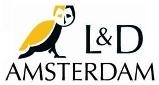 In the top of the second inning, Cordemans walked lead-off hitter Gianison Boekhoudt after an 0-2 count. Next batter Dudley Leonora grounded into a double play and a grounder ended the inning.
After Pirates was retired in order in the bottom of the second inning, history was written in the top of the third inning. Shaldimar Daantji led off with a double, then Gregory Muller flied out. The next batter was Jochem Koedijk, who got to an 1-2 count. He fouled off the next pitch, but at 8:09 PM, he swung miss at the next pitch to become the 2,000th strikeout-victim of Rob Cordemans. The game was temporarily stopped, as Cordemans was congratulated by his teammates and got a standing ovation from the spectators. The players and coaches of Neptunus stepped outside the dug-out to applause for the righthander.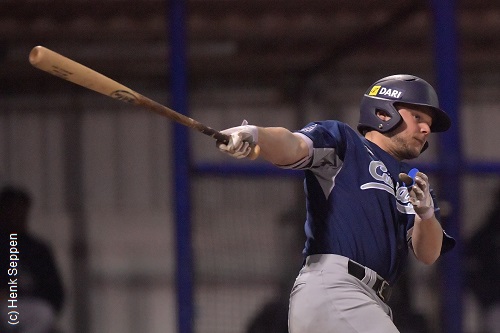 ...Jochem Koedijk swings and misses in the 3rd inning...
...to become strikeout-victim 2,000...
(© Photo: Henk Seppen)

9,097 days ago, Rob Cordemans made his debut in the Dutch big league and struckout his first batter. On May 22, 1994, Cordemans was the starting pitcher for Neptunus in a home-game against Amsterdam Pirates. Tonight, he started for Amsterdam against his former team.

Back then, his first outing in the Dutch big league lasted 2 1/3 inning and he left the mound with a 2-0 deficit.

In the first inning of the game 25 years ago, Martijn Faneyte led off with a single for Pirates, then moved to third base on a following single by Dirk van 't Klooster. Faneyte then scored on a sacrifice fly by Byron Ward. Hereafter, Van 't Klooster advanced to second base when Ronald Stoovelaar recorded the third single in this at bat. With runners on first and second base, Cordemans faced Marvin Geestman. The righthander got to a 2-2 count and then struckout Geestman, who with that became the first strikeout-victim of Cordemans. But it also led to a double play, as Van 't Klooster was caught stealing at third base to end the inning.

With two outs in the second inning, Minquelito Koek singled for Pirates and scored the second run on a double by Michaël van den Ende. In the third, Cordemans gave up another single to Van 't Klooster, then walked Ward. The two moved on a sacrifice bunt by Stoovelaar. Next, Cordemans struckout Geestman again, but got the bases loaded when he walked René van Huffel. And that marked the end of the first big league-outing of Cordemans. And the start of an impressive career, which is still going on, as the righthander is now playing in his 26th season in the highest league.

Neptunus got a run back in the third innig, then added three in the fifth inning, including two on a double by Wim Martinus. In the seventh, Martinus also homered off of Mike Yearout, who went the distance for Pirates. Neptunus won the game with a 7-4 score.

Back to tonight's game. With two outs and Daantji on second base, Cordemans faced Stijn van der Meer. His second delivery ended in a comeback line drive that hit Cordemans on his feet and jumped towards first base for an infield-hit, which enabled Daantji to score the tying run.

In the top of the fourth, Gianison Boekhoudt reached on an infield-hit with one out. He then scored the go-ahead run on a 2-out single by Shaldimar Daantji.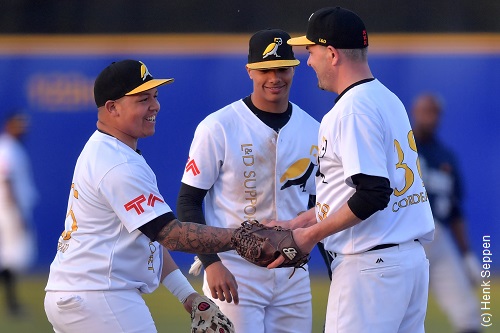 ...3B Rashid Gerard (left) and SS Delano Selassa...
...congratulate Rob Cordemans with his 2,000 strikeout...
(© Photo: Henk Seppen)

Neptunus took more distance in the fifth inning by scoring two runs. This time, Jochem Koedijk led off with a single. Stijn van der Meer followed with a bunt, which rolled near the foul-line, but stayed in fair territory, resulting in a bunt-single. The two runners moved on a sacrifice bunt by Benjamin Dille, then scored when Dwayne Kemp followed with a single. Hereafter, Nick Veltkamp took over the pitching from Cordemans. Gianison Boekhoudt first grounded out to short. Next batter Dudley Leonora lined the ball back to Veltkamp. The lefthander was hit, fell to the ground, but was able to pick up the ball to retire Leonora at first base and end the inning.

A rare out was recorded in the bottom of the fifth inning. Lead-off hitter Linoy Croes reached on an error, moved on a grounder and stole third base with two outs. Hereafter, Aidan Finnegan walked. With runners at the corners, Neptunus-catcher Quintin De Cuba made a pick-off at first base. While Finnegan returned, Croes took off in an attempt to steal the plate. First baseman Dudley Leonora returned the ball to De Cuba and Croes was caught stealing to end the inning.

With a 4-1 lead, Neptunus decided the game with a 5-run rally in the sixth inning on five basehits. Quintin De Cuba and Shaldimar Daantji began with singles. The latter was forced out on a grounder by Gregory Muller, but the bases then got loaded when Jochem Koedijk walked. Two runners scored when Stijn van der Meer followed with a single. The bases got loaded again when next batter Benjamin Dille also singled, which led to a pitching change. Maickel Rietel took over. He got a runscoring force play-grounder by Dwayne Kemp, then gave up a 2-run double to Gianison Boekhoudt that lifted the lead to 9-1.

With two outs in the bottom of the sixth, Gilmer Lampe walked for Pirates and Denzel Richardson singled. The two moved on a wild pitch, but Diegomar Markwell then closed with his sixth strikeout of the evening. In the next two innings, Kevin Kelly and Elton Koeiman retired the side.

Amsterdam Pirates scored its second run of the evening in the ninth inning off of Berry van Driel. Gilmer Lampe led off with a single, moved on a grounder, then reached third base on an infield-hit by Kenny Berkenbosch. After the latter had advanced on a passed ball, Lampe scored on a single by Linoy Croes, but the inning and the game then ended with a foul-out.