(Story by Marco Stoovelaar; Photo by Henk Seppen)

Amsterdam Pirates adds lefthanded pitcher Jhan Rifaela
Nederlands



AMSTERDAM (Neth.) - L&D Amsterdam Pirates has added lefthanded Curaçao-born pitcher Jhan Rifaela to its roster, the club announced on Sunday (March 17). Rifaela is currently on Curaçao, but will join the team shortly.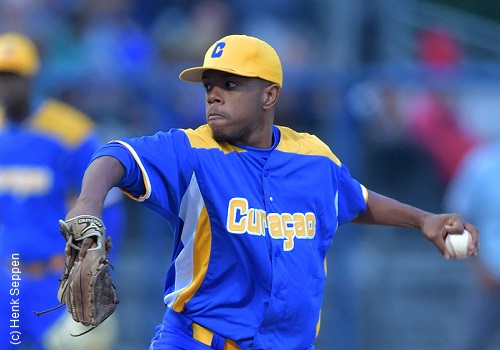 ...Jhan Rifaela pitching for Curaçao during the...
...2016 Baseball Week Haarlem...
(© Photo: Henk Seppen)

In the previous years, the 24-year old Rifaela pitched for Santa Maria Pirates, one of the leading teams in the highest baseball-league on Curaçao. Last year, he pitched in some crucial games of Santa Maria, with whom he won the Championship-title. In the best-of-seven Final, Santa Maria dethroned Wild Cats KJ74. With that, the team qualified for participation in the Serie Latinoamericana. For that event, the champions of the (professional) leagues in Argentina, Colombia, Curaçao, México, Nicaragua and Panama are eligible to participate. However, shortly before the start of the tournament, which was to beheld in México, Santa Maria Pirates withdraw due to ecomic reasons.

In last years Double AA League on Curaçao, Rifaela was one of the top-pitchers, leading in Strikeouts. He led the category with 73 strikeouts in 57 1/3 inning and was 8-0 in the regular season. In strikeouts, Rifaela was followed by Ruderly Manuel, who in the past pitched for Sparta-Feyenoord in the Dutch big league.

Rifaela is used to pitch in different roles by Amsterdam Head Coach Brian Finnegan. He can be used as a starter, but also throws in relief. Rifaela is the fourth lefthanded pitcher on the Amsterdam-roster, the others being Jerremyh Angela, Jim Ploeger and Nick Veltkamp. Angela didn't pitch in the Dutch league last year. After last season, Amsterdam-lefthanders Robin Schel and Kyle Ward retired.

With the National Team of Curaçao, Rifaela participated in the Baseball Week Haarlem in 2016 and the World Port Tournament in 2017, the two big international events in the Netherlands. In 2017, he pitched in three games for Curaçao. He threw one inning in relief against Japan, then started two days later against Chinese Taipei, pitching 2 1/3 inning. Rifaela then also started against Japan, throwing 3 1/3 inning. In these last two games, he was the losing pitcher.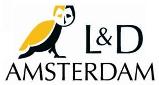 While playing for Amsterdam Pirates, Rifaela will play this season with uniform number 52. According to a report by Amsterdam Pirates, Rifaela is very happy to be able to play with this number, as it is the same number his idol C.C. Sabathia wears with New York Yankees. Amsterdam Pirates lists him as Jhan Rifaela, which also was his name on the Curaçao-roster in Haarlem and Rotterdam. However, in some game reports his first name is also written als Johan or Joan.
While playing for Santa Maria Pirates, his teammates included Jonathan Balentina, Johnny Gregorius, Shair Lacrus, Sherman Lacrus, Evenon Martis, Sevard Seferina and Ulrich Snijders.
Infielder Johnny Gregorius is the brother of New York Yankees short stop Didi Gregorius. Both grew up on the site of Amsterdam Pirates, where their father Didi Gregorius Sr. pitched for several years.
Some other players played professionally. Outfielder/catcher Sherman Lacrus played four seasons (2013-2016) in Rookie League/Single-A/Double-A in the organization of Texas Rangers and righthanded pitcher Shair Lacrus played four years (2014-2017) in Rookie League for Boston Red Sox. Catcher Ulrich Snijders played three seasons (2006-2008) in Rookie League for Milwaukee Brewers, then played two years (2009-2010) for San Marino in the Italian Baseball League.
During the 2017 World Port Tournament, Johnny Gregorius, Ulrich Snijders and Sherman Lacrus also played for Curaçao. Also playing for the team in that year was outfielder Denzel Richardson, who this season again will be Rifaela's teammate in Amsterdam. Last year, Richardson made is Dutch big league-debut playing for DSS.
(March 19)