(Story by Marco Stoovelaar; Photo by Henk Seppen)


New professional team for Kalian Sams
Nederlands



AUGUSTA, Sussex County, New Jersey (USA) - Dutch professional player Kalian Sams has a new team. After being released on July 7, the outfielder was acquired by Sussex County Miners six days later. Since joining his new team on July 13, the 32-year old Sams played in four games. Sussex County is the reigning champion in the Can-Am League.
On July 7, High Point Rockers, which plays in its inaugural season in the independent Atlantic League, announced that Sams was released. He played in 20 games for High Point, hitting .203 (13-for-64) with three doubles and one homerun. Sams scored six runs and batted in nine, but also struckout 21 times.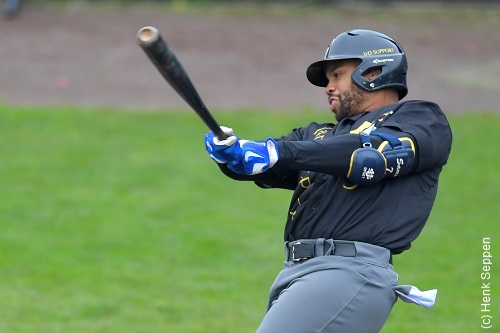 ...Kalian Sams plays for Amsterdam Pirates since 2017...
(© Photo: Henk Seppen)

With his transfer to Sussex County Miners, Kalian Sams returns to the Can-Am League, which is short for Canadian American Association of Professional Baseball. In this league, Sams played the previous four seasons for Les Capitales de Québec in Québec City (Canada), winning the Championship-title in 2017. In the Championship Final of last season, Sams and Québec played against Sussex County Miners and lost the best-of-five, 3-1.

On July 13, Sussex County Miners announced it had acquired Sams. In the evening, at Skylands Stadium, his new team played at home against Ottawa Champions. Sams was inserted in the seventh inning as pinch-hitter and grounded out. He was 0-for-2 for the Miners who won the game with a 13-6 score.
The next day, Sams batted second and was the rightfielder for the Miners against Ottawa. He showed his offensive skills, as he batted 3-for-5 with a double and a triple, scored twice and batted in five runs. Sussex County led 10-0 after three innings, but Ottawa then scored four runs in the fourth, rallied for eight runs in the sixth and went on to win 18-15.
After two off-days, the Miners played its next game on Wednesday at New Jersey Jackals. The two teams were to play a double-header at Yogi Berra Stadium, which is located at the campus of Montclair State University in Little Falls, New Jersey. Only the first game was played, as the second one rained out. Thursday's game also rained out.
Kalian Sams again was successful at the plate in this game. He now played in centerfield and batted 1-for-3, but that was a 3-run homerun. He scored three runs and walked twice. The Jackals led 3-0 after four innings, then Sams hit his 3-run homerun in the fifth to put his team on the right track. Sussex County won 11-3.
On Friday, Sams was 0-for-3, but scored a run and batted in one in a 6-2 loss against Rockland Boulders in Pomona, New York.
Sams first signed a professional contract with Seattle Mariners in 2006. He made his professional debut in 2007 playing in two Single-A teams of the Mariners. Since then, he played in Rookie League, Single-A and Double-A in the organization of the Mariners. After being released, Sams played in 2013 in Double-A and Triple-A for San Diego Padres. In the same year, he played in Double-A for Texas Rangers. Since 2014, Sams has played in Independent Leagues.
Before turning professional, Sams played in the Dutch big league for ADO in 2004-2006. He made his comeback in the highest Dutch league in 2015 when he played in five regular season-games for Kinheim. Before making his comeback in the Dutch big league, Sams played for Neptunus in the 2013 and 2014 Holland Series. Since 2017, Sams is eligible to play for L&D Amsterdam Pirates.
(July 20)
Related Article:


Kalian Sams released by High Point Rockers. (July 7)