(Story by Marco Stoovelaar; Photo by Robert Bos)

Four Dutch players in one game; Czech player makes Spring Training-debut
Nederlands




FORT MYERS / KISSIMMEE, Florida (USA) - On Monday (February 25), five Dutch players got into action with four of them playing in the same game. Ozzie Albies and Ray-Patrick Didder played for Atlanta Braves against Washington Nationals for whom Carter Kieboom and Spencer Kieboom played. Jonathan Schoop played for Minnesota Twins.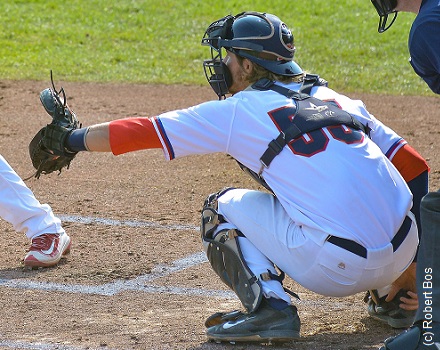 ...Martin Červenka catching for the Czech Republic...
...during the 2016 European Championship...
...in Hoofddorp (Netherlands)...
(© Photo: Robert Bos)

In the meantime, Czech catcher Martin Červenka has made his Major League Spring Training-debut with Baltimore Orioles. The 26-year old Červenka, born in Czech capital Prague, signed a professional contract in 2009 with Cleveland Indians when he was only 16 years old. After having played for Kotlářka Praha, he made his professional debut in 2011, playing in the Rookie League-team of Cleveland. In his first season, he played in only 17 games and batted .164.

In the following seasons, his hitting performances increased. After hitting below .200 in four of his first five seasons, Červenka batted .272 in 2016 when he played in two Single-A teams. The following year, the catcher batted .278 with eight homeruns, scored 59 runs and batted in 57 in Single-A Advanced. After the 2017 season, the Czech player became a Free Agent and he then signed with San Francisco Giants. Less than a month later, Baltimore Orioles took over Červenka's contract. During Major League Spring Training last year, he was briefly added to the team, but then didn't play. Last season, he played for Bowie Baysox in Double-A and batted .258 in 97 games, hitting 15 homeruns and batting in 60 runs. He also played in the Eastern League All Star Game.
In 2016, Červenka played for the National Czech Team during the European Championship and again in 2018 during the Super6. On January 25 of this year, Červenka was invited to Spring Training as a non-roster player. Last Sunday, he made his Spring Training-debut when he entered the game as catcher for Baltimore in the top of the ninth inning against Toronto Blue Jays. It was a successful debut, as he was credited with three putouts, as new pitcher Branden Kline struckout three consecutive batters. Kline earned a save, as Baltimore won 9-8.

On Monday, at Hammond Stadium at the CenturyLink Sports Complex in Fort Myers (Florida), the Czech catcher got his first at bat. Baltimore then played at Minnesota Twins and lost 7-1. He entered the game as catcher in the bottom of the sixth and got his only at bat in the eighth, but then struckout.
So far, five players from what was known as Czechoslovakia have played in the Major League. However, it has been reported that all five were born in what is now Slovakia. With that, when Červenka should make his Major League-debut, he would be the first player from what is the Czech Republic since 1993 when the country split. The first player from this European region to play in the Major League was John Stedronsky, who played in four games as a third baseman for Chicago White Stockings in 1879. Stedronsky was born in 1850 in an area which back then was part of the Austrian Empire.
The last player was Carl Linhart, who was used a pinch-hitter and pinch-runner in three games by Detroit Tigers in 1952. Linhart was born in what was then Czechoslovakia in Zborov. However, it is not clear in which Zborov. He is listed as born in Zborov in the Olomouc Region, which is in the Czech Republic. Others say he is born in Zborov, which is now a village in Slovakia.
In the game in Fort Myers, Jonathan Schoop started as second baseman for Minnesota and batted 1-for-3. Minnesota scored twice in the bottom of the first inning. With one out, Jason Castro singled, as did Schoop. With two outs, the bases got loaded when C.J. Cron walked. Hereafter, Castro and Schoop scored on a double by Byron Buxton, but the inning ended when Cron was eliminated at the plate. Schoop grounded out in the second inning, then flied out in the fourth. He was then replaced in the top of the sixth inning.

At Champion Stadium at the ESPN Wide World of Sports Complex in the Walt Disney World Resort in Kissimmee (Florida), Atlanta Braves played at home against Washington Nationals and won 9-4.
Ozzie Albies started as second baseman for Atlanta and was 0-for-1. He grounded out in the first inning. In the bottom of the fourth, Spencer Kieboom entered as catcher for Washington and Albies led off with a walk. He then scored when next batter Freddie Freeman homered. Albies was replaced after four innings.
In the top of the sixth inning, Ray-Patrick Didder became the new short stop for Atlanta. Didder was added again for today's game as an additional player. In the bottom of the sixth, with two outs, Didder walked after Pedro Florimon had singled. The bases then got loaded when Austin Riley struckout, but ended in a wild pitch. A walk for Ryan LaMarre then led to a run and moments later, Didder scored on a baseclearing, 3-run double by Cristian Pache. Didder popped out in the seventh inning in his second at bat.
Carter Kieboom started as second baseman for Washington and was 0-for-2. He led off the second and fourth inning, but both times, Kieboom grounded out. His brother Spencer then came into the game in the bottom of the fourth as catcher and also batted 0-for-2. He grounded out in the fifth inning, then Carter left the game in the bottom of the fifth. In the eighth, Spencer grounded into a double play.
(February 25)
Related Articles:


Basehits for Albies, Profar & Kieboom. (February 24)


Two more Dutch players in Spring Training; Kieboom HRs. (February 23)


Jurickson Profar first Dutch MLB-player to get into action. (February 21)