(Story by Marco Stoovelaar; Photo by Fresno Grizzlies)

Carter Kieboom to promote to Major League-team of Washington Nationals
Nederlands



WASHINGTON, DC (USA) - On Thursday-evening (April 25), there were several reports that Washington Nationals will promote infielder Carter Kieboom to its Major League-team. Washington begins a series of three games against San Diego Padres at home on Friday. The team has not yet confirmed the news, which was first reported by newspaper The Washington Post.
The 21-year old Kieboom is the number 1 prospect in the Washington-organization. He was drafted in 2016.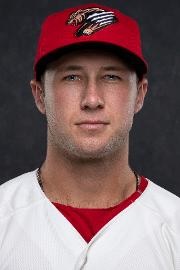 ...Carter Kieboom...
(© Photo:
Fresno Grizzlies)

Currently, Washington has some injured infielders. Short stop Trea Turner has a broken index finger and third baseman Anthony Rendon has an elbow injury. Kieboom mostly played as short stop, but also has seen action as second baseman.

Before the start of this season, Kieboom played in 25 games for Washington during Spring Training and did very well. He batted .279 (12-for-43) with three doubles and three homeruns. Kieboom scored seven runs and bated in nine, while walking six times. On March 12, he hit two homeruns against Justin Verlander in the game against Houston Astros.
So far this season, Kieboom is hitting .379 with three homeruns and 18 RBI's in 18 games with Fresno Grizzlies, the Triple-A team of Washington. On Wednesday, he was 2-for-4 with a homerun and two runs batted in for Fresno against Reno Aces (Arizona Diamondbacks). On Thursday-evening, Fresno has its second of four games scheduled against Reno and Kieboom was not in the starting line-up of Manager Randy Knorr. When the call-up is confirmed, Kieboom has to fly from Reno (Nevada) to Washington to be with the team Major League-team on Friday.
Last year, Carter Kieboom batted .280 with 16 homeruns and 69 RBI's playing in both Single-A and Double-A. He then also played in the All-Star Futures Game. After completion of the season, he was named the Minor League Player of the Year of the Washington Organization. Amongst all Minor League-players of the club, he shared first place with 48 extra-basehits.
Also last season, Carter's older brother Spencer Kieboom played in 52 Major League-games for Washington. At the moment, the 28-year old catcher is playing for Harrisburg Senators in Double-A. In seven games so far, he hits .115 (3-for-26).
The father of Carter and Spencer Kieboom is former catcher Alswinn Kieboom, who played in the Dutch big league for HCAW. Kieboom Sr. also played in the Netherlands National Junior Team, before moving to the USA, where his sons were born.
(April 25)