(Story by Marco Stoovelaar; Photos by Henk Seppen)

Amsterdam Pirates adds infielder Sharlon Schoop to roster
Nederlands



AMSTERDAM (Neth.) - L&D Amsterdam Pirates has added infielder Sharlon Schoop to its big league-roster. The addition of the former professional player was confirmed on Saturday (May 25). Schoop will be with the team on Sunday and probably will make his debut in the afternoon in the away-game against Silicon Storks.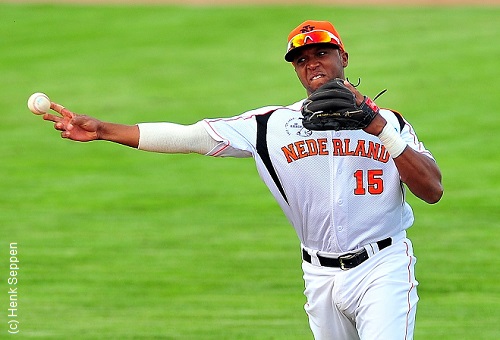 ...Sharlon Schoop with the Netherlands Team during the...
...2014 European Championship in Brno (Czech Republic)...
(© Photo: Henk Seppen)

The 32-year old Sharlon Schoop is the older brother of Major League-player Jonathan Schoop, who this season plays for Minnesota Twins.

Schoop, who is a second baseman, played professionally since 2005 through last season. He played in all Minor League-levels from Rookie League to Triple-A.

,,Someone with that much baseball-experience, who has played at such a high level, is a fantastic addition to our teams. We're looking forward to see him in action at the Loek Loevendie Ballpark'', reacted Amsterdam Head Coach Brian Finnegan.
The Curaçao-born Sharlon Schoop was signed to a contract in March 2004 by San Francisco Giants. He made his professional debut in 2005 playing in the Rookie League-team of the organization, hitting .254 in 48 games with one homerun and 19 runs batted in.
Schoop again started in Rookie League in 2006. This time, he batted .310 and batted in 21 runs. During the season, Schoop was promoted to Single-A (short season) and played in four games for Salem-Keizer Volcanoes, hitting 2-for-7 (.286).
From 2007 on, Schoop played in Single-A or higher. After having played in three different Single-A levels in 2007 and 2008, he promoted to Double-A in 2009.
In his first Double-A season, Schoop played for Connecticut Defenders. In 105 games, the infielder batted .241, hitting 77 basehits, including 15 doubles and three homeruns. He scored 36 runs and batted in 36. Schoop also played in Double-A in the following two seasons.
After the 2011 season, Schoop became a Free Agent and was signed by the Kansas City Royals, who assigned him to Northwest Arkansas Naturals, its team in Double-A. In 2012, he played in only 50 games for Northwest Arkansas and missed the entire 2013 season due to an injury.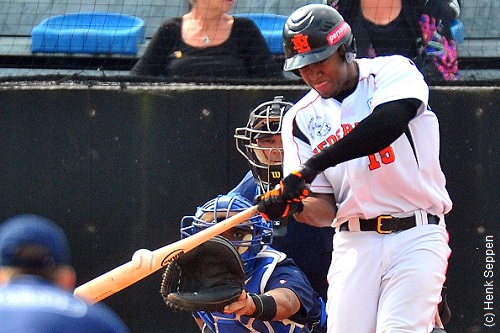 ...Sharlon Schoop with the Netherlands Team during the...
...2014 European Championship in Brno (Czech Republic)...
(© Photo: Henk Seppen)

Schoop again became a Free Agent in November 2013. Sixteen days later, he was signed by Baltimore Orioles, where his brother also played. Schoop was then initially assigned to Norfolk Tides, the Triple-A team of the organization. In March 2014, he was assigned to Bowie Baysox in Double-A for the 2014 season. In 77 games, Schoop batted .288.

During the 2015 season, Schoop promoted to Triple-A. In 53 games at this level, he batted .217.

In the following seasons, Schoop played in both Double-A and Triple-A for Bowie and Norfolk each year through 2018. Last year, he played in only 36 games, hitting .221 with five doubles and two homeruns.

In 13 professional seasons, Sharlon Schoop played in 941 games and batted .244 (739-for-3027) with 132 doubles, 12 triples and 46 homeruns. He scored 373 runs, batted in 357, walked 272 times and stole 47 bases.

In November last year, Schoop again became Free Agent. But this time, he was not signed by a new club.

Sharlon Schoop was assigned to a Major League-team for Spring Training in seven seasons.

He played in his first Spring Training-game in 2010 with San Francisco Giants. The next year, Schoop played in four Giants-games during Spring Training.

He then was also assigned to the Major League-team of Kansas City Royals during Spring Training 2012, playing in three games. In 2014, 2015, 2016 and 2017, Schoop played in Spring Training-games for Baltimore Orioles.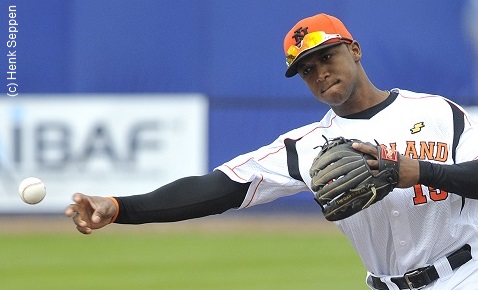 ...Sharlon Schoop with the Netherlands Team during the...
...2009 World Championship in Amsterdam (Netherlands)...
(© Photo: Henk Seppen)

In total, he played in 15 Spring Training-games in which he hit one basehit in 15 at bats. He hit his lone basehit in Spring Training 2018. In 2014, he scored his lone Spring Training-run.

Since 2009, Sharlon Schoop has played in 63 official games for the Netherlands National Baseball Team. With the Orange-squad, he made his tournament-debut during the World Baseball Classic in 2009. Later that year, he also participated with the Netherlands in the World Championship in the Netherlands and Italy.

After having played in the Intercontinental Cup in Taiwan in 2010, Sharlon Schoop was a member of the successful Orange Team that captured the title at the World Championship in Panama in 2011.

Schoop returned in the Netherlands Team in 2014 for the European Championship in the Czech Republic, where the team captured the title. In the following years, he also participated in the Premier12 in Taiwan (2015), the Samurai Games in Japan (2016) and the World Baseball Classic (2017), where the Netherlands reached the Semi-Final.

(May 25)