(Story by Marco Stoovelaar; Photos by Jan Kruijdenberg & Henk Seppen)

Quick Amersfoort and Head Coach Glenn Romney separate
Nederlands



AMERSFOORT (Neth.) - Glenn Romney is no longer the Head Coach of Quick Amersfoort. After having led the team for only nine games since the start of the new season in the Dutch big league, the rookie Head Coach stepped down. The separation was first announced by RTV Utrecht on Sunday-afternoon (April 28). However, the separation already had occured earlier in the week, but a press release from the club had not reached everyone.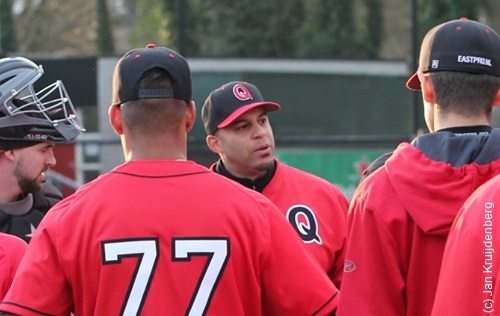 ...Glenn Romney addresses the players during a game...
(© Photo: Jan Kruijdenberg)

Since last Thursday, when Quick Amersfoort opened a 3-game series against HCAW, the team has been led by the other three members of the coaching-staff, being Bench Coach/3B Coach Reinier de Vries, 1B Coach Stanley Engelhardt and Pitching Coach Cliff Foster. In a brief interview with RTV Utrecht-reporter Rijk van den Bunt on Sunday, De Vries confirmed the separation and that he will be one of the interim-coaches for now. But he didn't want to say more about the separation. In the interview, it was said that Romney himself had made the decision to step down as Head Coach and that it came as a surprise.

,,For now, we will lead the team with the three of us'', added Reinier de Vries on Monday-evening against Grand Slam * Stats & News. ,,We have frequent talks with each other and we will decide later how to continue. As we have had several games to play since last week and now a make-up game on Tuesday, there simply has not yet be a moment to discuss this.''

Glenn Romney added that there had been a talk with members of the board last Tuesday-evening. ,,That has been a good talk, Quick is a fine club'', said Romney.

In late September last year, Quick Amersfoort announced that Glenn Romney was named the new Head Coach for this season, succeeding Marco Wels. Two weeks earlier, Wels had stepped down as Head Coach after having led the team for two seasons. Seven days later, he was named as the new Head Coach of Haarlem-based DSS for this year. At Quick, Wels had been the successor of Reinier de Vries, who had led the team for four seasons (2013-2016) when Quick played in the First Division and Overgangsklassse.
Before coming to Amersfoort, Romney was the Head Coach of the second team of Amsterdam Pirates, which plays in the second highest league ('Overgangsklasse'), in 2016-2018.
The former outfielder/first baseman made his debut as Head Coach in the highest division on April 4. On that day, Quick Amersfoort opened the season with a 12-4 loss against Twins Oosterhout. The team also lost its second game two days later (2-1), but then closed the 3-game series with a 12-6 win.
In the following week, Quick Amersfoort lost two of three games against Hoofddorp Pioniers. Last week, Quick recorded two convincing, mercy-rule victories against Silicon Storks (11-1, 13-2) However, the team failed to complete a sweep in the third game and then suffered a big mercy-rule loss itself (12-2). A few days later, Romney stepped down. Under his guidance, the team was 4-5.
...3B Coach Reinier de Vries, 1B Coach Stanley Engelhardt and...
...Pitching Coach Cliff Foster form the current coaching-trio...
(© Photos: Henk Seppen & Jan Kruijdenberg)
Last Thursday, led by the current coaching-trio, Quick opened the series against HCAW with a small 3-2 loss. On Friday, Quick recorded a 3-1 win to move into fourth place. The final game of the series on Sunday-afternoon was halted by rain in the third inning and will be made-up on Tuesday-evening.

Romney started his baseball-career with WSB, then played for Robur '58. He then transfered to Quick Amersfoort, with whom he made his big league-debut in 1995. After having played for the team for two seasons, Romney went on to play for HCAW (1997-2001), Hoofddorp Pioniers (2002-2009), UVV (2010-2011), HCAW (2012) and ADO Lakers (2014).

Romney was not the only one who made the transfer from Amsterdam Pirates to Quick Amersfoort after last season. Cliff Foster, who was his Pitching Coach in Amsterdam, also joined the coaching-staff of Quick. Besides the two coaches, players Mitchell Berghmans, Jan-Willem Geerts and Sam van der Ploeg also moved to the Amersfoort-team.

(April 28-29)