Amsterdam Pirates was initially silenced by HCAW-starter Chris Pfau. The lefthander retired the first eight batters in a row and allowed only one batter to reach base in the first three innings, striking out five batters.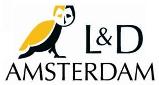 Pirates, which used ten batters in its batting order, then opened the score in the top of the fourth. Former HCAW-player Roelie Henrique led off with a double, but was unable to advance on a following infield-hit by Niels van Weert. The two moved on a sacrifice bunt by Rashid Gerard, then both scored when Gilmer Lampe followed with a double. With two outs, Pirates got the bases loaded, but left three runners behind.
Veteran Rob Cordemans started for Amsterdam Pirates. He saw two HCAW-batters reach on errors in the first inning, but they were left behind. The righthander gave up only two basehits in the four innings he pitched and struckout five batters.

HCAW got one run back in its fourth at bat. With one out, Ruendrick Piternella reached second base on an error, then scored on a following single by Bob van der Meer.
Pirates was retired in order in the fifth inning by Chris Pfau, then again by Ian Delemarre in the sixth. The latter also eliminated the first two batters in the seventh inning and then was relieved by Jiorgeny Casimiri. He walked Delano Selassa, who then scored all the way from first base when Victor Draijer followed with a double to make it a 3-1 score.
Maickel Rietel took over the Amsterdam-pitching in the fifth. He saw HCAW get into scoring position twice. In the fifth, he hit Jeandro Tromp with a pitch, who then stole second base, but was left behind. In the sixth, he walked Seb Visser and Ruendrick Piternella, but retired the next three batters.
Tom Stuifbergen closed the game for Amsterdam. He gave up a 2-out single, but then closed with a strikeout to earn a save.