(Story by Marco Stoovelaar; Photos by Henk Seppen & Marco Stoovelaar)

Saskia Kosterink named Talent Coach Softball
Nederlands



NIEUWEGEIN (Neth.) - Saskia Kosterink has been named Talent Coach Softball and will be working fulltime in the player development softball-program of the Royal Netherlands Baseball and Softball Association (KNBSB).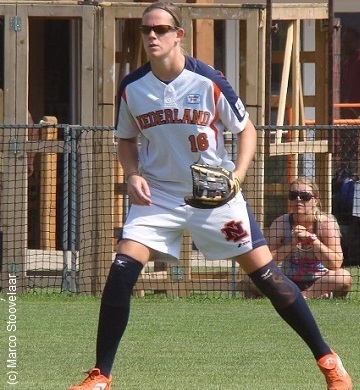 ...Saskia Kosterink playing as centerfielder...
...for the Netherlands Team during...
...the 2013 European Championship...
...in Prague (Czech Republic)...
(© Photo: Marco Stoovelaar)

The former Netherlands National Team-player also becomes the Head Coach of the National Juniors Team. In that position, she succeeds Mary-Ann Hatt, who led the team the last few years.

As Talent Coach, Saskia Kosterink will become responsible for the development program in which talented softball-players will be prepared for the international level.

Saskia Kosterink, who primarily played in the outfield, but also saw action at first base, played eleven years in the Netherlands National Softball Team (2005-2015). With the Orange squad, she participated in many high-level international events, including the 2008 Olympic Games in Beijing (China). The Netherlands Team has been very successful in recent years, as it climbed from 12th place to fourth place in the World Championships since 2010. Last year, the Netherlands finished in a historic fourth place, its best ranking ever. Kosterink was no part of that team, as she played her last game for the Orange squad during the 2015 European Championship in Rosmalen (Netherlands).
While playing for the Netherlands Team, Saskia Kosterink won the title at the European Championship in 2009, 2011 and 2013. In these three events, led by Head Coach Craig Montvidas, the Orange Team remained unbeaten. In 2015, the Netherlands had to settle for the Silver Medal after losing the Final to Italy. In total, she participated in six European Championships since 2005. She played in four World Championships (2006, 2010, 2012, 2014) and numerous other events, including the Canada Cup and the World Cup of Softball. Saskia Kosterink played in 151 official National Team-games, which is the second highest total in history, and was the co-captain of the national team for seven years.
Saskia Kosterink played at the highest level in the Netherlands, Italy and Australia. After starting her career at Run '71 in Oldenzaal, she made her debut in the Dutch Major League in 2003 playing for Enschede-based Tex Town Tigers. There, she played for five seasons and then transfered to Sparks Haarlem, where she played in 2008-2009. Hereafter, Saskia Kosterink played four seasons (2010-2013) in the Italian Softball League for Bollate, but also played for Sparks Haarlem in the postseason in 2010-2012. In October 2012, she made her debut in the Australian Softball Competition. She returned to Sparks Haarlem in 2014, where she also played in 2015.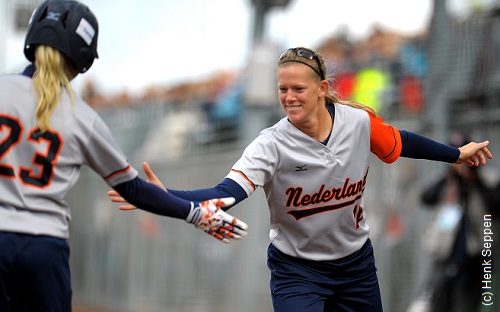 ...Saskia Kosterink with the Orange Team during the...
...2014 World Championship in Haarlem (Netherlands)...
(© Photo: Henk Seppen)

Last month, Saskia Kosterink played in the Australian Championship Tournament with the team of Western Australia, where she also played in the 2015/2016 season.

The outfielder also played two American college-seasons in the team of Gulf Coast Community College. In November 2008, she is one of twelve international players who are named Athlete Ambassador of the International Softball Federation to support the BackSoftball-campaign for the reinstatement of softball on the Olympic Program.

All these international experiences will benefit Kosterink in her new assignment as Talent Coach, as well as Juniors Head Coach. She will lead a daily training-program in Amsterdam. In this program, talented players will be readied for upcoming international events, but also the Olympic Games of 2020 in Japan, but also for years beyond. She also will assist Netherlands Team Head Coach Juni Francisca during the practice sessions of the National Team in Amsterdam.

Gijs Selderijk, Technical Director of the KNBSB, states in a press release: ,,With Saskia, we have appointed a very driven talent coach. With her knowledge and experience, but also her personality, she will play an important role in both the topsport and development-program''.

(February 6)