(Story by Marco Stoovelaar; Photo by Playo.tv)


Orange Under-16 captures European softball-title!
Nederlands


OSTRAVA (Czech Rep.) - The Netherlands Under-16 Softball Team captured the European Under-16 title on Saturday-afternoon (July 15), winning 4-2 in the all-deciding Final against host Czech Republic. The win came fourteen days after the main Netherlands Softball Team had won the European Championship in Bollate (Italy).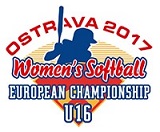 Earlier in the day, the Czech squad had won 2-0 in the second Semi-Final (backdoor) against reigning champion Italy to become the second finalist of the event. The Netherlands had become the first finalist on Friday-evening, winning 2-0 against the Czechs.
In the Final, the first two innings remained scoreless.
Orange-starter Margot van Eijl got some baserunners in both the first and second at bat, but avoided giving up runs. In the first inning, she had runners on first and second base with two outs, but a flyout ended the at bat. In the second inning, she was supported with two force outs.
Czech-starter Anna Zoulová retired the first six batters she faced, including four strikeouts. She struckout the side in the first at bat.
In the top of the third inning, Lisanne Spoor took over the Orange-pitching. She gave up a 2-out single, but that runner also stranded.
The Netherlands then struck in the bottom of the third inning, scoring three runs with two outs. Marijn Crouwel led off with a single, then her pinch-runner Kelly Bezems stole second base, but she was unable to advance on an one-out infield-hit by Tess Remmers. With two outs, Sophie Verdaasdonk delivered a runscoring single to open the score. Hereafter, Bobbi Scheurkogel drove the ball into deep right-centerfield for a 2-run triple that lifted the lead to 3-0.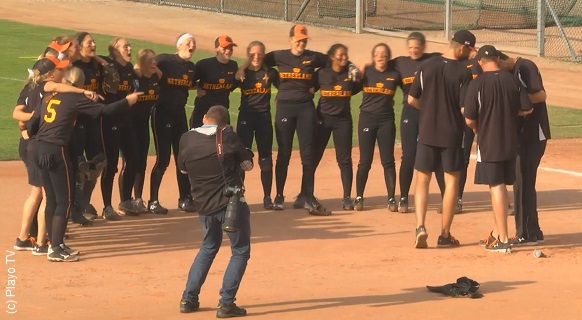 ...The Orange-players celebrate the European title...
(© Photo: Playo.tv)

In the top of the fourth inning, the Czech-squad answered with two runs to narrow the deficit to 3-2. A lead-off single and an error led to two runners, who advanced on a sacrifice bunt. A wild pitch and another sacrifice bunt/squeeze enabled the runners to score, but a force out and caught stealing then ended the at bat.

In the bottom of the fourth, the Netherlands added an insurance run, but also left three runners behind. Melissa Hoeverts led off with a walk, moved to third base when a sacrifice bunt by Sterre den Duijn ended in an error, then scored on a single by Marijn Crouwel to make it a 4-2 score. With one out, the bases got loaded when Tess Remmers walked, but an infield-fly and a strikeout followed, leaving three runners behind.

In the top of the fifth inning, new Dutch pitcher Lisa Meyering retired the side. The Orange-squad then got another chance to add some more runs in its fifth at bat, but again left three runners behind.

In the top of the sixth (and last) inning, Meyering got two quick outs, then gave up a single. Jill Cloo then was brought in as fourth pitcher and she closed the game with a strikeout!

With that, the Netherlands captured its third European Championship-title in this age-category. The last time that the Netherlands won was in 2011, the first time was in 2007. Two years ago, the Orange-squad didn't participate.

With its third title, the Netherlands became the most successful country in the Under-16 category. The Czech Republic, Italy and Russia all have won two titles.

Final Standings 9th Under-16 European Softball Championship:
1. Netherlands, 2. Czech Republic, 3. Italy, 4. Germany, 5. Great Britain, 6. Russia, 7. Ukraine, 8. France, 9. Belgium, 10. Slovakia, 11. Serbia, 12. Poland.

(July 15)