Terrasvogels vs. Oolders Omaco Sparks Haarlem (game one)
The first game was almost decided by an error in the top of the first inning. That gave Sparks Haarlem an early 1-0 lead, but Terrasvogels came alongside in the bottom of the seventh to force extra innings. The home team then won 2-1, scoring the winning run on an error in the tenth inning. It also was a game in which Terrasvogels' Head Coach Nick Braakman frequently made several tactical defensive changes. Seven times during the game (six times in mid-inning), he switched four players from position, depending on the situation and the batter.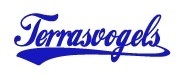 Righthander Dani Bonnet went the distance for Terrasvogels and threw a strong game, striking out nine batters and giving up only five basehits. She became the first pitcher to throw 10 innings in a regular season-game since Malou van Dusschoten threw 10 for Terrasvogels on May 16 of last year. As mentioned in the lead, Terrasvogels then won 4-3 vs. Olympia Haarlem.
In the top of the first inning, with one out, Maaike Blaauwgeers doubled and moved to third base on a single by Jenny Kinburn. The latter then took off to steal second base, a high throw followed from catcher Rhowan Stuart and Blaauwgeers scored to give Sparks Haarlem a quick 1-0 lead.
In the next six innings, Sparks Haarlem got into scoring position only three more times. In the second, Kingsley Avery led off with a walk, advanced on a sacrifice bunt by Anne Blaauwgeers and stole third base. She then tried to score on a grounder to short by Onaisha Franka, but was eliminated at the plate. The inning ended with a nice running catch by centerfielder Dervisa Mutic.
After Dani Bonnet had retired seven consecutive batters, she gave up a lead-off single to Anne Blaauwgeers in the fifth inning. The righthander then struckout the next three batters, while Blaauwgeers stranded on second base after having stolen it.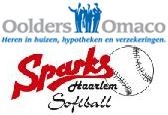 In the top of the seventh, after a 5-minute rain-delay, Sparks Haarlem had runners on first and second base with one out, but a strikeout and groundout followed.
Terrasvogels got into scoring position only three times in the first six innings off of Rebecca Soumeru, who also had a strong outing. With an 1-0 lead, the righthander saw the first two Terrasvogels-batters reach base in the bottom of the first. Katharina Szalay led off with a single and Sanne Korpel walked, but Soumeru retired the next three batters.
Soumeru retired ten of the eleven batters she faced after Korpel's walk, but then gave up an one-out double to Lizzie Clarijs in the fourth. She stranded on second base.
In the sixth, with two outs, Clarijs again doubled and again was left behind on second base.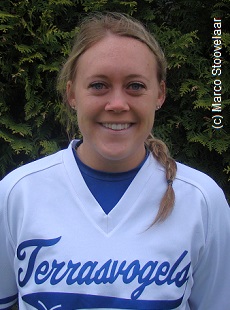 ...Dani Bonnet...
...10 innings, 9 strikeouts...
(© Photo: Marco Stoovelaar)

Still leading only 1-0, Sparks Haarlem was one out away from the win in the bottom of the seventh. With one out, Kelly Koeman singled and moved on a grounder. With first base open, it could have been opted to create a force play by walking next batter Katharina Szalay intentionally, as she already had hit three singles. But it was decided to pitch to the German player and she connected for her fourth basehit in the game to bring in Koeman and tie the score. Szalay was caught stealing moments later and so, the game went into extra innings.

In the top of the eighth, after another brief rain-delay, with Desiree Adriaansz on second base as the tie-break runner for Sparks Haarlem, Kehli Washington reached on an error. Hereafter, three force play-grounders followed.

Terrasvogels got a chance to decide the game in the bottom of the eighth, as it got runners on second and third base with no outs. First, tie-break runner Katharina Szalay moved to third base on a wild pitch. Hereafter, Sanne Korpel walked and a pitching change followed. Ginger de Weert took over, saw Korpel advance on a passed ball, but struckout Suka Van Gurp. A squeeze attempt followed with Szalay taking off towards the plate, but the ball was missed and the runner was caught stealing. A grounder ended the inning.

In the top of the ninth, tie-break runner Karin Tuk moved to third base on a grounder by Virginie Anneveld. Tuk appeared to be out at third base, but was ruled safe and so, Sparks Haarlem had runner at the corners. A wild pitch followed, which moved Anneveld to second base, while Tuk tried to score, but was eliminated at the plate. New Zealander Kingsley Avery then lined out to 3B Katharina Szalay. With first base open, Anne Blaauwgeers was walked intentionally and a grounder ended the at bat.

In the bottom of the ninth, Ginger de Weert retired the side, with tie-break runner Kimberly Jones stranding on third base.

And so, a tenth inning was needed. This time, it was Dani Bonnet who retired the side in the top of the tenth and tie-break runner Onaisha Franka was left on third base.

In the bottom of the tenth, tie-break runner Dervisa Mutic moved to third base on a sacrifice bunt by Kelly Koeman. Ginger de Weert followed with a strikeout and this time, it was decided to walk Katharina Szalay intentionally. With runners at the corners and two outs, Sanne Korpel grounded the ball back to De Weert, who then made a throwing error to first base, enabling Mutic to score the winning run.

And with that, something exceptionally happened. As mentioned, the winning run was scored on a grounder hit by Sanne Korpel that ended in an error.

342 days ago, on May 16, when Terrasvogels won the last 10-inning game, Sanne Korpel also accounted for the winning run. Back then, she was hit by a pitch with the bases loaded.