(Story by Marco Stoovelaar; Photo by Esther Wetser)


Centrals wins Midden-Nederland Cup
Nederlands



LOOSDRECHT (Neth.) - Centrals is the winner of this year Midden-Nederland Cup, the annual 2-day tournament hosted by Hilversum Hurricanes. In the Final on Sunday (March 26), Centrals won 7-2 against the National Team of Gemany.
Seven teams participated this year, including last years winner UVV, which this time finished on a surprising sixth place.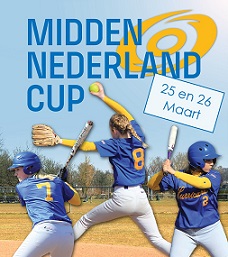 UVV lost three pitchers of last years team, Helma Pluim, Cintia de Groodt and American Jessica Vogel, while outfielder Samayra Straal retired. Pitcher Melissa Burger, who played with UVV in the big league, is now joined by Nienke Trapman and Marije Bolkenbaas, who both were added to the squad from youth-teams. In the transfer-period, the team added Odette Kuipers and Eliza Rikkelman, while Caroline Theunissen became the new Head Coach.
While UVV finished in sixth place in the Midden-Nederland Cup tournament, it is expected that it will be one of the contending teams again this season in the Silver League. Last year, UVV finished in a tie for first place with Roef! and captured the Championship-title by winning 4-3 in a tiebreak-game. In the Final for Promotion to the Golden League UVV faced Roef! again after the latter had won 7-6 in the Semi-Final against De Glaskoning Twins, which therefore relegated. After the Final initially rained out, Roef! shutout UVV 7-0 a week later to promote to the Golden League.
On Saturday, Amsterdam Pirates dominated in Pool A and registered three big victories, each with double figures. The team of Head Coach Tom Groot opened with a 14-2 victory against Domstad Dodgers, then shutout XLLease Quick Amersfoort 12-0 and closed the first day with a 11-1 win against UVV. With that, the Amsterdam-squad not only became a favorite to reach the Final, but also to win the tournament. But that all changed a day later.
The National German Team also stayed unbeaten on the first day, winning its two games in Pool B. The German squad won 12-3 vs. Centrals, then won 8-2 against host Hilversum Hurricanes. In its game against Centrals, Germany collected nine basehits and rallied for eight runs in the first at bat. Centrals registered six hits, including two by Sanne Helmig.
Quick Amersfoort ended up in second place in Pool A to also qualify for the Semi-Final. Quick opened the event with a 5-3 win against UVV, then recovered after the big loss against Pirates and closed the first day with a 5-3 win against Domstad Dodgers.
Centrals won 10-0 against Hilversum Hurricanes in its first game on Saturday. Pitchers Shanna te Vrede and Anouk Sassen combined on a No-Hitter. They saw three batters reach base, two on a walk, the other on a strikeout-passed ball. Centrals had eight basehits, including a 2-single by Vivienne Schenk, 2-run double by Jasmin Carlson, runscoring double by Kitty Mohlmann, RBI-triple by Sanne Helmig and a 3-run homerun by Erin Belles. Hereafter, Centrals lost against the Germans, but nevertheless ended up in second place in their 3-team Pool to reach the Semi-Final.
Last years winner UVV registered only one victory on Saturday, winning 4-1 against Domstad Dodgers.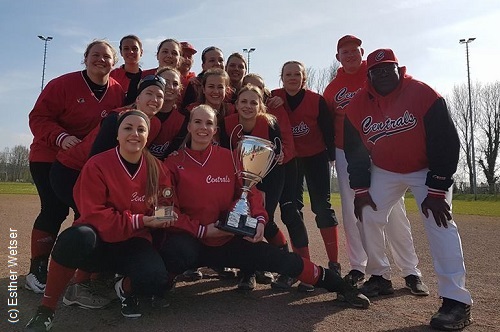 ...Centrals celebrates first place of the Midden-Nederland Cup...
(© Photo: Esther Wetser)

On Sunday, Germany nipped Quick Amersfoort 5-4 to become the first finalist. Later in the day, Centrals eliminated Amsterdam Pirates in the Semi-Final by winning 3-1. With one out in the second inning, Centrals had runners on second and third base, but two strikeouts followed. Centrals then scored its first run in the third at bat. With one out, Jasmin Carlson tripled and scored on a sacrifice fly by Sanne Helmig. A second run was added in the fourth when Vivienne Schenk singled with one out and scored on a 2-out double by Anouk Sassen. As pitcher, Sassen held Amsterdam scoreless and retired eight batters in a row in the first three innings, after having walked the lead-off hitter in the first at bat. Pirates scored its lone run in the fourth. Shanna van Vegten then led off with a walk and was able to score on an error. Later in the at bat, Stacy Groot, who had reached on an error, stranded on third base. Centrals added an insurance run in the fifth. Kitty Mohlmann then led off with a single and scored on a 2-out double by Shawna van der Schouw.

UVV, Hilversum Hurricanes and Domstad Dodgers played for fifth through seventh place. Hurricanes opened on Sunday with a 4-3 win against Dodgers. In the next game, UVV registered a big 12-1 win against Dodgers, which therefore finished in seventh place. With that, the final game in this series between UVV and host Hurricanes was decisive for fifth and sixth place. Hurricanes won 7-2 to claim fifth place, while UVV finished in sixth position.

Another surprise was recorded in the game for third and fourth place. As mentioned, Amsterdam Pirates dominated on Saturday, but was left empty-handed in the Semi-Final on Sunday. After being eliminated for the Final earlier in the day, Amsterdam lost the third place-game against Quick Amersfoort with a 5-3 score.

In the Final, Centrals and Germany met again. On Saturday, Germany won big with a 12-3 score. However, in the Final, it was Centrals that celebrated, as it won 7-2 to win the tournament.

Initially, Germany took a 2-0 lead in the first inning, but Centrals came alongside immediately. With one out, Sanne Helmig walked and Anouk Sassen singled, then the bases got loaded when Vivienne Schenk walked with two outs. Hereafter, Laura Bakker followed with a 2-run double.

Centrals, which is led by Head CoachCarlos Arrindell, then took the lead in the second inning, thanks to a 4-run rally. With one out, Kitty Mohlmann singled and Jasmin Carlson doubled. Sanne Helmig then had another productive at bat, as she connected for a 2-run single. Anouk Sassen followed with a another single and with two outs, it was Vivienne Schenk, who delivered a 2-run single to lift the lead to 6-2. Centrals added one more run in the fourth when Sanne Helmig scored her third run in the game on a single by Shawna van der Schouw.

After giving up the two runs in the first inning, winning pitcher Shanna te Vrede retired 12 batters in a row. With two outs in the fifth, she gave up two singles, but a grounder then ended the game.

Final Standings:
1. Centrals, 2. Germany, 3. Quick Amersfoort, 4. Amsterdam Pirates, 5. Hilversum Hurricanes, 6. UVV, 7. Domstad Dodgers.

(March 26)