Netherlands vs. Slovakia
Leonella Elizabeth had another good outing for the Netherlands. The righthander started and struckout eight batters in the 3 2/3 inning she pitched, gave up no basehits and was credited with her second victory.


The Orange-squad opened the score with one run in the first inning off of Mariama Gombiková, who went the distance for Slovakia. Brenda Beers led off with a walk, but was caught stealing. Hereafter, Damishah Charles reached on an outfield-error, then advanced to third base when Jessie van Aalst followed with a double. Moments later, Charles scored the first run on a grounder by Lindsey Meadows, but Van Aalst was left behind on third base.
The Netherlands reached base again in the second inning, but then left two runners behind, as the Slovakian defense made some good outs. Virginie Anneveld led off with a walk, but was forced out on a grounder by Suka Van Gurp, who also was forced out on a following grounder by Shareday Christina. Anne Blaauwgeers followed with a bunt-single and the two runners moved to second and third base on a wild pitch, but Gombiková closed with a strikeout.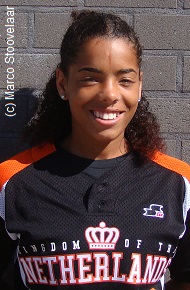 ...Damishah Charles...
...3 runs scored...
(© Ph: Marco Stoovelaar)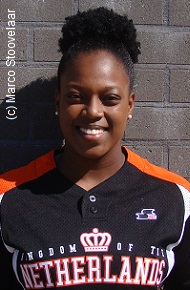 ...Leonella Elizabeth...
...2nd victory...
(© Ph: Marco Stoovelaar)

The Dutch decided the game with a 5-run rally with two outs in the third at bat on three hits. Damishah Charles led off with a single, stole second base and reached third base on a flyout. Lindsey Meadows was then hit by a pitch and was forced out on a grounder by Maxime van Dalen, but that also enabled Charles to score. Virginie Anneveld followed with a single (bringing Van Dalen to third base) and stole second, then Suka Van Gurp delivered a 2-run single. After Van Gurp also had stolen second base, Shareday Christina walked and the two scored when a fly by Anne Blaauwgeers ended in an outfield-error.

In the bottom of the fourth, the seventh Orange-was added, which gave the team a lead big enough to end the game via the mercy-rule. Damishah Charles led off and reached on an error. She then moved on a grounder and scored her third run in the game on a 2-out double by Maxime van Dalen.

Leonella Elizabeth retired the side in the first inning. In the next at bat, she began with a strikeout, then walked Monika Cambálová, who advanced on a wild pitch. Elizabeth struckout the next two batters. The righthander retired the side again in the third.

In the fourth inning, Elizabeth struckout the first two batters to raise her total to eight. She then walked Dominika Rampácková and was relieved by Ginger de Weert. She was greeted with a single by Monika Cambálová, which ended the No-Hitter. With runners on first and second base, the inning ended with a grounder.

In the fifth, De Weert retired the side, including two strikeouts, to end the game.