(Story by Marco Stoovelaar; Photo courtesy of Jasmine Peters)


Australian outfielder Jasmine Peters joins Tex Town Tigers
Nederlands



ENSCHEDE (Neth.) - Australian outfielder Jasmine Peters will wear the short of Tex Town Tigers this year in the Golden League, the highest Dutch softball-league. Tex Town Tigers announced the addition on Tuesday (February 28).
Jasmine Peters will arrive on March 17 and four days later, Canadian 1B/OF Olivia Hornstein will be in Enschede. On Wednesday (March 1), Swiss infielder Kimberley Zehnder joins the team. The additions of Hornstein and Zehnder already were announced in December.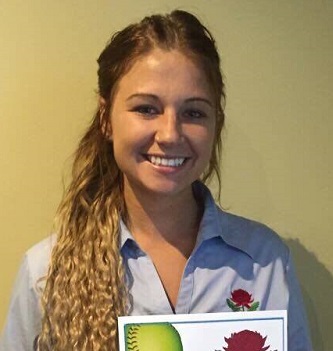 ...Jasmine Peters...

All three will travel with the team to Italy where it will participate in the 23rd edition of the Coppa delle Prealpi, which is organized by Softball Malnate, Caronno Softball and Bollate Softball. Tex Town Tigers will play in Group 2 with the Italian teams of Bollate, Saronno and Sestese. Playing in Group 1 are Caronno, La Loggia and New Bollate from Italy, as well as the France National Team. Tex Town Tigers also participated in the tournament last year.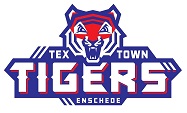 The first games will be played from March 18 on, but then mostly will be friendly games, including games against Joudrs Praha (Czech Repulic). Tex Town Tigers plays friendly games on March 23 and 24. While some of the tournament-games are scheduled on March 18 and 19, the event really gets underway on March 26. The Final is scheduled for March 26.
Early January, Jasmine Peters won the annual Gilley's Shield with New South Wales Firestars during the 70th edition of the Open Women's Softball Fastpitch Australian National Championship Tournament in Blacktown, near Sydney. In the Final of the event, New South Wales recorded a convincing 8-0 shutout-victory against Queensland Heat, which had won the event last year. The deciding game remained scoreless for three innings, but NSW then scored its first run in the fourth inning on a single by Jasmine Peters. In its final game of the Preliminary Round, NSW shutout Western Australia Flames 1-0. Jasmine Peters accounted for the lone run with a homerun in the fifth inning. Playing for Western Australia was Dutch player Saskia Kosterink, who had made her Dutch big league-debut as a player of Tex Town Tigers in 2003. She played for TTT for five seasons, then went on to play for Oolders Omaco Sparks Haarlem, followed by four seasons in Italy and two in Australia. Saskia Kosterink was recently named Head Coach of the Netherlands Junior Team.
Jasmine Peters attended the Western Sydney Academy of Sport for Softball (2008-2011), played for Sydney West in 2003-2011 and was named Most Valuable Player in 2009 and 2011. She also played for Metro NSW in 2009-2010, winning the Homerun Award in 2010.
With the New South Wales-squad, she participated in the Open National Championship since 2014. In 2015, she played in the Final of the National Under-23 Championship and in 2016, she was nominated for NSW Player of the Year.
Besides playing, she also has coaching experience in softball, as she had been an Assistant Coach of the Under-17 and Under-19 teams at Penrith City.
Jasmine Peters also has been successful in athletics, in the disciplines of discus, shot put and walk. She was a school-representative (2001-2006) for Sydney West and a State Representative, as well as representing Trans Tasman NSW.
Since 1999, she also plays netball for Erskine Park Netball Club and represented the Penrith District Netball Association in the Under-11, 12, 13 and 14 categories. In 2007, she won the Club Player of the Year Award, then was named Club Person of the Year in 2009. She also is a certified netball-umpire and has been active in touch football, soccer and Australian Football.
(February 28)