Netherlands vs. Spain


In the game against Spain, which was partly played in the rain, the Orange-squad collected 15 basehits, including three by Jessie van Aalst, including a triple. Dinet Oosting hit two triples and batted in three runs, while Chantal Versluis also tripled. Brenda Beers homered and scored three runs.
The Netherlands opened the score in the top of the first inning. Britt Vonk led off with a double, advanced on a grounder and scored on a wild pitch.
Spain came alongside in the bottom of the first inning off of starter Ginger de Weert. With two outs, Roser Jonas singled and scored on a following double by Noelia Flores, who then was left behind.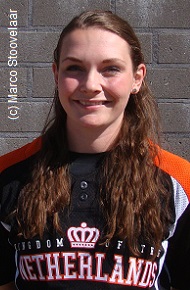 ...Brenda Beers...
...2-run homerun...
(© Ph: Marco Stoovelaar)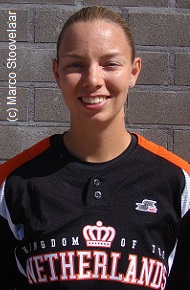 ...Ilona Andringa...
...winning pitcher...
(© Ph: Marco Stoovelaar)

In the second inning, the Netherlands decided the game with a 7-run rally (all runs were unearned) with two outs! Virginie Anneveld led off with a walk, then Anne Blaauwgeers reached on an error. Hereafter, a line drive by Shareday Christina ended in a double play. Moments later, Blaauwgeers stole second base, advanced on a wild pitch and scored when Brenda Beers reached on another error. She later scored on a single by Britt Vonk. Hereafter, Chantal Versluis, Jessie van Aalst and Dinet Oosting delivered back-to-back-to-back runscoring triples. Oosting went to score on a wild pitch. Maxime van Dalen then doubled and scored the next run on a single by Virginie Anneveld.

Four more runs were added in the third at bat. In this at bat, the first run was scored on a single by Chantal Versluis. With two outs, Dinet Oosting delivered a 2-run triple and later scored herself again on a wild pitch to lift the lead to 12-1.

Two more Orange-runs were scored in the top of the fourth inning. Shareday Christina led off with a walk, then Brenda Beers homered to make it 14-1 score.

After giving up the run in the first inning, Ginger de Weert struckout the side in the second at bat. Ilona Andringa then took over the pitching in the third inning. The righthander retired six of the seven batters she faced, four of them with a strikeout. In the fourth, she gave up a lead-off single to Roser Jonas, then struckout the next three batters.