(Story by Marco Stoovelaar; Photo by Henk Seppen)




Botswana and South Africa qualify for World Championship Softball
Nederlands



PRETORIA (South Africa) - Botswana and South Africa have qualified for this years WBSC Women's Softball World Championship, where the two countries will represent Africa on August 2-12 in Chiba (Japan). On the world ranking-list of the World Baseball Softball Confederation (WBSC), Botswana is in 33rd place and South Africa in 35th.

At Pretoria in South Africa, the two teams reached the Final of the WBSC Women's Softball World Championship Africa Qualifier on Sunday (January 14). With that, the two countries qualified for the World Championship in Japan. The WBSC works intensively to develop the sport across the African continent. The event in Pretoria was successful and underscored that the sport of softball gets more popular on the African continent.
In the Qualifier, four countries participated. Bostwana and South Africa were in the company of Lesotho and Zimbabwe.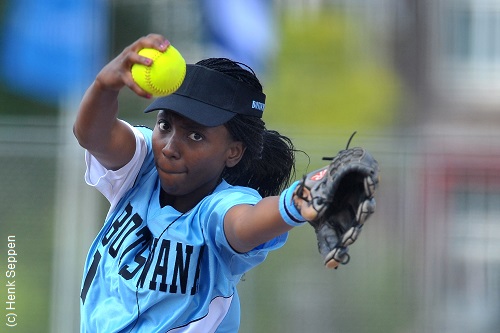 ...Oreabetse Mojeremane pitching for Bostwana during...
...the 2014 World Championship in Haarlem (Netherlands)...
(© Photo: Henk Seppen)

In the Final, Bostwana defeated South Africa, 15-1. In the game for third and fourth place, Zimbabwe won 15-8 against Lesotho.

On the first two days of the event (January 12-13), a double round-robin was played. All teams played three games on both days.

On Day 1, host South Africa recorded three victories. The team opened with a 16-0 win against Zimbabwe, then won convincingly with a 27-1 win against Lesotho. South Africa closed the day with a 9-5 against Botswana, which had started the day with two shutout-wins. Botswana won 23-0 against Lesotho and 15-0 against Zimbabwe. Zimbabwe won 21-14 vs. Lesotho.

On Day 2, it was Botswana that won its three games, all three shutouts. The squad won 17-0 vs. both Zimbabwe and Lesotho, then closed with a 5-0 win against South Africa. Earlier in the day, the South African team won 19-0 vs. Lesotho and 17-0 against Zimbabwe. In its second game of the event against Lesotho, Zimbabwe won 15-8.

Botswana will participate for the fifth time. The country debuted in 1994 when the World Championship was held in Canada, then returned in 2006 (China), 2010 (Venezuela) and 2014 (Netherlands).

South Africa last participated in 2012 (Canada) and will make its sixth appearance in Japan. The country also participated in 1998 (Japan), 2002 (Canada), 2006 (China) and 2010 (Venezuela).

Two years ago, in Surrey (Canada), 30 countries participated with Kenya and Uganda representing Africa. The only other African country to play in a World Championship was Zimbabwe, which participated in 1990 when the event took place in the USA.

With the qualification of Botswana and South Africa, the field of participants for the 16th World Championship is now complete. The other participating are Japan (host), Australia, New Zealand (both Oceania), Netherlands, Italy, Great Britain (all Europe), Canada, Mexico, Puerto Rico, USA, Venezuela (all Americas), the Philippines, Chinese Taipei and China (all Asia).

(January 16)