(Story & Photo by Marco Stoovelaar)


Softball to be part of The World Games 2021
Nederlands



BANGKOK (Thailand) - Softball will be part again of the multi-sport event The World Games in 2021, which then will be organized in Birmingham, Alabama (USA) from 15 to 25 July. With that, the sport returns to this global event. The official Sports Programme for the eleventh edition of The World Games was announced on Friday (April 13) at the Annual General Meeting of the International World Games Association (IWGA) at the SportAccord summit in Bangkok. Besides softball, racquetball also returns to the Programme.

3,600 athletes from more than 100 countries will participate in 30 sports in Birmingham, which will mark the first time that the event will be organized again in the USA. The only other time was in 1981 when the very-first edition of The World Games was organized in Santa Clara, California. The eleventh edition of the event also will be the 40th anniversary of The World Games.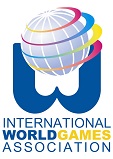 Softball is one of the sports that are on the Programme for 2021 that also were part of the first edition of The World Games. The other sports are bowling, finswimming, gymnastics, karate, powerlifting, racquetball, roller sports, tug of war and water ski.
Also amongst the 30 sports are dancesport, ju-jitsu, kickboxing, muaythai, sumo, canoe polo, fistball, floorball, handball, korfball, lacrosse, squash, archery, billiards, boules sports, air sports, flying disc, lifesaving, orienteering, sport climbing and wakeboard.
The World Games is staged every four years and are endorsed by the International Olympic Committee (IOC). The World Games is a multi-sport showcase of non- and potential future Olympic sports.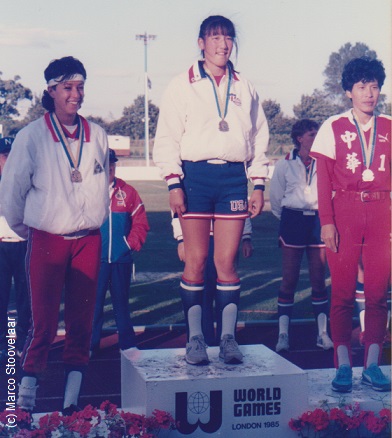 ...Netherlands Team-captain Monique Fris (left)...
...with the Bronze Medal at the 1985 World Games...
...in London (Great Britain)...
(© Photo: Marco Stoovelaar)

In a statement, it was noted that the leaders of the World Baseball Softball Confederation (WBSC) welcomed the decision taken by the International World Games Association. ,,WBSC is honoured by IWGA's decision'', said WBSC President Riccardo Fraccari. ,,Inclusion in multi-sports platforms like the World Games and the Olympic Games - sport's biggest stage - is key to WBSC's strategic plan to showcase and grow baseball/softball globally. Building upon softball's Olympic return at the Tokyo 2020 Games, the World Games 2021 in Birmingham will be another important international platform for softball athletes to shine on. And with our sport's popularity and fan bases in the host nation and worldwide, we will do everything we can to help further grow the World Games brand.''

How countries can qualify for participation in The World Games in 2021 will be announced later.

It will mark the fifth time that softball is included in the Sports Programme of The World Games. At the first edition in 1981 in Santa Clara, California (USA), there was a tournament for both women and men softball. Four years later, in 1985, in London (Great Britain), softball was an invitational sport. Softball returned to The World Games in 2009 when the event was organized in Kaohsiung (Taiwan) and was an invitation sport again in 2013 in Cali (Colombia). Baseball was only played at The World Games in 1981.

In 1985, when the second edition of The World Games was organized in British capital London, the Netherlands Softball Team participated in the softball-tournament. The Netherlands Team, which was led by Head Coach Don Wedman, then played seven games and met Belgium, Japan, Taiwan and the USA. The Orange squad played a good tournament and won four games, two against Japan and two against Belgium. The Netherlands won the Bronze Medal in London, where the softball-tournament was won the USA and Taiwan finished in second place.

Five years ago, when the event was held in Colombia, the softball-team of Aruba participated. Amongst the players in that team were Quilen Dirksz and Riangela Flanegin, who will play in the Silver League this season for Hoofddorp Pioniers.

Softball was part of the Sports Programme of the Olympic Games in 1996 (Atlanta, USA), 2000 (Sydney, Australia), 2004 (Athens, Greece) and 2008 (Beijing, China). Softball and baseball return to the Olympic Games in 2020 in Tokyo (Japan).

(April 16)