Game 2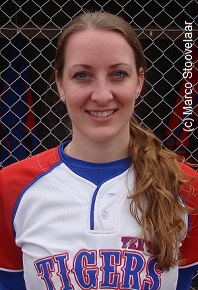 ...Marije Oosting-ten Thij...
...3-run triple...
(© Ph: Marco Stoovelaar)

Both teams got into scoring position right away in the first inning, but were unable to score. In the top of the first inning, Nadine Marinus doubled with two outs, then powerhitter Laura Wissink was walked intentionally, but a force out ended the at bat. In the bottom of the first, Jenny Kinburn reached on an error and moved on a sacrifice bunt by Annemiek de Rover. With two outs, Eva Rendlová was hit by a pitch, then a grounder closed the inning.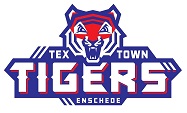 Tex Town Tigers then opened the score with three runs in the top of the second inning off of former teammate Anna-Bè Bartels. With two outs, Lizzy Uytendaal reached on an infield-hit. Hereafter, an infield-hit by Amy Wells was followed by a throwing error, resulting in runners on second and third base. It was then again opted to set up a force play by issuing an intentional walk to next hitter Annemiek Jansen. But this time, that decision was less successful, as Marije Oosting-ten Thij followed with a baseclearing, 3-run triple.
In the bottom of the second inning, DSS got two runs back off of Australian Jessica Tolmie. And a triple also contributed to the scoring in this at bat. Morgan Sampson led off with a walk and Lisette Untied followed with a single. With two outs, both scored on a triple by Jenny Kinburn.
Tex Town Tigers added an insurance run in the third inning. That run proved to be the difference in the score, but the team also left three runners behind. The bases got loaded quickly when Laura Wissink, Lisa-Marie Köllner and Myrthe Smid all singled. That led to a pitching change, as Stephanie Trzcinski took over from Anna-Bè Bartels. She was greeted with a runscoring single by Aafje van Baal that made it a 4-2 score. With the bases still loaded and no outs, Trzcinski struckout the next hitter, then two flyouts ended the at bat, meaning three runners stranded.
Tex Town Tigers got its next runner into scoring position in the top of the fifth inning. Lisa-Marie Köllner led off the at bat with a double. She had started the game as designated player, but was replaced by a pinch-runner in the third, who had become the new DP. Köllner now re-entered as pinch-hiter and stayed in the game as DP. But after leading off with the double, she was left behind on second base.

Trailing 4-2, DSS narrowed the deficit to 4-3 in the bottom of the fifth. Jenny Kinburn led off with a double, then scored on a 2-out single by Eva Rendlová. Moments after Kinburn had scored, Rendlová was eliminated in a rundown, ending the inning.
TTT got its last runner in scoring position in the sixth. Amy Wells then led off with a single, moved on a grounder, but stranded.
In its final two at bats, DSS got close to scoring the tying run, as it got runners on third base in both at bats.
In the sixth inning, Areke Spel led off with a walk and moved on a sacrifice bunt by Morgan Sampson. She then reached third base on a grounder by Lisette Untied, but was left behind. By the way, Areke Spel today played with shirt-number 47, which is the shirt of Head Coach Norman Ames. After she had retired after last season, her regular number 22 went to new player Jenny Kinburn.
In the seventh inning, Jessica Tolmie started for TTT with a strikeout, then was relieved by Lizzy Uytendaal. She gave up a triple to Jenny Kinburn, her second in this game. Uytendaal followed with a strikeout, then the inning and the game ended when 2B Marije Oosting-ten Thij caught a line drive by Sophie Bugter.
DSS was limited to six basehits. Three of them were hit by Jenny Kinburn, which were a double and two triples.