Amsterdam wins PO-opener!
Nederlands

HAARLEM (Neth.) - L&D Amsterdam Pirates opened its best-of-five Play-Off vs. Corendon Kinheim on Friday-evening with a 4-1 victory. The game was initially scheduled for Thursday-evening, but was moved last week to today, as Kinheim held a reception yesterday-evening to celebrate its 75th anniversary. Amsterdam decided the game in the ninth inning, breaking an 1-1 tie with a 3-run rally.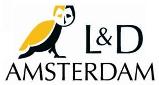 Pirates opened the score in the first inning. Wesley Connor led off with a double off starter David Bergman, then advanced on a sacrifice bunt by Nick Urbanus and scored on a sacrifice fly by Sidney de Jong. It then took until the ninth for the Amsterdam-squad to add more runs. In between, they stranded six runners.
Amsterdam-starter Rob Cordemans retired the first nine batters he faced, before giving up a lead-off single to René Cremer in the fourth inning. This would lead to the tying run, as Cremer advanced to second base when Dirk van 't Klooster walked and scored on a 2-out single by Rafael Jozefa.
In the fifth, Cordemans walked lead-off hitter Tjerk Smeets, but then retired the next 14 batters in a row, before giving up a 2-out single to Bryan Engelhardt in the ninth inning. Next, Cordemans struckout Jozefa to register his ninth strikeout and end the game. Cordemans, who dominated, gave up only three hits.
After giving up the run in the first inning, David Bergman recovered and gave up only three more hits in the next seven at bats. But in the ninth inning, Amsterdam took charge of the game, as the Kinheim-defense failed to support Bergman and committed two decisive errors. Bergman walked lead-off hitter Vince Rooi, then struckout Kenny Berkenbosch. After Rooi stole second base, he advanced on a wild pitch, then Bergman also walked Bas Nooij. With runners on first and third base, Bergman struckout Roelie Henrique. Next, Michael Kramer grounded to second base for what looked to become a force out at second base to end the inning. Instead, second baseman René Cremer committed an error, enabling Rooi to score the go-ahead run. With runners on first and second base, Wesley Connor singled, but when leftfielder Rafael Jozefa led the ball go by him, it enabled both runners to score and make it 4-1. Hereafter, Steven van Groningen relieved David Bergman, who angrily left the mound. Van Groningen ended the at bat with a flyout, but the damage had been done. In the home of the ninth, Rob Cordemans started with two strikeouts, gave up the single to Bryan Engelhardt and finished the game with another strikeout.
(August 20)