Neptunus, Kinheim win on PO-Day 2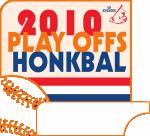 Nederlands


HOOFDDORP / AMSTERDAM (Neth.) - DOOR Neptunus also won the second game of their best-of-five Play-Off vs. Konica Minolta Pioniers, shutting them out 3-0. Also on Saturday, Corendon Kinheim won 8-7 vs. L&D Amsterdam Pirates to even their series and force at least a fourth game.
---
Pioniers vs. Neptunus
At Hoofddorp, Pioniers had a chance to take the lead in the first inning when it got the bases loaded off starter Leon Boyd. First, Mervin Gario led off with a single. Then, with two outs and Gario at third base, both former Neptunian Lennart Koster and Norbert Lokhorst were both hit by a pitch to load the bases. A pop-up then ended the at bat. After four scoreless innings, Neptunus opened the score when Shaldimar Daantji singled with two outs in the fifth inning and scored on a following double by Eugène Kingsale.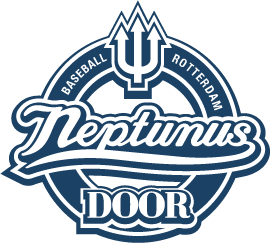 In the seventh inning, Neptunus took more distance by adding two runs. Marvin Bleij was hit by a pitch by Jurjen van Zijl and was replaced by pinch-runner Eldrion Regina, who then advanced on a bunt-single by Martijn Meeuwis. After the two moved on a sac-bunt by Shaldimar Daantji, a force play was created by walking Eugène Kingsale intentionally and load the bases. Maarten Mulder came in to relief Van Zijl, but was greeted by a 2-run single by Benjamin Dille, that increased Neptunus' lead to 3-0. The inning ended when Raily Legito grounded into a double play.
After Boyd gave up a lead-off single to Jakub Malik in the seventh inning and hit next batter Mervin Gario with a pitch, Jorian van Acker took over the pitching. He was greeted with a bunt-single by Michael Duursma. Despite having the bases loaded and no outs, Pioniers failed to score. Next batter Mark Duursma grounded into a force play back to pitcher, who eliminated Malik at home. Lennart Koster then flied out to leftfield, which was the start of an inning-ending double play, as Gario was thrown out at the plate by leftfielder Eugène Kingsale.
Berry van Driel threw the eighth inning for Pioniers, then Dushan Ruzic completed the game in the ninth and earned a save, after he already was the winning pitcher in Thursday's opener.
---
Pirates vs. Kinheim
At Amsterdam, Pirates failed to hold onto an early 4-1 lead in its second game vs. Kinheim and was left empty-handed. They took a 1-0 lead in the second inning when Vince Rooi doubled with one out and went on to score on a wild pitch by Duko Jansen. Kinheim came alongside in the third inning when Ben Grover gave up an one-out homerun to Jason Halman. However, Amsterdam re-took the lead in the home of the third by scoring three runs. Roelie Henrique led off with a walk and Michael Kramer singled, then the bases got loaded on an one-out single by Nick Urbanus. Next, Duko Jansen hit both Sidney de Jong and Bas de Jong with a pitch to bring in two runs and a single by Vince Rooi added another one to make it 4-1. But Amsterdam left the bases loaded as a line out and groundout followed.

In the fourth inning, Kinheim got two runs back. With two outs, Niels van Weert and René Cremer singled and scored when Jason Halman followed with a double. In the home of the fourth, Amsterdam made it 5-3 when Roelie Henrique led off with a single and later scored on a 2-out double by Nick Urbanus.
Kinheim turned the game around in the sixth at bat by scoring three runs and taking the lead for the first time. Former Pirate Björn Henrichs led off and reached on an error, then Onno Jansen singled. After the two advanced on a sac-bunt, René Cremer singled to bring in a run. Kinheim then tied the score when another run was scored on a grounder by Jason Halman and took a 6-5 lead on a single by Rafael Jozefa.
In the seventh inning, Kinheim added a run when Rodney Michel led off with a single and scored on a single by Onno Jansen, but also left two runners behind. In the eighth, Amsterdam narrowed the deficit to 7-6, but had a chance to come alongside. With one out, Vince Rooi singled off Jansen, who was then replaced by another former Pirate Nick Stuifbergen, who was greeted with a double by Kenny Berkenbosch and loaded the bases by hitting Bas Nooij with a pitch. Next, Roelie Henrique grounded out, but that led to a run. With runners at first and third base, Berkenbosch was caught stealing between at home, while Henrique was en route to second base, ending the inning.
In the ninth inning, Kinheim added an important insurance run off closer Pim Walsma. With two outs, Niels van Weert singled and René Cremer walked, then both advanced on a wild pitch. The bases got loaded when Jason Halman walked, but then Walsma uncorked another wild pitch that gave Kinheim an 8-6 lead. In the home of the ninth, Kinheim-closer Michiel van Kampen took over and gave up an one-out homerun to Wesley Connor, then singles to Nick Urbanus and Bas de Jong (the latter with two outs), but ended the game bu striking out Vince Rooi to secure the win and earn a save.
(August 21)