Tridents captures Rookie League-title
Nederlands

ROTTERDAM (Neth.) - DOOR Tridents on Sunday captured the 2010 title in the Dutch Rookie League. The young team from Rotterdam (which is the 'second' team of Dutch champion DOOR Neptunus) won 1-0 in eleven innings vs. Omron Pioniers.

The game remained scoreless for ten innings, due to good pitching from both sides. Both teams threatened to score in the first inning, but failed to do so.
In the eleventh inning, Pioniers, which is coached by former big leaguer Peter van Erk (first baseman of Amsterdam Pirates), was retired in order and then the decision fell in the home part of the at bat. Jonathan Geerman led off with an infield-hit, then advanced on a sacrifice bunt by Justin Martinus. Hereafter, Max Bijster walked and then Gregory Trinidad came to bat. Trinidad, who led Tridents this season in RBI's, flied out to centerfield and Geerman took off to advance to third base. The ball was thrown back to the infield, but then the short stop made a throwing error, enabling Geerman to continue running towards home. A close play followed, but Geerman scored the lone run in the game to give Tridents the win.
Annual finishes Tridents
since 1993
Year
League
Result
1993
First (*)
fifth
1994
First (*)
second
1995
First (*)
first
1996
'Overgang' (*)
third
1997
'Overgang' (*)
sixth
1998
First (*)
second
1999
First (*)
first
2000
First (*)
sixth
2001
First (*)
first
2002
First (**)
first
2003
First (**)
first
2004
First (**)
first
2005
First (**)
third
2006
First (**)
first
2007
First (**)
first
2008
First (**)
fourth
2009
Rookie
second
2010
Rookie
first
(*) - mixed league standard/
2nd teams
(**)- separate standings standard/
2nd teams; interleague
With this victory, only Mr. Cocker HCAW could end in a tie for first place, but the team from Bussum lost a double-header on Sunday vs. ADO 7-2 and 2-1, meaning the championship was a fact for Tridents.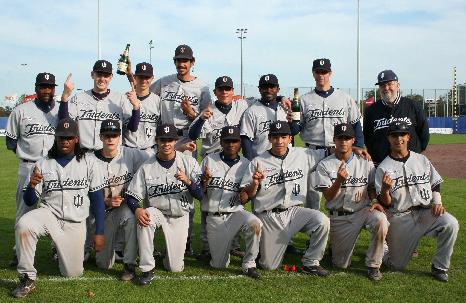 ...DOOR Tridents - Rookie Champion 2010...
(© Photo: Leen Noordzij)

For Tridents, it was their ninth title since 1995 and first since 2007. This year, Tridents was led by Gershwin Hernandez, Evert-Jan 't Hoen and Melfried Comenencia, all former Dutch big leaguers, while 't Hoen reached Triple-A playing in the organization of the Anaheim Angels.

Neptunus-2 changed its name to Tridents for the 1993 season when it finished in fifth place. Tridents then won their first three titles in a First Division, which was compiled of both standard and 'second' teams. The first championship came in 1995, followed by titles in 1999 and 2001. From 2002-2008, the First Division still was made up from standard and 'second' teams, but both had a separate standings and played interleague games. In 2002, 2003 and 2004, Tridents captured the title in the new format, then added titles in 2006 and 2007. In seven of the nine seasons that Tridents won the title, the big league-team, DOOR Neptunus, won the Dutch championship, except for 2006 and 2007.

A new competition-format was set up for the 2009 season with a new Rookie League being formed. In this league, all big league-teams are represented with a Rookie League-team. In its inaugural season, Amsterdam Pirates became the first champion, with Tridents finishing in second place.

The current coachingstaff of DOOR Neptunus has a special tie with Tridents. Steve Janssen, the current Head Coach of DOOR Neptunus, led Tridents in 2000 and 2001, resulting in a title in 2001. Janssen was succeeded by Wim Martinus, the current 3B Coach of Neptunus, who was the Head Coach of Tridents in 2002-2004 when the team won three titles. Hereafter, Martinus was succeeded by Adonis Kemp, who is the current 1B Coach of Neptunus and headed Tridents in 2005-2006 when the team won another title (2006). These three coaches also have another connection, as they all also succeeded each other as Head Coach of the big league-team of Sparta-Feyenoord. Martinus led the team in 2005-2006, Kemp in 2007 and Janssen in 2008. Last year, the three were joined again when Janssen joined the coachingstaff of Neptunus as its new Head Coach, after Martinus and Kemp already were added as staff for the 2008 season. Current Tridents Head Coach Gershwin Hernandez took over the team in 2007.

To make the 'all in the family' complete, the sons of Wim Martinus and Adonis Kemp, Justin Martinus and Urving Kemp, both were members of this years Tridents-team.

(September 28)