Big win Dutch Team vs. Canadian Juniors
Nederlands


ST. PETERSBURG, Florida (USA) - After losing twice to the pros of Seoul Nexen Heroes, the Dutch Baseball Team today registered its first win of St. Petersburg International Baseball, defeating the Canadian Junior Team 8-0 on Saturday-evening. Earlier in the event, the young Canadians (in age varying from 16 to 18 years old) surprised by winning 2-0 vs. the Koreans. Most of the Canadian players last year participated in the World Junior Championship in their own country, finishing in fourth place. At the same event, current Dutch Manager Brian Farley then was in charge of the Dutch Juniors, who finished in sixth place, its best result ever, resulting in Farley being named Coach of the Year recently.

The Dutch Team struck early, scoring three runs in the first and two in the second at bat. In the first inning, Danny Rombley singled with one out and scored when Bryan Engelhardt followed with a double. After Sidney de Jong also had reached base, a single by Raily Legito accounted for the next two runs.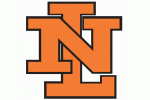 In the second inning, Shaldimar Daantji and Michael Duursma both scored to increase the lead to 5-0. Duursma added another run in the fourth inning.
In the seventh at bat, the lead was pushed to 8-0 when Sidney de Jong walked and scored on a single by Dirk van 't Klooster, while Rien Vernooij scored on a wild pitch.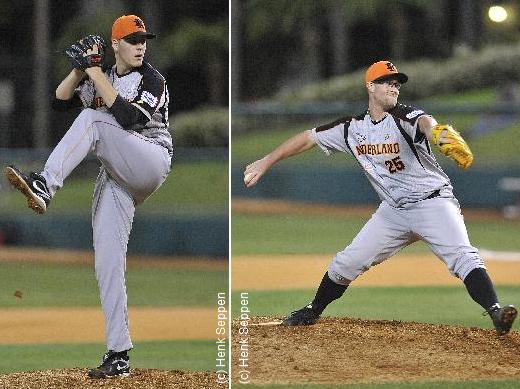 ...Starter Kevin Heijstek & Reliever David Bergman...
(© Photos: Henk Seppen)

The Canadian Juniors were silenced for most of the game, which was played partly in the rain. The Dutch pitching even took a Perfect Game into the sixth inning, but this was then broken when a single was hit. Starter Kevin Heijstek retired the first six batters, then David Bergman added three perfect innings. Next, Diegomar Markwell retired the side in the fifth inning and got two outs in the sixth, before he gave up a single that broke the No-Hitter. For the Canadians, it was the first of only two basehits, adding the second one in the next at bat, also off Markwell.

After nine complete innings, the Dutch went to bat for an additional inning and added two more runs.

Michael Duursma, Danny Rombley and Sidney de Jong each had two basehits of the ten the Dutch team produced.

Playing for the Dutch Team were:
C - Bas Nooij (was replaced in the sixth by Jason Halman, who became the new DH)
1B - Bryan Engelhardt (Jeffrey Arends)
2B - Dwayne Kemp (Roelie Henrique)
3B - Raily Legito (Rien Vernooij)
SS - Michael Duursma (Michael Pluijmers)
LF - Danny Rombley
CF - Shaldimar Daantji (Eugène Kingsale)
RF - Dirk van 't Klooster (Bas de Jong)
DH - Sidney de Jong (catching since the sixth inning)
P - Kevin Heijstek (2 inn.), David Bergman (3), Diegomar Markwell (2), Nick Veltkamp (1), Orlando Yntema (1)

(March 5)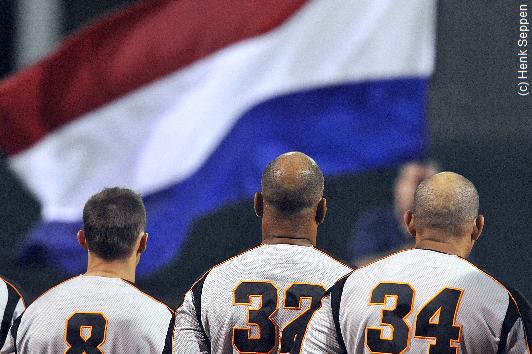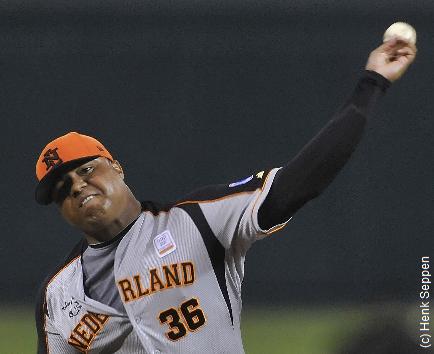 ...Left: Michael Duursma (8) & Coaches Ben Thijssen (32) and Wim Martinus (34) face the Dutch flag for the National Anthem...
...Right: Reliever Diegomar Markwell...
(© Photos: Henk Seppen)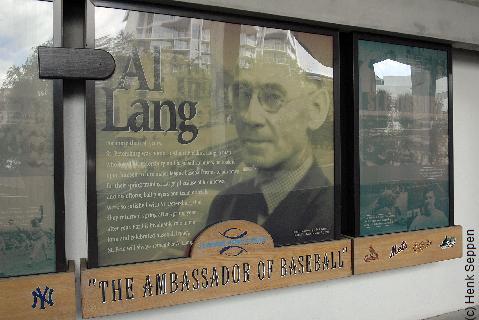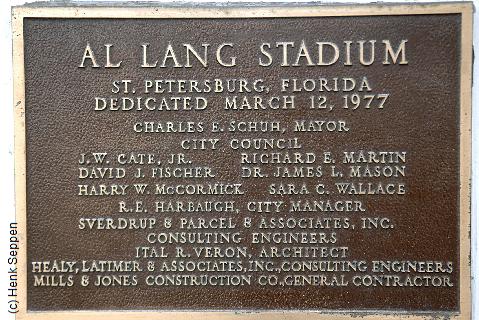 ...The game was played at Al Lang Stadium in downtown St. Petersburg...
(© Photos: Henk Seppen)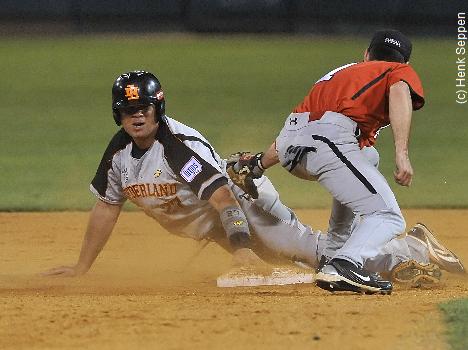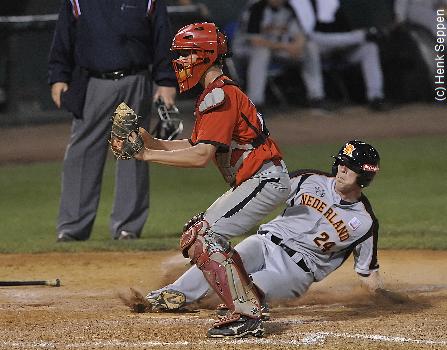 ...Danny Rombley (left) and Sidney de Jong (right): three basehits each (including one in additional 10th at bat)...
(© Photos: Henk Seppen)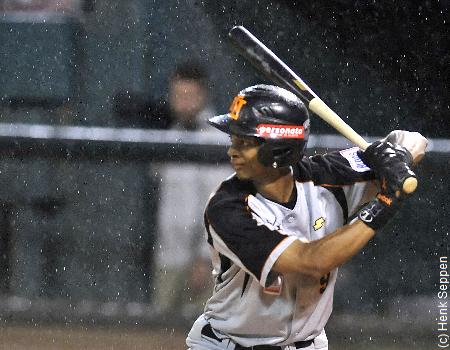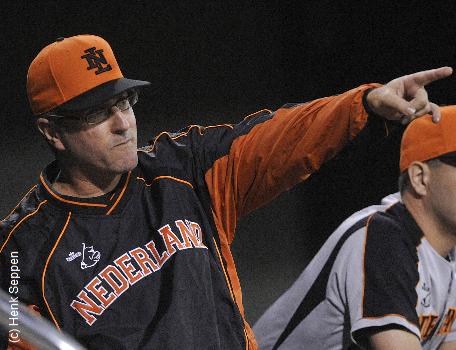 ...Left: Rookie Roelie Henrique hitting in the rain - Right: Manager Brian Farley gives signals...
(© Photos: Henk Seppen)