Halman's teammate Liddi first Italian in Majors
Nederlands

SEATTLE, Washington (USA) - Alex Liddi became the first Italian born and raised player to reach the Major League, when he was recalled today (September 6) by the Seattle Mariners.

This season, the 23-year old third baseman played for the Tacoma Rainiers, the Triple-A team of the Mariners where he was a teammate of Dutch player Greg Halman.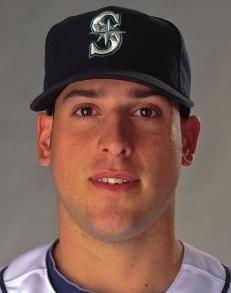 ...Alessandro Liddi...

For Liddi, who was born in San Remo, this was his first season on the Triple-A level after having played in Double-A last year. In his first season in Triple-A, Alessando Liddi immediately made history, as he broke a 34-year old clubrecord by scoring the most runs in a single season in Tacoma-history. Liddi ended the season with 121 runs and with that broke the record set in 1977 by Hosken Powell. Liddi also became only the second player in Tacoma-history to score at least 100 runs and have at least 100 RBI's. As mentioned, he scored 121 runs and he finished with 104 runs batted. The only other player to accompish this in a Tacoma-uniform was Craig Kusick, who did it in 1973. At Tacoma, Liddi this season was a teammate of Dutch outfielder Greg Halman, who played in 71 games for the Mariners this year. Now that the Triple-A season is over, it is expected that Halman will soon be recalled again by the big league-club.

Liddi hit 30 homeruns in his first year with Tacoma, which closed its season on Monday-evening. A few hours later, at 2:30 AM, Liddi got the call that he was recalled by the Mariners. Today, he had to report to the team which will play in Anaheim tonight, facing the Los Angeles Angels of Anaheim, where he can make his big league-debut.

Liddi was 17 when he signed a professional contract in 2005, then made his professional debut in 2006. This year, Liddi played in his third World Futures Game in a row. Mauro Mazzotti, one of the most experienced coaches in Italian baseball, signed Liddi to a contract together with Mariners-scout Wayne Norton.

In 2004, Liddi participated with the National Junior Team of Italy in the World Junior Championship. He then went on play with the National Team of Italy in the Intercontinental Cup in 2006, the European Championship in 2007 and the World Baseball Classic and World Championship in 2009.

When Liddi plays his first game, he becomes the seventh Italian-born player in the Major League and the first since 1962. However, he becomes the first born-and-raised Italian to reach the Majors, as te other six all immigrated to the United States during childhood.

The first Italian-born player in the Major League was Lou Polli, who pitched in 24 games between 1932-1944 for the St. Louis Browns and New York Giants.
Italian-born players in Major League
years
name
pos.
games
teams
1932-1944
Lou Polli
P
24
St. Louis Browns, New York Giants
1937-1940
Julio Bonetti
P
46
St. Louis Browns, Chicago Cubs
1945-1950
Marino Pieretti
P
220
Washington Senators, Chicago White Sox, Cleveland Indians
1947
Rugger Ardizoia
P
1
New York Yankees
1949
Hank Biasetti
1B
21
Philadelphia Athletics
1953-1962
Reno Bertoia
2B-3B
612
Detroit Tigers, Washington Senators, Minnesota Twins, Kansas City Athletics
2011
Alex Liddi
3B
0
Seattle Mariners
Since professional baseball was introduced in 1876, 169 players born in Europe played in the Major Leagues, including 42 born in Ireland and 32 born in England. Most of these players immigrated at a young age to the USA. Eight players born in the Netherlands have played in the Major League since 1894, including five who were born and raised, being Win Remmerswaal, Rikkert Faneyte, Robert Eenhoorn, Rick van den Hurk and Greg Halman. From players born outside the USA, 517 were born in the Dominican Republic. Four players were born in Aruba, eleven in Curaçao, including current Major Leaguers Roger Bernadina (Washington Nationals), Andruw Jones (New York Yankees) and Jair Jurrjens (Atlanta Braves).
(September 6)