Dutch Baseball Hall of Famer Gé Hoogenbos passed away
Nederlands
IN MEMORIAM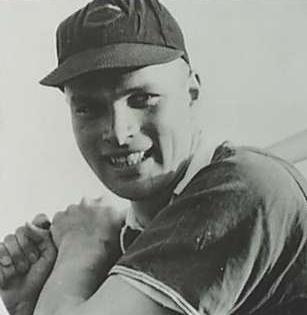 ...Gé Hoogenbos...
(1925 - 2011)

HEEMSTEDE (Neth.) - Dutch baseball-crack, former National Team-player and Hall of Famer Gé Hoogenbos passed away on Wednesday, May 11, a month after he had celebrated his 86th birthday on April 12. The last few years, the health of Mr. Hoogenbos was declining. Gé Hoogenbos is the second Dutch pioneer to pass away in four days, as softball pioneer Riet Vermaat passed away last Saturday at age 83. The memorial and cremation service for Gerardus Adrianus Hoogenbos was held on Monday, May 16 in a private ceremony at Driehuis.

Gé Hoogenbos has a long history in Dutch baseball, not only as a player and coach, but also as an organisor, journalist and executive. He always was busy with the sport and frequently came up with new ideas. He once said about himself that he was curious, wanted to learn and was inventive.

It all started in 1935 when Gé Hoogenbos was throwing up a ball into the air. Henk Vrught, a player of HC Haarlem, who later also played for the National Team, witnessed that and asked if Gé was interested in playing baseball. Gé went home, talked about it with his parents, he had visited baseball-games with his father, and became the first youthmember of the Dutch Baseball Association. There were no youthcompetitions back then, but street-baseballcompetitions were organized and Hoogenbos participated in that.

At one moment, he was asked to play in the second senior-team of Haarlem and that was the start of a successful career. He became a regular player for the second and third teams and played together with players like Henk Keulemans. In an interview with the webmaster of Grand Slam * Stats & News in 1995, Hoogenbos said: ,, When Henk and I were 14-15 years old, we thought we belonged in the first team of Haarlem.'' But SC Haarlem didn't want to grant the wishes of the talented duo, so in the end several players left the club. Hoogenbos went to play for HHC. With HHC and later EHS, the lefthanded hitting and fielding first baseman/outfielder played in the highest Dutch league for 15 years and in 1953 was the batting champion with a .396 batting average.

Hoogenbos also went on to play for the Dutch National Baseball Team, with whom he won the European Championship and participated in the Global World Series in Milwaukee (USA). In total, Hoogenbos appeared in 18 official international games for the Dutch squad.

Since his early years, Hoogenbos always has been interested in the sport of baseball and the developments in America. But also started to develop his own ideas. In 1953, Hoogenbos started to cover baseball for De Telegraaf, the largest Dutch newspaper and frequently wrote about his own ideas. Hoogenbos wrote about baseball for 29 years in this newspaper (1953-1981). In one of his articles Hoogenbos once wrote that Dutch baseball-players could learn a lot from American coaches. A few years later, Ron Fraser became the first American coach to lead the Dutch National Team.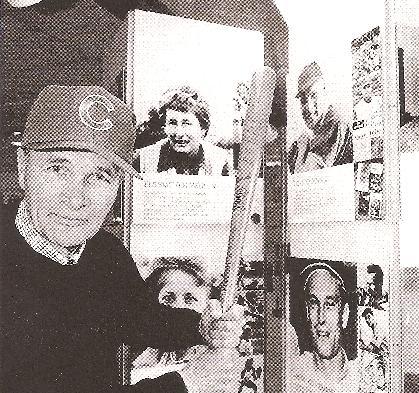 ...Gé Hoogenbos in front of his Hall of Fame-photo...
(© Photo: Archive Poppe de Boer / United Photos De Boer)

After having retired as a player, Hoogenbos was concerned about European Championship of 1960 with had only four participating countries. Hoogenbos contacted Dutch baseball executive Jan Hartog and proposed to organice a 'nice' tournament in Haarlem. Hartog went on to talk with American authorities, while Hoogenbos went the talk with the Municipality of Haarlem. Hoogenbos was invited to talk with the Municipality-executives, who were enthusiastic, but then the budget appeared to spoil the fun. The Dutch Federation had made a budget for the tournament for 28.000 guilders. Haarlem would pay 25.000, meaning that the Federation had to come up with 3000 guilders. This not only was a lot of money for the Federation, but it also was a big risk to spend that money. The inventive Hoogenbos talked again with Haarlem and proposed that not the Federation would organize the event, but the City of Haarlem. That proposal was accepted and the Haarlem Baseball Week was born. In 1961, the first 'International Baseball Tournament' was held at the site of Kinheim. This historic site was demolished a few years ago. Shortly after the first tournament, Haarlem even agreed to built a new baseball-only stadium (the first in Europe). Two years later, the tournament moved into the new Pim Mulier Stadium, which still is the site of the event nowadays. Last year, the 25th edition of this very successful bi-annual international event was held.

In the early sixties, Haarlem had seven topclubs and Hoogenbos proposed to form two top-teams. One team would play in the highest division, the other would be a farmteam in a lower league. In the end, EDO and EHS started to talk, merged and became Haarlem Nicols, which went on to become one of the most successful Dutch baseball-teams in history. Hoogenbos was the Head Coach of Nicols through 1966, the year that Nicols became the first Dutch club to win the European Cup.

Hoogenbos then left baseball to become the Head Coach of the Dutch National Softball Team, which he led in 1967 and 1968.

Besides all this activities, Hoogenbos also wrote some books about baseball, including one about the Haarlem Baseball Week.

In the early eighties, Hoogenbos was one of the inniative-takers to come to a Dutch Baseball and Softball Museum and Hall of Fame, which indeed was realized. Hoogenbos became the chairman of the board and in July 1988, he was elected himself into the Dutch Hall of Fame. He also was a Member of Merit of the Royal Dutch Baseball and Softball Association.

(May 11)