Sparta-Feyenoord adds former pro to roster
Nederlands

ROTTERDAM (Neth.) - Sparta-Feyenoord has added another player to its expanding roster, as former professional Arthur Bonevacia joined the team in the weekend. On Sunday, Bonevacia played its first game for Sparta-Feyenoord, which now has used 25 players in its eight exhibition games.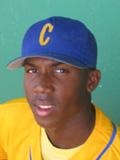 ...Arthur Bonevacia...

Bonevacia, who is from Curaçao and turns 23 in May, made his professional debut in 2005 when he played for the Rookie League-team of the Baltimore Orioles in Venoco (Venezuela). In his first pro-season, Bonevacia, who is an outfielder, played in 53 games and batted .241.

In 2006, Bonevacia also played in the team in Venoco, which was then compiled of players from both the Orioles and the Chicago White Sox. In this season, he batted .287 (50 basehits) and had 25 runs batted in.

In the next season, he played in the Rookie League-team in the Gulf Coast League (Florida), then started the 2008 season for the Bluefield Orioles, another Rookie League-team of the Orioles. Later in the season, he was promoted to the Aberdeen IronBirds, which is playing in the low Single-A. Bonevacia also played for this team in the 2009 season, hitting .195 in 40 games. After the 2009 season, Bonevacia was released.
In five professional seasons, he played in 206 games, hitting .248, collecting 161 basehits, including 17 doubles, eight triples and three homeruns, while scoring 83 runs and having 77 RBI's.
Last year, Bonevacia was a member of the National Team of the Netherlands Antilles that participated in the Central American and Caribbean Games in Mayaguez (Puerto Rico).
In 2005 and 2006, while playing in Venezuela, one of Bonevacia's teammates was Jourick Blanco, who this season will be his teammate again at Sparta-Feyenoord. Blanco came to the Rotterdam-squad after having played for Hoofddorp Pioniers.
Besides Bonevacia and Blanco, Sparta-Feyenoord has three more former professionals on its roster for this season, being catcher/first baseman Quintin De Cuba (2007-2009, Rookie League, New York Mets), outfielder Rubinet Koko (2004, 2006-2007, Rookie League/Single-A, Atlanta Braves) and pitcher Ludwin Obispo (2006, Rookie League, Florida Marlins).
(March 27)