Grand Slam
Baseball & Softball Headlines
January 2006
Compiled and Copyright © 1997-2006 by Marco Stoovelaar
Index News Archive JANUARY 2006
Miscellaneous


Chairman proposes Board to step down. (January 9)
Dutch Baseball


Former Official Scorer Wim Kwekkeboom passed away. (January 2)


American Head Coach for Pioniers. (January 12)
Dutch Softball Women


International Indoor Tournament this weekend. (January 12)


American Head Coach for Terrasvogels. (January 13)


Terrasvogels again wins Indoor Cup. (January 16)


Nicole Wessels invited for American clinic. (January 16)
International Baseball


Legendary Coach Rod Dedeaux passed away. (January 9)
News Archive 2005


January


February


March


April


May


June


July


August


September


October


November


December
---

Miscellaneous

Chairman proposes Board to step down

...Jan Rijpstra...


(Photo: Marco Stoovelaar)

Nederlands
NIEUWEGEIN (Neth.) - Jan Rijpstra, Chairman of the Board of the Royal Dutch Baseball and Softball Federation, has released a statement on Monday in which he announced that he has asked his colleagues to step down collectively. The statement was send in a letter to the clubs before the weekend.
On Thursday, a report is expected from an external office which was asked in October to give an advice, after the working situation within the Board became unworkable. In December, Guus van Dee (school sports) didn't await the conclusions and stepped down and recently Leo Smallegange (secretary) did the same. As the compilation of the Board momentarily differed too much from that which was installed in March of last year, Rijpstra has proposed to his remaining colleagues also to step down.

In his statement, Rijpstra said that, since he became interim chairman in July 2004, he had concluded that the way of working within the Board was not in accordance with the guidelines of Goed Bestuur (Good Management) of the NOC*NSF (Dutch Olympic Committee). Rijpstra also writes: ,,Things were done too much on their own. This led to tensions within the Board, conflicts with the Head Office and clubs. In recent months, there were suspicions between some boardmembers and between boardmembers and the head office.''
Towards the end of the season last year, rumors of problems within the Board started to grow. In October, during the Holland Series, it was confirmed that boardmembers Guus van Dee (school sports) and Charles van der Meijs (development) were temporarily put on a non-active status. Asked about that situation back then, Rijpstra said that that was an internal case, ,,but we will continue together and will work hard''.

In December, Guus van Dee said in an interview in the Haarlems Dagblad newspaper, that he no longer wanted to be part of a Board with Chairman Jan Rijpstra and Gijs Langevoort (top baseball / commercial affairs), lost his confidence in them and stepped down. Van Dee criticized the policy and stated that Rijpstra ,,has no vision'' and that Langevoort has a ,,conflict of interests''. In his statement of Monday, Rijpstra reacted that ,,remarks in the interviews done about certain persons cannot be proved.
On Thursday, the independent report will be presented and after that Rijpstra will present a proposal to the clubs how things will continue until the upcoming Annual Council Meeting on March 25.
(January 9)
---

Dutch Baseball
IN MEMORIAM

...Wim Kwekkeboom...
(1945 - 2005)
(Photo: Marco Stoovelaar)

Former Official Scorer Wim Kwekkeboom passed away
Nederlands
AMSTERDAM (Neth.) - Former Official Scorer Wim Kwekkeboom has passed away on December 23 at the age of 60 years old. According to the wish of the deceased, the memorial and cremation service was privately and took place last week. The last few years, Wim Kwekkeboom had health problems.

In the seventies, Wim Kwekkeboom became involved in an administrative way with the Amsterdam Pirates, where he also briefly played baseball and softball. He was a financial administrator for his profession, so with Pirates, he served in financial commissions. Kwekkeboom also was active for 16 years for the Amsterdam Region (Rayon Amsterdam). Between 1973 and 1990, he served for 14 years as a member of the Financial Committee and in 1985-1986 he was the Treasurer of the Board for the Rayon Amsterdam, who decorated him for his work in 1991. Besides his financial work, Wim also was a member of the Protest Committee in Amsterdam from 1986-1989.
From 1974-1977, Wim was the dug-out scorer and business manager for the Pirates-baseballteam. After the 1977 season, then-Head Coach Max Rietbergen went on to coach with Sparks Haarlem and Wim joined him to serve as his dug-out scorer and business manager with Sparks, where he stayed for three seasons. Rietbergen and Kwekkeboom also formed a team in the same capacities for a few years with the Antillian All Star Teams.
In 1983, Wim Kwekkeboom made his debut as Official Scorer in the Dutch Major League, scoring games in the highest divisions for both baseball and softball. He retired after the 1992 season, completing a period of ten years in which he also scored on some international events, such as the Haarlem Baseball Week. When Wim was officiating a game as scorer, he became known as being the first one to wear a jacket with an official logo. Afterwards, he frequently discussed situations with the umpiring crew in the locker room, underscoring his statement that umpires and scorers form one team.
Wim Kwekkeboom also served as boardmember of the Netherlands Baseball Coaches Association (NVBC) for 19 years. From 1984-1992, he was the Secretary of the NVBC, then became its Chairman in 1993 and remained that until the NVBC was dissolved in 2002.
Wim also frequently was a press representative on Haarlem Baseball Weeks and World Port Tournaments, making brief reports for the Amsterdam Bureau of Associated Press.
After retiring as Official Scorer, Wim Kwekkebooom remained a frequent visitor of baseball games and also visited some international baseball tournaments, like the European Championships in Paris (1997), Bologna (1999) and Bonn (2001), as well as Haarlem Baseball Weeks and World Port Tournaments, until his health forced him to go to the fields less more times than he wanted to.
(January 2)
---

American Head Coach for Pioniers
Nederlands
HOOFDDORP (Neth.) - Konica Minolta Pioniers will be headed by an American coach this season. The club announced that 37-year old Trevor Rooper arrives around March 1 and will be the Head Coach in 2006. Trevor Rooper succeeds Robert Klaver, who became Head Coach halfway the 2001 season. He retired after last season.

Between 1987 and 2005, Rooper has been affiliated with the Portland Wildcats, a semi-pro summerleague team that is a member of the Collegiate Baseball of the West and plays in the Pacific International League. The Collegiate Baseball of the West features college players from across the west coast, playing in a summer league.
As the team's leading short stop, Rooper played for the Wildcats between 1987 and 2000 and won several awards, including Best Defensive Player during the Kamloops International Baseball Tournament. In 1990, 1993 and 1994, he won the championships with his team. He started coaching the Wildcats in 2001 and led the team that year to the City League Championhip and repeated that feat in 2003. Last year, Rooper also was involved in coaching the baseball-team of Lincoln High School.

Rooper came in touch with Pioniers through Jeffery Calderone, who is a pitcher for the Hoofddorp-club and has a long career of playing in the Netherlands. ,,A friend of mine who I had coached is a friend of Jeffery Calderone and so I got in contact with Pioniers'', Rooper says. ,,I already was looking to go to a more competitive league, a higher level.'' Rooper looks ahead, saying ,,I expect a higher caliber of baseball. As I spoke to Assistant Coach Peter Barentsen and Jeff, I understand that Pioniers should be a very competitive team this season.''
Rooper brings a lot of experience and looks forward of working with Pioniers. ,,I preach pitching and defensive, that's what keeps you competitive. Offensively, I will use the Hit-and-Run, move the baserunners to score runs. I think I will bring the American passion to the team and my knowledge for example when to change pitchers, the management of a team. Yeah, a lot of energy and passion.''

Pioniers has a history of being led by American coaches. The team is entering its 40th season and in 14 of them, an American was Head Coach of the squad. Rooper's American predecessors were Dave Bisceglia (1982-1984), Tony Stall (1988), Mike Baker (1989-1990), Dave Daniels (1991), Joe Ward (1992), Bruce Heiser (1995-1998) and Johnny Walker (2000). In 1993, there was a 4-man coaching staff without a Head Coach, including Americans Joe Ward and Mike Yearout.
Four of them coached the team when Pioniers played in the highest division: Dave Bisceglia (1984), Dave Daniels (1991), Bruce Heiser (1995-1998) and Johnny Walker (2000). The most successful American coach was Bruce Heiser, who led Pioniers to the Play-Offs in all of his four seasons and won the Dutch title in 1997. Pioniers reached the Play-Offs nine times, including the last four seasons.
(January 12)
---

Dutch Softball Women

International Indoor Tournament this weekend
Nederlands
SCHIEDAM (Neth.) - The annual 12th International World Indoor Softball Cup Tournament will be held this weekend, January 13-15 in the Margriethal and Groenoordhal at Schiedam. This will mark the fifth consecutive year that the tournament is being organized in Schiedam.

For the first time, teams from seven different countries will participate in the three day event. A total of 16 teams are representing the USA (6), Canada (1), Great Britain (1), Germany (1), Czech Republic (1), Belgium (1) and host Netherlands (5). The teams will play 55 games, with the final game to be played on Sunday, starting at 4:00 PM approximately. As the first games will be played on Friday-evening, the event traditionally opened on Thursday-evening with a clinic by renowned softball coach Margo Jonker, Head Coach of Central Michigan University for more than 25 years and Assistant Coach of Team USA, which captured the gold medal on the 2000 Olympic Games in Sydney (Australia).
Participating teams are: Bulls, Eagles, Extreme, Firestix, Stars, Stripes (all USA), Canadian Leafs (Canada), National Team Great Britain (Great Britain), Brauweiler Raging Abbots (Germany), Joudrs Praha (Czech Republic), Royal Greys (Belgium) and Euro Stars, A4 Terrasvogels, Computer SOS Tex Town Tigers, Twins and the National Junior Team (all Netherlands).

The teams will be divided into four pools of four teams.
On Friday-evening, six games are scheduled with the first two to start at 7:00 PM.
On Saturday-morning at 8:15 AM, there will be an official Opening Ceremony, followed by three games to start at 9:00 AM. A total of 24 games are scheduled for the second day.
On Sunday, the first three games will be played at 8:00 AM. 24 games will be played, before the all-deciding final game is to be played at 4:10 PM, followed by the Award Ceremony. Representatives of the European Softball Federation (ESF) and International Softball Federation (ISF) will be on hand for the Closing Ceremony.
The American teams have donated 850 dollars, to be divided in three prizes for the best European teams. The best team from Europe will receive $ 450, followed by $ 250 and $ 150.
There also will be four individual awards for the best pitcher, best hitter, best defensive player and most valuable player.
(January 12)
---

American Head Coach for Terrasvogels
Nederlands
SANTPOORT (Neth.) - The women softball-team of A4 Terrasvogels will be headed by veteran American coach Darwin Tolzin in 2006, the club announced on Friday. Tolzin will succeed Michel Croes, with whom the club separated during the Holland Series. In the last two games of the Dutch final, former player Ingeborg Berk was the interim coach. She was assisted by Marco Molleman. An Assistant Coach for Tolzin has yet to be named.

Darwin Tolzin brings more than 25 years of experience in fastpitch softball, as he was an outstanding pitcher and short stop himself for teams from California and Minnesota. Tolzin, who worked in the Navy as a meteorologist for the National Weather Service, also has coached different teams, including High School, most of them in California. He also served as Pitching Coach for different teams. One of his players during his High School-career was Jessica Mendoza, who last year briefly played for Terrasvogels and is a member of the American national softball-team which won the gold medal on the 2004 Olympic Games in Athens (Greece).
Tolzin also has been involved with national (Olympic) teams himself, conducting clinics on pitching and hitting.
As a player, he participated in numerours tournaments and was named All-American pitcher frequently. For example, in 1976, while pitching for St. Paul All-American Bar from Minnesota in the International Softball Congress World Tournament in California, he was named to the All-World 1st Team.
It is expected that Tolzin will arrive at the end of March and then will be working with Terrasvogels the entire season.
In 2003, Terrasvogels also was led by an American coach, Leigh Podlesny, who currently is the Head Coach of the Blue Raiders, the softball-team of Middle Tennessee State University.
(January 13)
---

Terrasvogels again wins Indoor Cup
Nederlands
SCHIEDAM (Neth.) - For the second year in a row and third time in the last four year, A4 Terrasvogels has won the annual International World Indoor Softball Cup Tournament in Schiedam.
The club from Santpoort shutout Joudrs Praha from the Czech Republic 2-0 in the final game on Sunday, which was the 55th game being played in the three-day event.
In the final, Terrasvogels scored both runs in the first inning. With Linda Hoenderdos and Sandra Gouverneur on base, an RBI-single by Dana Horeman was followed by a runscoring error that gave Terrasvogels its 2-0 lead. Terrasvogels failed to add more runs, as they left three runners behind in the fourth inning. Starting and winning pitcher Judith van Kampen threw six innings in which she struckout nine and gave up only two hits. Kirsten Scheele threw the seventh inning and struckout two more batters.
Terrasvogels remained unbeaten in the tournament.
In the preliminary round, they opened with an 11-0 shutout on Friday-evening vs. Stars (USA) on 10 hits, including three by Linda Hoenderdos, who also scored three runs. Kirsten Scheele threw a No-Hitter and struckout 10 batters.
On Saturday, Terrasvogels started with a 7-0 win vs. Raging Abbots (Germany), scoring four runs in the first inning. Dana Horeman had three hits and rookie Lara Hoekstra pitched a 4-hitter.
Next, they defeated Bulls (USA) 4-1 to claim first place in their pool. Trailing 1-0, Terrasvogels took the lead in the third inning when Dana Horeman scored on an error and Femke Haage scored on a single by Petra van Heijst.
In the first game on the second round, Terrasvogels played a scoreless 0-0 tie vs. the Dutch Junior Team. Both teams had only two hits in a pitchingduel between Kirsten Scheele (Terrasvogels), who struckout 11 and Dagmar Bloeming, who struckout 13.
On Sunday, Terrasvogels registered its third shutout by winning 2-0 vs. Euro Stars (Netherlands). Both runs were scored in the fourth inning on a 2-run triple by Femke Haage.
The second round was closed with a 4-1 victory vs. Computer SOS Tex Town Tigers, which had only one basehit (Nadine Marinus) off of Kirsten Scheele. Trailing 1-0, Terrasvogels scored three runs in the fifth inning on three errors and a single by Linda Hoenderdos.
Other results:
Twins (Netherlands) finished in third place by winning 8-2 vs. the Dutch Juniors. In the fourth, Twins scored seven runs on three hits, including an RBI-double by Carolien Sins, who went 3-for-4. Evelien Vonk had a 2-run double.
Euro Stars (Netherlands) finished in fifth place after a 2-1 win vs. Extreme (USA). Trailing 1-0, they tied the score in the third inning when Anouk van den Heuvel scored on a passed ball, then took the lead in the sixth when Karin Tuk doubled and went on to score on an error.
Computer SOS Tex Town Tigers (Netherlands) finished in seventh place by winning 4-3 vs. Bulls (USA). TTT scored all runs in the first inning when ten players came to bat, while the Bulls did the same in the next at bat.
More highlights: The Dutch teams dominated in this years tournament as can be seen in the following highlights.
Friday's games:
Lara Hollander (Euro Stars) pitched a 1-hitter and struckout ten in a 2-0 shutout vs. Canadian Leafs.
Dagmar Bloeming (Dutch Juniors) struckout nine and allowed only two hits, winning 7-0 vs. Firestix (USA).
Linda ter Steege (Tex Town Tigers) pitched a 1-hitter and struckout nine vs. Stripes (USA), winning 3-0.
Saturday's games:
Linda Rychla (Joudrs Praha) pitched a No-Hitter vs. Euro Stars, whose Belgian veteran pitcher Vera VandeVen gave up eleven basehits in an 8-1 loss.
Dagmar Bloeming (Dutch Juniors) struckout 12 and gave up three hits in a 2-1 win vs. Eagles (USA).
In the second round, Patty Van Wymelbeke and Michelle Haen combined on a No-Hitter for Twins and shutout Bulls (USA), 8-0. Carolien Sins had three RBI's.
Tex Town Tigers trailed 2-1 after two innings, but then scored twice in the third to win 3-2 vs. Euro Stars. The tying run was singled in by Merel Oosterveld, who later scored herself on an error.
Sunday's games:
Micky Jansen and Daisy de Peinder both went 2-for-3 for Twins in a 4-0 shutout vs. Extreme (USA).
The Dutch Juniors shutout Tex Town Tigers 3-0. Leading 1-0 in the third inning, FabiŽnne van Uden (whole also scored the first run) stole home, then Solange Starreveld added an RBI-single.
Lara Hollander (Euro Stars) struckout 10 and gave up two hits in a 1-0 shutout vs. the Dutch Juniors. The lone run was scored in the first inning when Anouk van den Heuvel walked and scored on a 2-out error.
Final Standings:
1. A4 Terrasvogels (Netherlands), 2. Joudrs Praha (Czech Republic), 3. Twins (Netherlands), 4. Dutch Juniors, 5. Euro Stars (Netherlands), 6. Extreme (USA), 7. Computer SOS Tex Town Tigers (Netherlands), 8. Bulls (USA), 9. Great Britain, 10. Stripes (USA), 11. Canadian Leafs (Canada), 12. Firestix (USA), 13. Stars (USA), 14. Raging Abbots (Germany), 15. Eagles (USA), 16. Royal Greys (Belgium).
You can find more, including the Box Scores, on the Official Site of the Indoor Cup.
(January 16)
---


Nicole Wessels invited for American Clinic
Nederlands
SANTPOORT (Neth.) / TIFTON, Georgia (USA) - Experienced former national team player Nicole Wessels has been invited to participate as one of the instructors in the annual Super Clinic of the American softball-organization Higher Ground Softball, which is led by wellknown softball coach Bobby Simpson.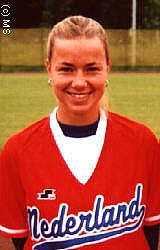 ...Nicole Wessels...
(Photo: Marco Stoovelaar)

Nicole Wessels, who retired after the 2004 season after a long career with A4 Terrasvogels, is the first Dutch softball-player to be invited for this renowned international clinic.
The Super Clinic will be held February 4 and 5 in Atlanta (USA) for coaches and players and focuses on advanged and elite skills. The clinic is known for its excellent instructors.

Nicole Wessels, who primarily played at second base, has played her entire big league career for Terrasvogels, with whom she won several Dutch titles and participated in and won tournaments for the European Cup. She has played more than 100 international games for the Dutch National Team, participating in the Haarlem Softball Week, European Championships and World Championships, including the 2002 event in Canada and 1998 tournament in Japan.
Besides Nicole, this years instructors also include:
Catcher Jaime Wohlbach, who played professionally in the National Pro Fastpitch in 2004. In the past years, she has been involved in playing and coaching in 18 different countries, including Australia, Greece, Great Britain, New Zealand, Czech Republic and the Netherlands, where she played for Twins in 2001.
Shannan Lovelady, who played for Florida State University and professionally for the Colorado Silver Bullets. She has been the Head Coach of the softball-team of South Gwinnett High School.
Terri Knecht, who is a former NCAA Academic All-American and is the Head Coach of the Bees, the softball-team of Savannah College of Art and Design (SCAD), a top-10 NAIA school. She has given clinics in the Azores, Italy and Great Britain, is a former Assistant Coach of the University of Indiana and the University of South Carolina and was eight years the Head Coach of Santa Fe Community College in Florida, before moving to Savannah.

Higher Ground is led by Bobby Simpson, who is the founder and owner of this softball-organization. He is an international leader in softball instruction services and helped to develop coaches and players in a lot of countries, including the USA, Canada and several European countries. Simpson conducted training sessions and was a speaker on several clinics, including The Netherlands and is a consultant for different national federations. He has been Georgia State Commissioner for the Amateur Softball Association (ASA), America's governing softball body, for ten years and also has been a delegate to the United States Olympic Committee House of Delegates. In the past, Simpson has been affiliated with the famous Kansas City Royals Baseball Academy and has been Baseball Head Coach for Florida State University.
Higher Ground is a softball instruction organization, founded in 1989, that provides top-quality services and products for coaches, players and parents.
(January 16)
---

Dutch Softball Men
---
IN MEMORIAM

...Rod Dedeaux...
(1914 - 2006)
(Photo: USC)

Legendary Coach Rod Dedeaux passed away
Nederlands
GLENDALE, California (USA) - Legendary baseball coach Raoul 'Rod' Dedeaux has passed away on January 5 after complications from a stroke he had suffered on December 2. Rod Dedeaux was 91 years old. The funeral will take place on January 16.

Dedeaux coached the baseball-team of the University of Southern California (USC) in Los Angeles for 45 years (1942-1986) and led the Trojans to a record of 11 College World Series championships. His teams also won 28 conference titles. During his tenure as Head Coach, Rod Dedeaux coached 59 players later went on to play in the Major League, including Tom Seaver, Mark McGwire, Randy Johnson, Fred Lynn and Dave Kingman. In his 45 years, Dedeaux won 1332 games, lost 571 and saw 11 ending in a tie. When he retired, he led all coaches in victories. Currently, he is in seventh position. After retiring, he became USC's Director of Baseball.
In 1999, Dedeaux was named Coach of the Century. He also was named Coach of the Year six times by the American Baseball Coaches Association (ABCA), which coincidentally was holding its annual coaching conference last weekend in Chicago. In 1970, he was inducted into the ABCA Hall of Fame.

During the Olympic baseball demonstration tournament in 1984 in Los Angeles, Dedeaux was the Manager of Team USA, which won the silver medal. He also was involved as a coach of the American squad during demonstration games on the Olympic Games in 1964 in Tokyo (Japan).
Dedeaux was a wellknown baseball ambassador both national and internationally. His knowledge also was used in two feature films, as he served as Technical Director and Consultant for ''Field of Dreams'' and ''A League of their own''.
Rod Dedeaux himself played as a shortstop for USC from 1933-1935 and played professionally in the organization of the Brooklyn Dodgers. In 1935, he appeared in two Major League-games with the Dodgers, but a back injury ended his career a few years later.
As Head Coach of USC, Rod Dedeaux one time faced the Dutch National Team. On November 24, 1984, the Trojans beat the Dutch 6-4 during the Chung Hua Tournament in Taipei (Taiwan).
(January 9)
---
Thank you for visiting.
Mail your suggestions and questions to stoov@wxs.nl

Last Update: March 8, 2006
Copyright © 1997-2006 Marco Stoovelaar.