Olympic Qualifying Tournament 2007

Netherlands vs. Czech Rep. & Italy
June 16, 2007
Compiled and Copyright © 1997-2007 by Marco Stoovelaar



DUTCH QUALIFY FOR BEIJING!
Nederlands | Box Score & Play-by-Play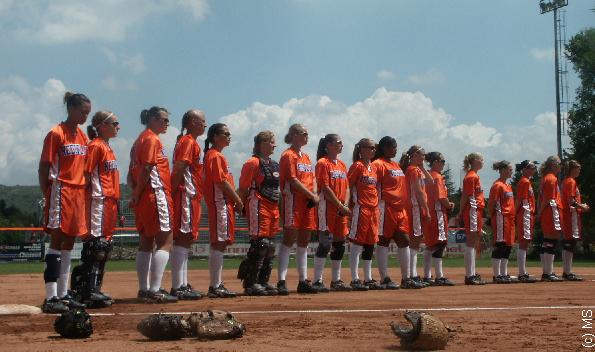 ...Dutch team lines up for national anthem before first game...
(Photo: Marco Stoovelaar)

RONCHI DEI LEGIONARI (Italy) - The Dutch Softball Team on Saturday needed two victories to reach Beijing and they just did that. In the early afternoon, they got a scare against the Czech Republic, which came back from a 6-1 deficit to 6-6, but then the Dutch won 9-6. In the Hitchcockian final, the Dutch trailed twice against Italy, came back twice and won 3-2 in 8 innings to capture a ticket for the 2008 Olympic Games in Beijing. It was the last opportunity for the Dutch (and the other teams) to clinch a spot in the Olympic Tournament.

In the first game, the Dutch team rallied for five runs in the first inning and appeared to be en route to a big victory. An mercy-rule ending game would mean that the team, and especially the pitchers, got some extra rest. But the game lasted the full seven innings and three pitchers had to be used.

In the first at bat, lead-off hitter Sandra Gouverneur walked, then Kim Kluijskens reached on a bunt-single and the bases got loaded when Saskia Kosterink also singled. After a strikeout, Gouverneur scored the first run when Czech short stop Monika Janotková committed an error on a force play-grounder by Jolanda Kroesen. A flyout followed, but then Nina van Huissteden cleared the bases with a 3-run double. She moved when a passed ball followed a strikeout, then scored on an infield-hit by Marjan Smit.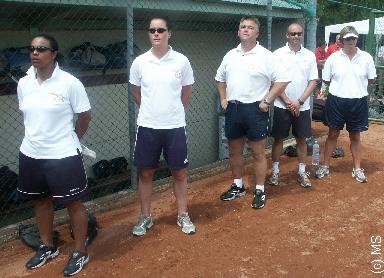 ...As does the staff...
(Photo: Marco Stoovelaar)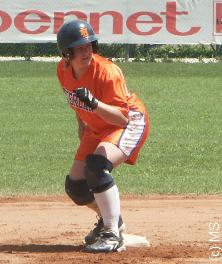 ...Nina van Huissteden readies...
...after 1st inning double...
(Photo: Marco Stoovelaar)

The Czech team came back with a run in the second inning when Dutch starter Kristi DeVries gave up a 2-out double to Lucie Marsíková, who moved on a single by Magdaléna Loudová, before scoring in an one-three situation in which Loudova was caught stealing in a run-down, but Marsíková scored before the out was made. Hereafter, only one more Czech player would reach base in the next three innings. From the second through fifth inning, the Dutch team added only one more run, but hit the ball hard, as four line drives were hit, but all were caught. In the second inning, 2B Katerina Duráková made two nice catches on line drives by Saskia Kosterink and Jolanda Kroesen. In the third and fourth, Kim Kluijskens and Saskia Kosterink lined out to third. In the third, Kristi DeVries, who batted herself today, led off with a single, then starting pitcher Eliska Cerná-Pojerová switched places with 1B Lucie Marsíková. Nina van Huissteden then popped out, but Noémi Boekel followed with an RBI-double to make it 6-1. Next, Marjan Smit was awarded first base on catcher's interference, but a flyout and line out ended the at bat.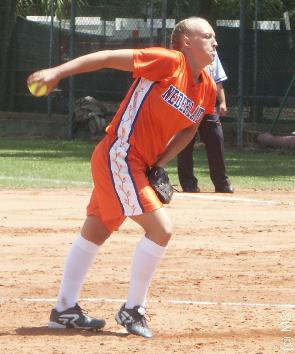 ...Starting Pitcher Kristi DeVries...
(Photo: Marco Stoovelaar)

After leaving a runner in the fourth and fifth inning, the Czech team suddenly came back in its sixth at bat. This wasn't the inning for Dutch short stop Sandra Gouverneur, who was credited with two errors. The first was a throwing error on a grounder by lead-off batter Petra Provecková, then Katerina Duráková walked. Kristi DeVries was replaced by Rebecca Soumeru, who saw next batter Eva Rendlová hit a force play-grounder to 2B Petra van Heijst, who tossed the ball to Gouverneur, but an error followed and a run was scored. A single by Eliska Cerná-Pojerová and 2-run double by Lucie Petrásková narrowed the Czech deficit to only 6-5. Judith van Kampen came in to relief Soumeru and walked Lucie Marsíková, then Petrásková advanced on a flyout and scored the tying run on a throwing error in an one-three situation. A groundout ended the at bat, but the score was tied.

The Dutch team came back immediately. Kim Kluijskens and Saskia Kosterink both singled to put runners on second and third base. Kosterink's single also hit pitcher Jitka Zákorová, who gave way to Jana Vaciková. She gave Debby Connor an intentional pass, but then Jolanda Kroesen made some good contact and cleared the bases with a triple to make it 9-6. The next four batters all reached base also, but three runners were putout on the bases, including two at home.

In the seventh, now trailing 9-6, the Czech team got one batter on base. With two outs, Eva Rendlová hit the ball info leftfield, where Marjan Smit slipped briefly and therefore couldn't catch the ball, but a pop-fly ended the game.
The Dutch were in the final for their third match-up with Italy in this event and the sixth between the two countries in the last three weeks, including the European Championships in Amsterdam.

Were there any moments of doubts? Dutch Manager Liz Kelly: ,,When the score was 6-5, I thought there were no problems yet, as there was still time left in the game. Then the sixth run scored. But then Jo had a huge hit and its showed we can do this, not to let this happen to us. And Judith stopped them off fine in the end.''

The Final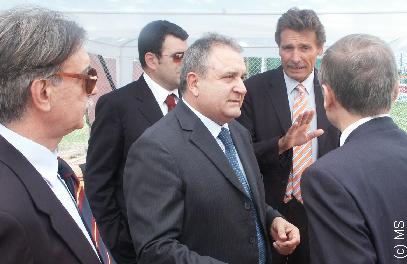 ...Italian Federation President Riccardo Fraccari (center)...
...receives representatives from Italian Olympic Committee...
(Photo: Marco Stoovelaar)

In a packed Giordano Gregoret Stadium in Ronchi Dei Legionari about thousand spectators saw a great final with a lot of suspense, good defensive plays, solid pitching, good hitting and a Dutch team which again proved it simply was the best team in this tournament. The Dutch not only won in the lion's den, it also did it on their own strength. Teams like Italy and Greece, which were favorable for the title, added some American players (with Italian/Greek heritage and passport) for this tournament, the Dutch team did it with their own players. The Dutch again showed character and the capability to come back from a deficit.

Italian starter Leslie Malerich got a good first inning. Lead-off hitter Sandra Gouverneur lined out to short, then Malerich struckout the next two batters. Then, in the home half of the at bat, Italy took a 1-0 lead. Dutch starter Judith van Kampen first struckout lead-off hitter Veronica Fontana, but then gave up a single to Rebecca Iaccino, who advanced to third on a throwing error on a grounder by Shanel Garofalo, then scored on a sac-fly by veteran Marta Gambella.

The Dutch team immediately came alongside in the second inning. With one out, Jolanda Kroesen singled through the middle and advanced on a 2-out single by Lynn Geertman, then scored on a single by Noémi Boekel. An error at home followed on which Geertman and Boekel advanced. Italian Manager Marina Centrone went to the bull-pen right away. She brought in Breana De Santa, who was the winning pitcher in the European Championship-final. But during this tournament, the Dutch batters started to hit De Santa, who throws a strong change-up, better and better. The bases were loaded when Marjan Smit walked, but a force play ended the at bat.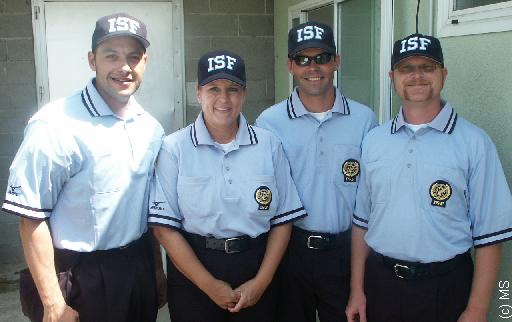 ...The Umpire Crew for the final...
...HP Axel Vogel (Germany), 1B Traci Stoelting (USA)...
...3B Jens Jakobsen (Denmark), 2B Tomislav Ozimec (Czech Rep.)...
(Photo: Marco Stoovelaar)

Judith van Kampen threw fine in the second and third inning, but then gave up an one-out homerun to Cristina Rolla in the fourth, which gave Italy a 2-1 lead. A single followed and Dutch Manager Liz Kelly also went to the bull-pen and brought in Rebecca Soumeru, who threw great in the remainder of the game. She ended the fourth with a groundout to first base.

The Dutch team got scoring opportunities in the third inning, but couldn't score then. Kim Kluijskens led off with a double, moved on a sac-bunt, but was thrown out at home on a grounder to third by Jolanda Kroesen. But after Italy re-took the lead in the fourth, the Dutch came back right away to tie the score in the fifth at bat. With two outs, Saskia Kosterink (fielder's choice) stole second base, then scored the tying run when Debby Connor singled.

In the sixth, Italy came close to a run again. Ilaria Pino led off with a single and then, with a runner on first base, it was decided to give powerhitter Cristina Rolla an intentional walk. A risky move, as it put an extra runner on base, but it worked out in the end. First, the two runners advanced on a grounder, but then Kaitlyn Gentile hit a comeback-grounder to Rebecca Soumeru and Candice Molinari fouled out to catcher Nina van Huissteden.

In the seventh, Sandra Gouverneur got on base with an infield-hit with one out, but two grounders followed. In the home of the seventh, Rebecca Soumeru retired the side in order, meaning the game went into extra innings.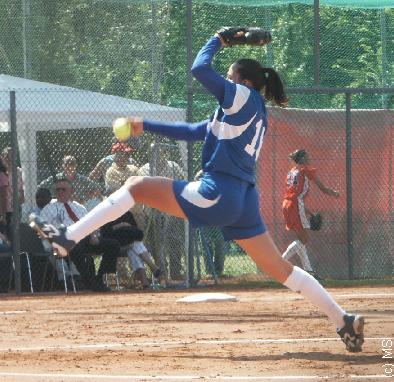 ...Italian Starting Pitcher Leslie Malerich...
(Photo: Marco Stoovelaar)

In the Dutch eighth, Debby Connor was walked intentionally, then tie-break runner Saskia Kosterink and Connor's pinch-runner Dana Horeman moved when Breana De Santa walked Jolanda Kroesen. Next, catcher Kaitlyn Gentile had a passed ball, which enabled Kosterink to score and give the Dutch a 3-2 lead. A groundout to short, out at the plate and strikeout followed, but the Dutch had taken the lead for the first time in the game. And they did what Italy didn't, hold onto it. In the home of the eighth, tie-break runner and pinch-runner Sabrina Del Mastio moved on a sac-bunt by Marta Gambella, then Rebecca Soumeru struckout Ilaria Pino, another dangerous hitter in the Italian batting order. The next danger was Cristina Rolla, who again was walked intentionally. And then Eva Trevisan lined the ball into the glove of 2B Lynn Geertman for the final out. The Dutch team captured first place and qualified for Beijing 2008!!!

Exciting players and coaches jumped on to each other, grabbing and hugging each other and a lot of tears flowed. It has been an intense week for the Dutch team in Italy and all emotions came out. As mentioned yesterday, the only score that counts is the last one, that in the big and deciding final! And that was in favor of the Dutch.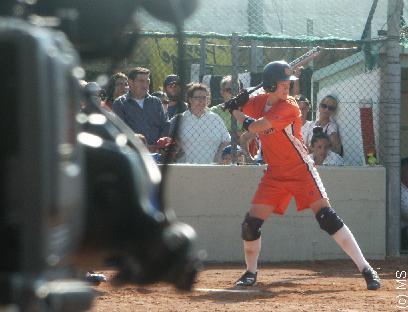 ...A TV-camera watches Saskia Kosterink...
...who later scored the winning run...
(Photo: Marco Stoovelaar)

Liz Kelly: ,,We wanted to face them, it was the time to beat beat them. We were right on course, we wanted to win the European Championship final also, no doubt about that, but we felt good that we had reached the top-2. That was our goal and we accomplished that. Here in Italy, we've had ups and downs and that played an important part to face the Italian team. Everything happens for a reason. We needed to learn to finish games and we learned things from every game we played.''

The Dutch team grew in the tournament. The turnaround came during the game against South Africa, whom they shutout 5-0. Liz Kelly: ,,Yes, it did start there. Then beating Greece by six runs, that gave a boost of condifence. I was glad that we played against the Czech in the extra game. That's also a fighting team, but I rather faced them then the Greek.''

In Italy, the Dutch team showed the last few days that they could come back, it showed character and the will to win. Liz Kelly: ,,They sure came back. They matched the teams they played, pitch for pitch. They showed mental toughness, one play can decide the game, they knew that, but they never backed in. They fought, showed they could do this, had a winning attitude. Yes, Italy had a lot of pressure of winning. During the barbeque earlier in the week with the parents, Federation President Ruud van Zetten said some good things. He just said to fight hard, you win some and you loose some. That showed wisdom, not putting pressure on. We played hard, we played the best we could''.

The Road to Beijing now has started for real. Liz Kelly: ,,This is the highlight in my coaching career. I look forward to lead the team to Beijing. I'm very excited.''

It has been a great event. And for me, the Grand Slam-webmaster, it was an honour to be part of it.
(June 16)
---
Thanks you for visiting this site!

Mail suggestions and questions to stoov@wxs.nl


Last Update: June 16, 2007
Copyright © 1997-2007 Marco Stoovelaar.