Grand Slam

Baseball Recaps
April 1, 2007
Compiled and Copyright © 1997-2007 by Marco Stoovelaar

Kinheim beats Balashikha
Nederlands | Line Score | Box Score
Standings | Schedule | All Line Scores & Box Scores
ANTALYA (Turkey) - Dutch champion Corendon Kinheim on Sunday defeated Russian champion Tornado Balashikha, 8-1, in the opener of a double-header, which was the first official baseball game (senior-level) to be played in Turkey. The game was played on the new baseballfield on the Arcadia Golf & Sports Complex in Antalya, where Kinheim held its spring training camp.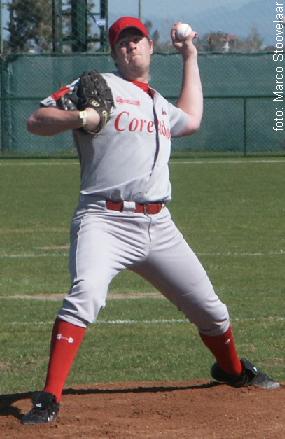 ...Kinheim-starter Patrick Beljaards...
(Photo: Marco Stoovelaar)

Kinheim-starter Patrick Beljaards held the Russian offense to only two basehits, while pitching five shutout innings. The lefthander retired eight of the first nine batters he faced, allowing only the third batter in the first at bat to reach base on an error. In the fifth inning, Beljaards gave up a lead-off single to Valeri Platonov, which was the first by the Russian squad. But then Beljaards himself accounted for loading the bases. After a flyout, Beljaards made two errant throws on two comeback-force play-grounders. Balashikha, however, was unable to score, as the next batter flied out and Beljaards ended the inning with a strikeout. At that moment, Kinheim was already leading, 3-0.

In the first inning, Danny Rombley, RenÚ Cremer and Dirk van 't Klooster singled back-to-back to give Kinheim a quick 1-0 lead. After Tjerk Smeets grounded out, the second run was scored when Vince Rooi singled, but then the next two batters both struckout to end the inning. Kinheim added a run in the second at bat. With two outs, Danny Rombley walked, stole second and scored on a double by RenÚ Cremer.
In the home of the fifth, RenÚ Cremer registered his third basehit in three at bats, when he led off with an infield-hit. But he was then doubled up on first base when Dirk van 't Klooster lined out to short. Next, Tjerk Smeets walked and Vince Rooi doubled, but a grounder ended the at bat.

In the sixth inning, Australian Vaughan Harris took over for Patrick Beljaards. He started with a strikeout, but then gave up two basehits. Alexander Toropov singled and Andrei Bolotin reached on a bunt-single. A flyout and another strikeout then ended the inning.
In home of the sixth, Robin Longhurst walked and was send home of a double by Danny Rombley. But while Longhurst reached home plate safely, the run didn't count, as moments before he stepped on home plate, Rombley was tagged out at third base on the throw from rightfield.
Vaughan Harris added another strikeout in the seventh, then retired then next batter on a comeback grounder. His solid first pitching appearance then ended, as Kinheim's Head Coach Ben Thijssen brought in reliever Jimmy van der Veldt, who completed the game.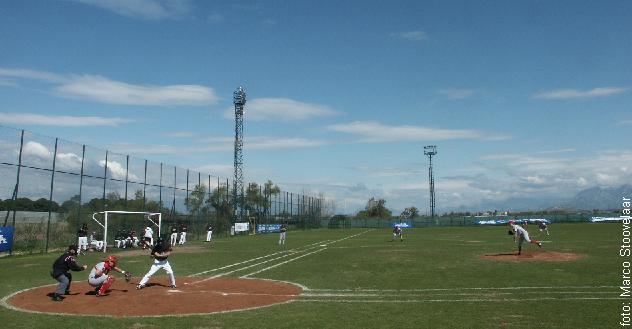 ...First official baseball game in Turkey...
(Photo: Marco Stoovelaar)

Kinheim added two runs the easy way in the seventh. Artur Donetski became the third Russian pitcher in the game, but walked his first batter RenÚ Cremer, who advanced to third base on two consecutive wild pitches. Next batter Dirk van 't Klooster also walked, which was followed by another wild pitch. Cremer scored on that pitch, while Van 't Klooster moved to third base, before scoring on the fourth wild pitch by Donetski, who was relieved hereafter. After a long foulout by Tjerk Smeets, Vince Rooi hit his second double and pinch-hitter Quincy Bernardus walked with two outs, but a pop-fly ended the at bat.

In the eighth inning, the Russians scored the first and only run. Alexander Vasilev led off with a single and moved to third when Andrei Kripochin followed with a double. Vasilev then scored on a sac-fly, but that was all for Balashikha. After next batter Andrei Bolotin walked, Kripochin was thrown out at third base on a good throw by rightfielder Dirk van 't Klooster after Valeri Platonov had flown out.

In the home eighth, Kinheim rallied for three runs. Denny Beljaards first walked, then Danny Rombley singled and RenÚ Cremer walked to load the bases. Dirk van 't Klooster followed with a 2-run single and Tjerk Smeets hit a sac-fly to make it 8-1.
(April 1)
---

Kinheim closes trainingcamp with win
Nederlands | Line Score | Box Score
Standings | Schedule | All Line Scores & Box Scores
ANTALYA (Turkey) - Corendon Kinheim also won the second game of their double-header vs. Tornado Balashikha from Russia, this time winning 12-4. With this game, Kinheim's trainingcamp in Turkey ended.

Kinheim collected 17 basehits in this game. Seven of the nine players in the batting order had two basehits, while Vince Rooi having three. The only player without a basehit was RenÚ Cremer, who played on second base in this double-header instead of short stop. For these games, Kinheim's Head coach Ben Thijssen had switched Cremer with Roel Koolen, who now played short. Danny Rombley scored three runs in this game, while Dirk van 't Klooster and Denny Beljaards each had three RBI's.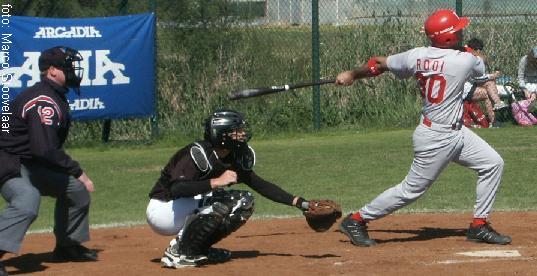 ...Vince Rooi: six hits, four doubles...
(Photo: Marco Stoovelaar)

Kinheim opened the score in the first inning. Artur Donetski, who had a brief and unsuccessful appearance in the opener when he faced only two batters, now was the starter, but again had no luck. He hit first batter Danny Rombley with a pitch, then enabled him to advance to third base on two wild pitches. Donetski was relieved immediately by Anton Shirokei, the starter of the first game. After RenÚ Cremer grounded out, Rombley scored the first run on a single by Dirk van 't Klooster, who later scored the second run on a 2-out double by Vince Rooi.

Jeffrey Verbij led off the second inning with a drove into rightfield, which easily looked to be a double. However, on his way to second base Verbij found first baseman Alexander Vasilev in his way. Field umpire Jimmy van der Veldt (yes, the Kinheim-pitcher) awarded his teammate second base on obstruction. Van der Veldt umpired in the field, while team manager Frans Bergman was behind the plate in this game to fill in as umpires. Initially, the game was to be done by German umpires Dirk Glassner and Tim Meyer, but they had to leave after the first game to catch their plane home. In the original schedule, there were no games scheduled for today. But Friday-evening's game was moved to Sunday, because it was decided not to play due to the low lighttowers. Then on Saturday, the next game rained out and also was moved to Sunday as part of a double-header. The two German umpires did the first game today, but then had to leave. Another option was RenÚ Laforce, the Belgian Treasurer of the European Baseball Federation and a former umpire, but he also had to leave after the first game. But Bergman and Van der Veldt did a fine job. OK, back to Verbij on second base. He stranded there, as three outs followed.

Kinheim added two runs in the fourth inning. Vince Rooi and Roel Koolen led off with singles, then the bases were loaded when Jeffrey Verbij walked. But then Robin Longhurst grounded into a 3-2-3 double play. The runs were then scored when Denny Beljaards followed with a 2-run double.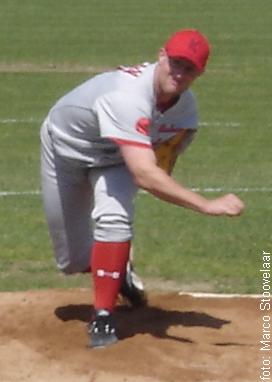 ...Kinheim-starter David Bergman...
(Photo: Marco Stoovelaar)

Balashikha also reached base frequenty in the first four innings, but failed to score off starter David Bergman, who gave up six hits, struckout four and also threw five shutout innings. In the first, third and fourth inning, he was supported with a double, while the Russians left the bases loaded in the second inning when Bergman struckout Pavel Acichev to end the at bat.

Balashikha then scored two unearned runs in the sixth inning. With two outs, new pitcher Duko Jansen hit Alexander Toropov with a pitch. Toropov reached second base safely on a force play-error on a grounder by Andrei Bolotin. After the bases were loaded when Valery Platonov singled, the first two runners scored when Oleg Semenov doubled.

Kinheim got the runs, and one extra, back in the seventh inning. Danny Rombley reached on an error and scored on a single by Dirk van 't Klooster, who then scored all the way from first base on a deep double by Tjerk Smeets. Moments later, Smeets scored when next batter Vince Rooi also doubled, his fourth of the day.
Three more runs were scored in the eighth. Robin Longhurst led off with a double and scored on an infield-hit by Denny Beljaards, who had to speed up towards home when next batter Danny Rombley tripled and closed in on him en route to third base. Rombley later scored on a grounder by Dirk van 't Klooster.
In the ninth, Kinheim scored two runs, making it eight in the last three innings. With one out, Jeffrey Verbij walked and scored on a double by Robin Longhurst, who then scored himself on an infield-hit by Danny Rombley.

After the Russians left two runners behind off Duko Jansen in the seventh inning, lefthander Jean-Paul Gulinck took over in the eighth. He got two quick outs on a flyout and a groundout, then gave up a single, but ended the at bat with a strikeout. In the ninth, Michiel van Kampen threw for Kinheim and gave up two unearned runs. He hit the lead-off batter, then an error was made on a double play-grounder. After a strikeout and a pop-fly, the two runners scored on a double by Alexander Toropov, but Van Kampen then ended the game with a strikeout.
(April 1)
---
Thank you for visiting this site. See you soon!

Mail suggestions and questions to stoov@wxs.nl


Last Update: April 1, 2007
Copyright © 1997-2007 Marco Stoovelaar.